Local science student wins national gold medal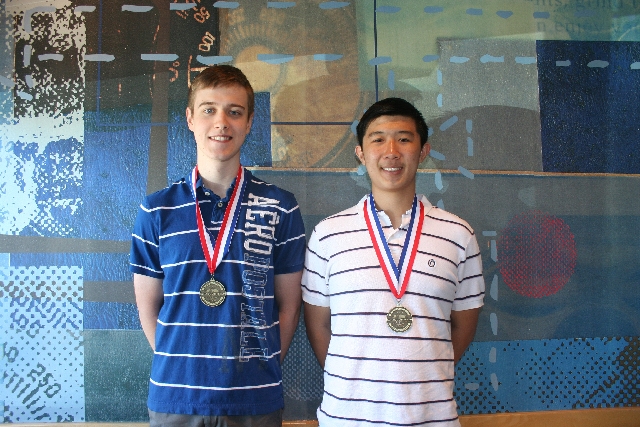 Boulder City resident Zachary Shattler, 16, helped win a first-place medal in water quality May 18 at the National Science Olympiad competition at Wright State University outside Dayton, Ohio.
Shattler, who has lived in Boulder City since he was 2, is a junior at Clark High School in Las Vegas where he is enrolled in the Academy of Mathematics, Science and Applied Technology magnet program. Shattler participates in the school's Science Olympiad Club with gold-medal teammate, Michael Zhou, an 18-year-old senior.
The boys won first place in water quality, one of the 23 events of the Olympiad tournament.
"Water quality is essentially a study of certain parameters of water quality and aquatic ecosystems," said Zhou, who lives in North Las Vegas. "We basically divided up the tasks and certain topics among ourselves. We made ourselves experts in those topics."
Shattler had some previous experience in the study of water quality, having won a second-place medal in a science competition in middle school for his research in aquatic ecosystems. He had competed in the water quality category last year, the first time it was introduced to the competition, but "placed somewhere in the 20s."
Last year's experience helped him prepare for this year.
"Ever since (middle school) I've liked it a lot and I continuously read up on it and that was a major part of the test, the aquatic ecosystems," he said. "After we started the event, we just read as much as we could on various topics and tried to think of anything that they could ask us and it worked out in the end."
The judges determine the winners by comparing the research each team had developed in their designated event. The first-place winners of the 23 events received a $2,500 four-year renewable scholarship to Wright State University. Each event can distribute different prizes, such as cash prizes or all-expense paid trips. However, the water quality event did not offer any additional prizes.
The team says one of the best parts about winning the gold was being able to win it for their coach. James Miller, a biology, anatomy, and psychology teacher at Clark, and mentor of the Science Olympiad Club. He will be retiring his teaching career this month to become a psychologist. Originally, he was planning on retiring last spring, but the team thinks he stayed around to help them receive a national medal.
"He was really hoping one of us would get a medal at nationals," Shattler said. "Getting a first-place medal, that was really cool. He was really happy about that. It was kind of a good farewell present."
Shattler was one of 17 team members from Clark that competed in the tournament. The team finished 40th overall, with Shattler also competing in the categories of disease detective, dynamic planet and astronomy.
While competing in the other events, water quality was the event he focused on the most.
"I really like that sort of stuff," Shattler said. "Michael and I thought we could do really well."
Shattler and his teammates' trip was paid for by a grant through the school, as well as fundraising, including $14,000 raised through selling Raising Cane's Chicken Fingers twice a week. His cost was approximately $300, he said.
The competition consists of 60 teams broken off into two-person pairs across the 23 categories. Each state has at least one team that competes at the national competition. Each state hosts competitions at the school, district, county and state levels. The team that holds the most medals at the end of that competition, proceeds to the national tournament. There is some international competition, too, at Dayton, with a team from Japan.
Shattler and Zhou met at Hyde Park Middle School near Valley View Boulevard and Charleston boulevards in Las Vegas, and their interest in science was shared through high school.
Shattler started participating in the state's Science Olympiad in the eighth grade at Hyde, winning state and traveling to the national competition four straight years.
The National Science Olympiad tournament was founded in 1984. This nonprofit organization is dedicated to helping students from kindergarten all the way through high school to become well-rounded scientists. One of its many goals is to make science exciting to young students, according to the organization's website.
Shattler plans to continue competing in the National Olympiad Tournament in his senior year with a new partner and a new mentor.
Shattler is unsure on where he would like to attend college. Right now, he wants to pursue becoming a pharmacist, but admits that could change.
"I don't have anything too nailed down yet," he said. "I'm just keeping my options open."