Lend A Hand continues outreach to those in need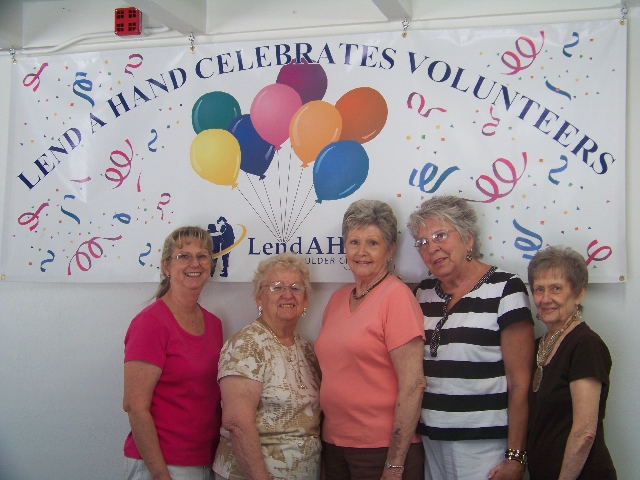 You live alone. Your kids live 500 miles away. You can't drive. You've got to get to the doctor.
Where do you turn?
For the past 25 years, residents of Boulder City have been able to call Lend A Hand to get them where they need to go as well as enable them to remain in their homes.
The nonprofit organization composed of approximately 80 volunteers, a part-time staff of four and a board of 16 members.
Lend A Hand volunteers serve those 60 and older as well as younger, disabled residents who are homebound. Volunteers drive clients to medical appointments, to the grocery store and to accomplish other errands as well as going to a client's home to visit and provide companionship, provide respite for caregivers and perform light housekeeping tasks.
The goal of Lend A Hand, according to the website is "to improve the quality of life for our clients by showing them someone cares, relieving their stress about getting to appointments on time and stretching their budgets."
Lend A Hand operates on a "donation basis" and clients "are not charged fees for service."
According to Shirley Putz, longtime resident and Lend A Hand trainer for 18 years, current volunteer and board member, she and a small group originally sent a letter to seven churches asking for their help in providing in-home and driving services for Boulder City seniors. All seven churches responded, and Lend A Hand was born in 1994.
Today, the Lend A Hand board consists of representatives from eight churches, both Rotary clubs, Boulder City Hospital, the hospital auxiliary, the Community Club and three at-large members.
Board President Phyllis Bachhuber had been a Lend A Hand volunteer for about seven years before assuming the board position.
Councilwoman Peggy Leavitt, an at-large member, said she became involved with Lend A Hand when asked by Director Christina Lodge last September. She had heard a number of stories about "what a great organization it was" and "wanted to be a part of it."
All prospective Lend A Hand volunteers receive training, undergo a background check and are fingerprinted before providing services to clients. Volunteers are then able to choose what tasks they wish to perform and determine how much time they are able to devote to clients.
A one-month snapshot of Lend A Hand services looks something like this:
In April, 261 visits were made to Boulder City residents by 47 volunteers. These volunteers drove 5,444 miles and made 195 trips. Another 66 in-home visits were made to 127 home-bound residents.
According to Bachhuber and Leavitt, a "typical" Lend A Hand volunteer is retired, belongs to a church or community organization, and has lived in Boulder City at least five years, although many volunteers have lived here much longer.
"Volunteers are very responsible and dependable," Bachhuber said.
Board member Shirley Buck, representing the Church of Jesus Christ of Latter-day Saints' Black Canyon Ward, came to Lend A Hand as a volunteer before serving on the board.
"It's really fun to take these people around," Buck said.
It has been Buck's experience that residents of Boulder City truly need the services Lend A Hand provides.
"We need it," she said. "That's the only way some people in Boulder City can get the help they need."
Buck takes folks shopping and to the bank and has made many friends being a Lend A Hand volunteer.
"If you have the time and enjoy meeting people, and if you want to do a lot of good, this is the way to do it," Buck said.
According to Bachhuber, about 50 percent of the volunteers who drive thousands of miles to help their Boulder City neighbors do not take any mileage reimbursement. The other volunteers need the reimbursement, because without it, they wouldn't be able to afford to make the trips. Bachhuber said she doesn't want to lose the volunteer hours of these folks, so she is happy to provide the reimbursement.
The organization receives money through various channels for its operations every year. According to its tax return filed in March 2013, Lend A Hand generated $235,000 in revenue in 2011, $152,000 coming from contributions. A large portion of the remaining revenue is from the value of organization's services. The organization had $210,000 in expenses from July 1, 2011 to June 30, 2012.
Lend A Hand was able to increase its cash balance sheet by 10.9 percent to $237,000 during that fiscal year.
In 2011-2012, Lend A Hand received from Boulder City $6,784 in Community Development Block Grant funds, and the same amount was budgeted for 2012-2013 according to information from the Feb. 12 City Council agenda packet.
The annual budget for 2013-2014, according to Bachhuber is approximately $155,000. Last year's budget of approximately $150,000 provided 68,755 driving miles and 2,940 visits to 379 individual clients in addition to operating expenses.
In order to make ends meet this year, Lend A Hand held a "nonevent" where board members sent postcards to community residents asking for their support. Folks were encouraged to send in a contribution or donate online at www.lendahandbouldercity.org, which can be done anytime.
Putz summed up why everyone should consider being a Lend A Hand volunteer in this way:
"It is an easy way to serve people who are desperate for help," Putz said. "It's an easy way to serve the community for people in a desperate situation."