Leadership program helps Mitchell students excel
August 22, 2013 - 1:04 am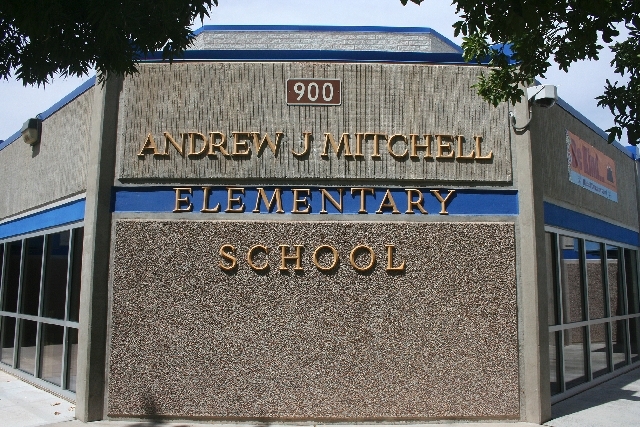 Principal Benjamin Day continues the third year of The Leader in Me youth leadership program at Mitchell Elementary School.
Day became principal of Mitchell in August 2010. Day has been with the Clark County School district for 14 years. He was a teacher for seven years at David Cox Elementary School and an assistant principal at Gibson Elementary School for four years.
Day presented his new school with The Leader in Me in 2010. According to the program's website, www.theleaderinme.org, "The Leader in Me is an innovative, schoolwide model that increases teacher effectiveness, student engagement and academic achievement, while preparing students to be leaders in the 21st century."
The program is based off Stephen Covey's book "The 7 Habits of Highly Effective People." Time magazine listed the self-help, nonfiction book as one of "The Most Influential Business Management Books" in 2011.
The seven habits that Covey presents in his book are to be proactive, to begin with the end in mind, to put first things first, to think win-win, to seek first to understand, then to be understood, to synergize and, finally, to sharpen the saw.
According to Day, these seven habits are "the culture of the Mitchell."
"It influences everything we do," Day said. "Every assignment we give can be tied to at least one of these habits. It's the way we want our general behavior to be … not just in a specific situation, but all the time. I want the students and teachers to be using these habits when they go home and on the weekends. It is a total paradigm shift."
The 2013-2014 school year will be the third year Mitchell has used the seven habits program.
"Three years ago we started pretty small with the program and we've added a little bit more each year. The idea is to teach these habits to kids," Day said. "If these kids can learn to be proactive and goal setters, and learn to prioritize, which is what these habits are about, and learn to work with other people, then really, they'll be able to do anything. They'll be able to take control of their own learning."
Martha P. King Elementary plans to activate the leadership model as of the 2014-2015 school year.
"We are one of two schools in Nevada that are doing the program," Day said.
These guidelines are used to give children independence in problem-solving and social interactions. Day hopes to continue teaching the students of Mitchell to be able to solve their own problems, rather than relying on an adult.
"When kids make choices," Day said, "and approach a teacher, my hope is that we come back to them and ask them about these habits, and say 'well, what's the proactive way to solve it?' rather than just solving their problems.
"In the lunchroom and the playground, when kids bring concerns on me I put them back on them," he said. " 'Well think of your seven habits, what are you going to do about it?' "
Overall, the program has been very successful with the kindergarten through second-grade students.
"Generally what we found is, yeah, they can solve these things on their own," Day said. "It's been fun to watch them go back to their group of friends and take the lead and say 'OK, here's what we are going to do.' I just stand in the back and watch the whole thing happen."
Not only are the seven habits used by the young students, but by the teachers and staff as well.
"That's the thing I'm most excited about," Day said. "Our teachers are getting really good at it. We really have seen a difference. We've seen kids take responsibilities for their actions. I reiterate the seven habits to the teachers all the time. I say 'remember, if we don't do these things ourselves, it's not going to happen.' "
Mitchell is working together to create strong, independent leaders. These seven principles are posted throughout the school to remind students and teachers about how to become successful, effective people.
"When you come into the school, people are thinking about these things," Day said.
According to Day, The Leader in Me program has even reached out to the students' parents.
"We tell the parents about these things and we see them doing it too. It's everybody. Hopefully, it's everyone who walks through this building," he said.
Day believes the backbone of The Leader in Me at Mitchell is equally distributed amongst the staff, the students and the entire community.
"The type of families and the type of kids we are getting and the great teachers we have in this building … well the sky is the limit for this school," he said.
Day said this community has helped tremendously in encouraging the students to seek the leaders within themselves. Day enjoys the community so much, that he hopes to stay with Mitchell Elementary until he retires.
"I believe this community is the best there is in Clark County," Day said. "There's just so much going for us here, I can't ever imagine leaving this place. They're going to have to drag me out kicking and screaming."
Although near perfection, Day said that Boulder City has one flaw. "The only thing missing from this community is Sonic (drive-in)," he said. "It's the only reason that crosses my mind that this place isn't perfect!"
To learn more about The Leader in Me program, visit www.theleaderinme.org.
"Our students are achieving and really buying into this leadership program," Day said. "I walked out of here June of last year and thought, 'wow, we really did something good here this year.' I think it's only going to get better."