Laxalt stumps for Cruz, promotes caucus at Coffee Cup
February 3, 2016 - 4:30 pm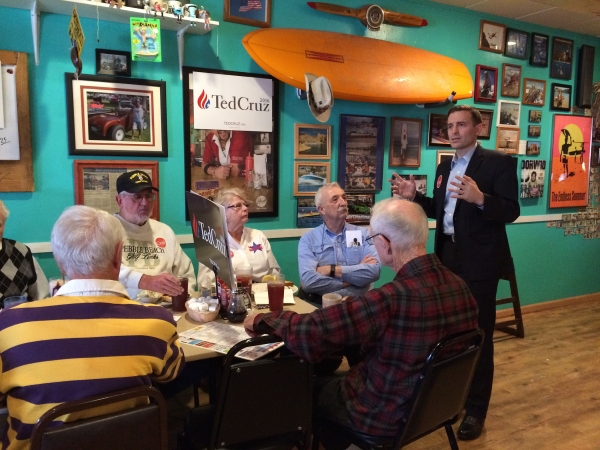 Nevada Attorney General Adam Laxalt stopped briefly in Boulder City on Friday as part of a statewide tour urging fellow Republicans to caucus for presidential candidate Ted Cruz.
Additionally, Laxalt encouraged those attending the lunch event to promote the Feb. 23 Republican caucus, work telephone lines and walk the precinct in support of Cruz.
Comparing Cruz's campaign to his own, Laxalt said he was an underdog two years ago when he ran for attorney general. He said he had never run for office before and was down 30 points in the polls when he first came to Boulder City asking residents for their support.
"I think voters think that's a good thing. They want nontraditional candidates," he said, noting he won by about 5,000 votes.
Laxalt said he has been impressed by Cruz's unwaivering support of the Constitution, views on national security and ability to stand up for his beliefs.
Because the next president will likely nominate two or three Supreme Court justices, Laxalt said he was especially partial to Cruz's understanding of the law and the Constitution, noting that the candidate was the solicitor general of Texas for five years and appeared before the Supreme Court nine times.
As a retired Navy officer, Laxalt said he also appreciates Cruz's support of the military and desire to make it stronger.
Laxalt said participating in the Republican caucus is crucial because Nevada is the first Western state, and fourth in the nation, to hold the balloting event.
"Giving Cruz the victory, especially if its the second or third victory, is monumental. We have a chance to pick the next president of the United States."
Laxalt announced he was endorsing Cruz Jan. 13.
In a statement, Cruz said, "I am honored to have Adam's strong support in our campaign. Throughout Nevada and the rest of the country, conservatives are uniting behind our campaign, despite the onslaught of attacks by the Washington cartel. Thanks to Adam and our grass-roots team in Nevada, we will stand up to the career politicians and special interests who seek to divide and silence conservatives."
Hali Bernstein Saylor is editor of the Boulder City Review. She can be reached at hsaylor@bouldercityreview.com or at 702-586-9523. Follow @HalisComment on Twitter.