Volunteers help catalogue Lake Mead's plants, animals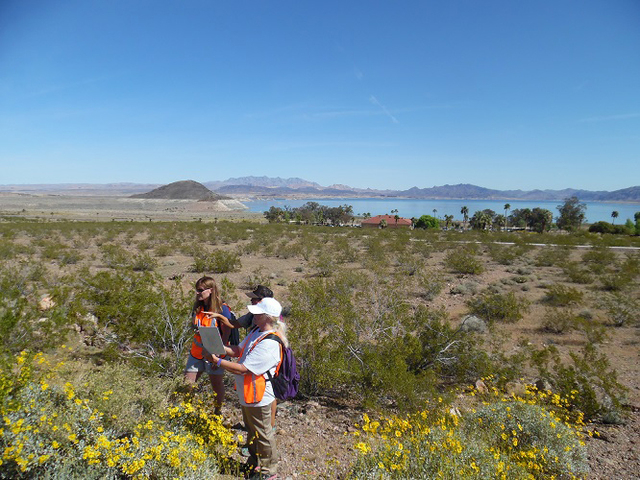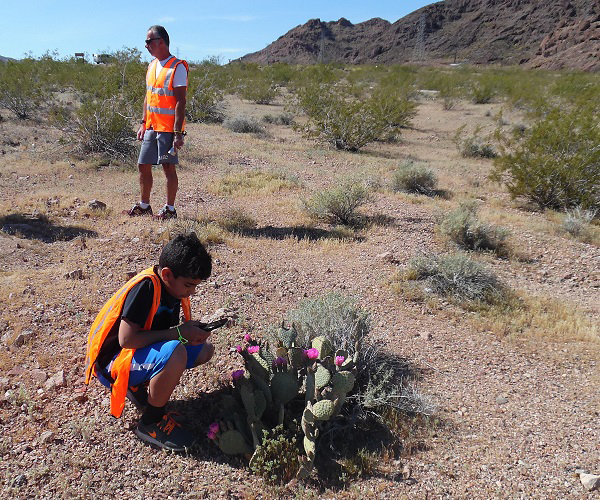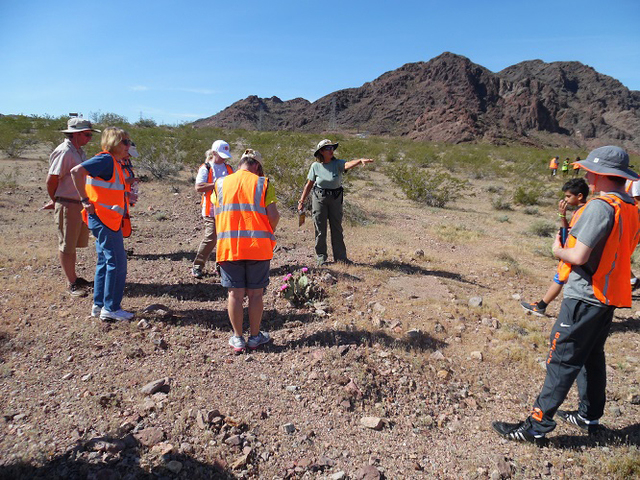 Area science and nature enthusiasts scoured more than 4 square miles around Lake Mead on Saturday, as part of the National Park Service's 100th anniversay celebration, cataloging and learning about the national recreation area's plethora of flora and fauna.
More than 75 volunteers converged on Boulder Beach between 10 a.m. and 3 p.m., with another 44 participants turning out at Lake Mohave, combining to donate more than 600 hours of their time in the crowdsourced survey of the national park's biodiversity.
Participants were asked to download the iNaturalist app, with which they were able to take photos of their observations and upload them for review and identification by the iNaturalist community.
The app creates a database that not only includes all of the BioBlitz volunteers' contributions, but will allow for further contributions by anyone interested in exploring on their own in the future.
"It's our first time volunteering, but it's fun and we may do it again," said Roger Almukahhal of Las Vegas, who brought his 11-year-old son Eddie out to the event. "We love the outdoors, and this was a great way to get him outside."
According to Lake Mead spokeswoman Christie Vanover, what's really unique about this project is how it combines nature, technology and social media to help people discover the ecosystem in Southern Nevada.
"Lake Mead is such a unique national park, with two large bodies of water, a diverse selection of wildlife and miles of diverse terrain for vehicles, hiking and camping," said Nancy Bernard, volunteer program manager. "And it's all just 30 minutes from a major city, we just want to get people out here.
"We want our volunteers to learn about their park, get excited about their park," she said. "If we're lucky, they'll pass it on to their friends and neighbors."
For 100 years the national Park Service has been dedicated to preserving the U.S.'s natural heritage and for its centennial celebration the connecting theme is "Find Your Park." Events similar to the BioBlitz are being held at parks across the country, all aimed at getting people educated and excited about their own eco-adventure getaways.
The Park Service and Lake Mead will have more centennial events throughout the year, including an event Saturday focused on the migratory patterns of birds and junior ranger day on April 16.
For more information on centennial celebration events at Lake Mead, visit http://www.nps.gov/lake/getinvolved/centennial-at-lake-mead.htm or call 702-293-8990, or connect with them on Facebook
Contact reporter Hunter Terry at hterry@bouldercityreview.com or call 702-586-6711. Follow him on Twitter @HunterBCReview.