Two locals promoted at Reclamation
August 22, 2013 - 1:04 am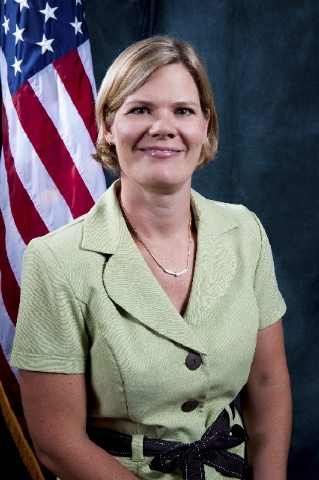 The Bureau of Reclamation recently announced the promotion of two locals in its Lower Colorado Region office.
Jennifer McCloskey was announced July 29 as the assistant regional director of the Bureau of Reclamation's Lower Colorado Region. McCloskey, formerly the area manager for Reclamation's Yuma Area Office, began her new position in the Lower Colorado Regional Office in Boulder City on July 22.
"I'm pleased that Jennifer is joining our Regional Office here in Boulder City," said Terry Fulp, regional director for the Bureau of Reclamation's Lower Colorado Region. "As the Yuma Area Manager, Jennifer has a proven track record as a key member of our Regional Management Team, and we have plenty of work awaiting her expertise."
McCloskey served in the Yuma Area Office for the previous eight years, beginning in 2005 as the deputy area manager, and as the area manager since 2008. In that position, she provided oversight in the scheduling of Colorado River water deliveries in Arizona, California, and Mexico that serves more than 750,000 people and 1 million acres of commercial agriculture.
"The past eight years at the Yuma Area Office will definitely be a highlight of my career and I will always treasure all that we accomplished," McCloskey said. "I am really looking forward to the new challenges of balancing the needs of stakeholders region-wide that depend on the Colorado River."
Before joining Reclamation, McCloskey served as deputy director of tax audit with the Department of the Treasury in Washington, D.C. Prior to public service, she led projects for private sector technology and business services companies in Texas and Florida. She is a certified public accountant and a project management professional, and holds a bachelor's degree in political science from the University of Arizona in Tucson, Ariz., and a master's degree in business administration from the Thunderbird School of Global Management in Glendale, Ariz.
On Aug. 6, the bureau announced Boulder City resident Rob Skordas had been selected as the area manager of the Lower Colorado Dams Office for the region. Skordas, who was previously the acting area manager for the office, is known for his dedication to his work and his commitment to safety, according to Fulp.
"Rob has done an excellent job as the acting manager for the Lower Colorado Dams Office, and I know he will continue to provide exemplary service as the area manager," Fulp said.
The Lower Colorado Dams Office is responsible for managing and operating Hoover, Davis, and Parker dams on the lower Colorado River, including powerplants and facilities that provide more than 9 million acre-feet of water and produce more than 6.5 billion kilowatt-hours of electricity.
Skordas was a doctor of chiropractic for 15 years, before changing directions in 1999 and taking a position as an apprentice power plant operator at Reclamation's Grand Coulee Dam. In 2002, he became a control operator, and subsequently the operations team leader, at Folsom Dam in Reclamation's Central California Area Office. In 2010, Skordas joined the Lower Colorado Region as the facility manager for Davis Dam, before becoming the facility manager of Hoover Dam in 2012.
Skordas said he has become well versed in the challenges of managing facilities that provide essential water and power to people in the American Southwest.
"The area manager position offers an exciting opportunity to work with our power customers and facility mangers," Skordas said. "Climate change has created new challenges for the Colorado River, and I look forward to leading the team that has been tasked with meeting these challenges."
Skordas and his wife, Paula, live in Boulder City and have two children who attend Boulder City High School.
Reclamation is the largest wholesale water supplier in the United States, and the nation's second largest producer of hydroelectric power. Its facilities also provide substantial flood control, recreation, and fish and wildlife benefits. Visit their website at http://www.usbr.gov.