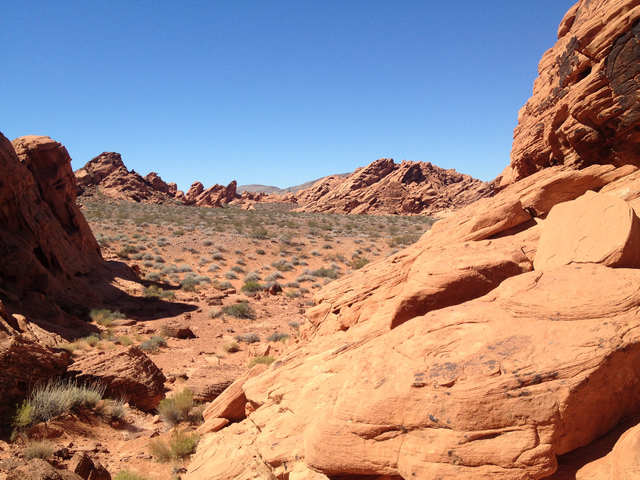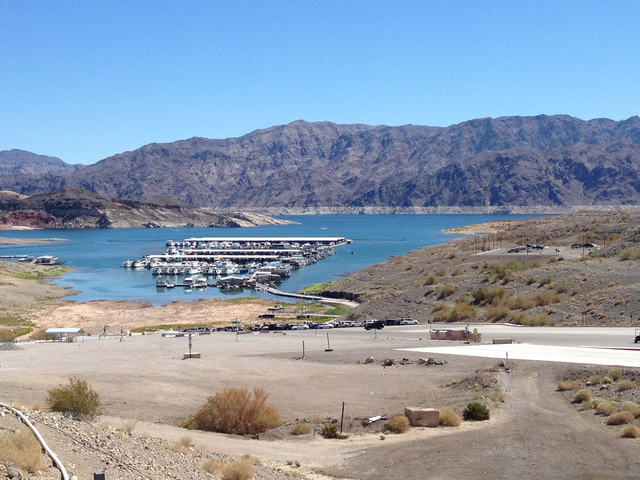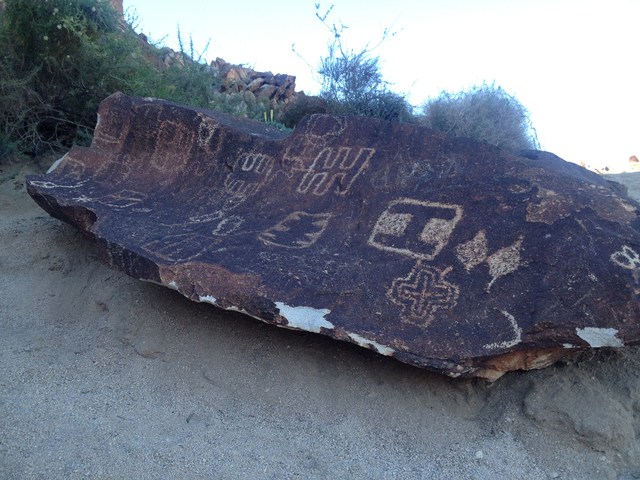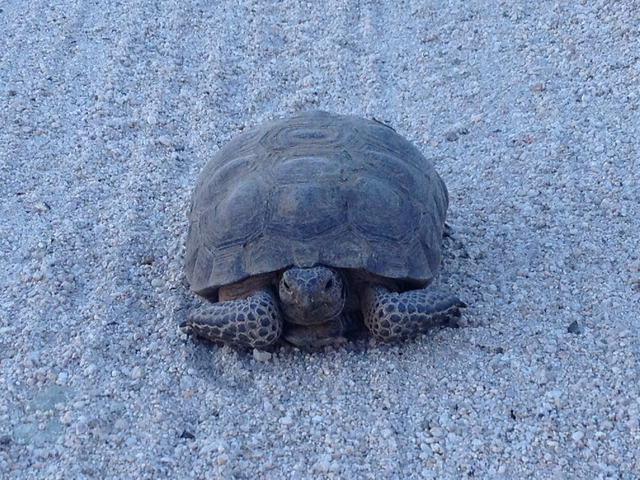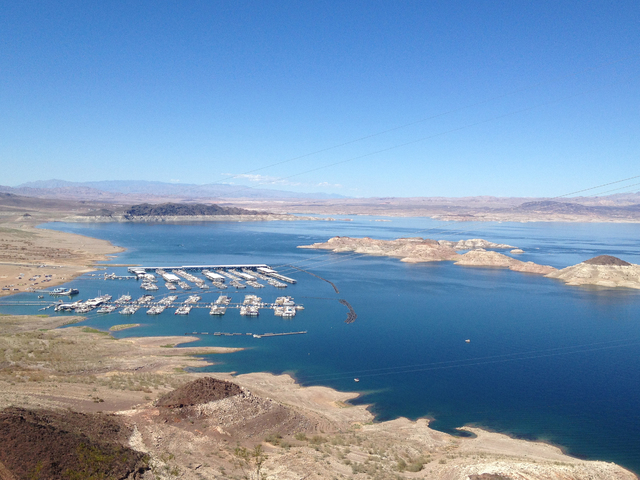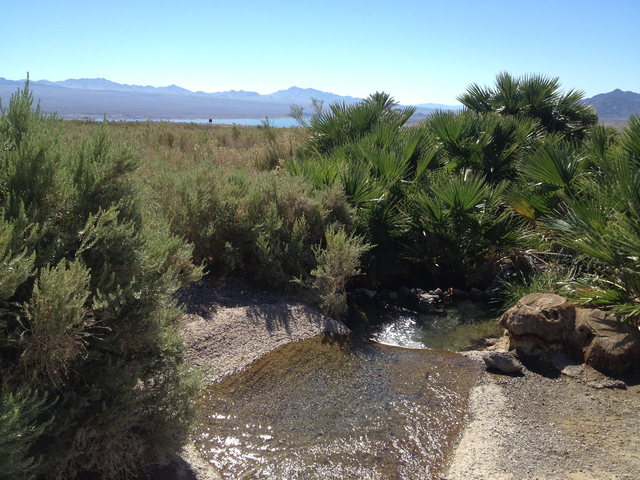 The contrasting elements of the Lake Mead National Recreation Area give it an aura unmatched by any other.
The beauty of each landscape offers a different taste of the Southwest, and their distinctions are the reasons more than 6 million people visit each year, according to National Park Service spokeswoman Christie Vanover.
After a 10-hour excursion that included copious notes, several pictures and more 300 miles on the road reveling in its natural beauty, I only managed to scratch the surface of what the recreation area offers.
Still, I encourage you to take advantage of all this recreation area has to offer if you haven't already. The park's glory is a therapeutic way to help you forget about your problems, even if only for a little bit.
redstone
Driving down Northshore Road, sandwiched between gray and brown mountains in the heart of the Pinto Valley Wilderness is Redstone, a location that's becoming more popular, according to Vanover.
Sticking out like a sore thumb off Northshore Road at mile marker 27, Redstone features sandstone, limestone and volcanic rock and a half-mile dune trail that showcases 200 million years of geology.
The fire-red rocks, some of them with a swirl complexion after years of wind erosion, are a hidden treasure for those who come to visit.
Tonya and Greg Williams said they appreciate Redstone's beauty, and decided to get married there last year. The Williamses, who live in Delaware, came to visit the area for their first anniversary.
They said the beauty of Redstone enticed them to tie the knot on the big, red rocks.
Although a popular destination among tourists, Vanover said Redstone isn't popular with those in the valley.
Rogers Spring
Located about 50 miles from Boulder City, Rogers Spring is a more popular location for the Utah and Mesquite crowd, according to Vanover.
"This is one of our more surprising areas of the park," she said. "It's one of those hidden spots people from Vegas don't know about."
Rogers Spring is a small spot where palm trees can be seen throughout its entirety. Although the palm trees may eventually be taken out and replaced with native vegetation, they still give off a tropical feel in the middle of the desert.
A natural spring is located in the heart of Rogers Spring where visitors can swim, although the Park Service recommends they refrain from putting their heads underwater because of an amoeba, Vanover said.
Right down Northshore Road is Rogers Spring's neighbor, Blue Point Spring, where the Valley of Fire can be seen in the near distance.
Callville Bay
As the only place on Lake Mead to rent a houseboat, Callville Bay offers myriad opportunities for those who come to visit.
Unfortunately, one of the most distinct characteristics about Callville Bay is the palpable mineral ring that circles the lake, showing the decreasing water supply of the nation's largest man-made reservoir.
"It's depressing," Vanover said about the ring that circles 550 miles of shoreline.
During the 1980s, Callville Bay's high-water mark was about 1,220 feet, the same area where the Callville Bay Resort &Marina's parking lot is located, according to Vanover.
From the top of the hill, the shriveling water supply is sad to see, a reminder of how harsh drought can be. But the view overlooking the multicolored mountains and the bright blue sky is one of the best views offered throughout the entire lake.
Lakeview Overlook
Off to the side of U.S. Highway 93 where the bustling Hoover Dam traffic can still be heard in the distance is Lakeview Overlook, an overhead scenic view of Lake Mead's deep blue water.
With only about 15 parking spots and a high demand to catch one of the best views in the house, congestion runs heavy in the area, making it an extremely popular location for visitors.
But before the lake was filled in the 1930s, a rock clarifier could be easily seen where trucks would drive to and from to deliver rocks to Hoover Dam, Vanover said. The round building can still be seen, although slightly hidden between rocks and water.
The old rock clarifier serves as a memory for the job that helped make Hoover Dam, Lake Mead and the beautiful Lakeview Overlook possible.
Another excursion that begins at the visitor center and runs near Lakeview Overlook is the Historic Railroad Trail, where Lewis Construction Co. began construction under the Bureau of Reclamation in 1931, according to the Park Service.
The trail also features breathtaking views of Lake Mead, Boulder Basin and Fortification Hill.
Katherine Landing
Tucked away between brown mountains and silver power lines, Katherine Landing is one of the recreation area's most popular locations, attracting about 1 million visitors a year, according to Vanover.
Much of that popularity is because of its proximity to Nevada, California and Arizona, Vanover said.
Located on Lake Mohave in Arizona, Katherine Landing features crystal blue water filtered through Hoover Dam.
Because Lake Mohave hardly ever fluctuates, those who visit Katherine Landing are welcomed to a full lake, a gift of reassurance after seeing the current devastating levels of Lake Mead.
Katherine Landing is also a vastly popular destination during Memorial Day weekend. According to Vanover, traffic is usually backed up for five miles on Katherine Landing Access Road during the three-day weekend, just a short drive from the Laughlin Strip.
Grapevine Canyon
To the untrained eye, Grapevine Canyon might look like just another barren mountain range, a tiny blip in the middle of the Mojave Desert.
But for those anxious to hike and take advantage of its historical features, Grapevine Canyon is the perfect spot located 5,639 feet above sea level in the Bridge Canyon Wilderness.
Perhaps the most distinct features of Grapevine Canyon are the ancient petroglyphs, rock drawings from the prehistoric Indians who once lived there.
Bighorn sheep, coyotes and desert tortoises are popular in the area, as are the large boulders that have maintained their soft texture after years of water flowing through them.
Contact reporter Steven Slivka at sslivka@bouldercityreview.com or at 702-586-9401. Follow @StevenSlivka on Twitter.