Safety lessons begin Lake Mead's 50th celebration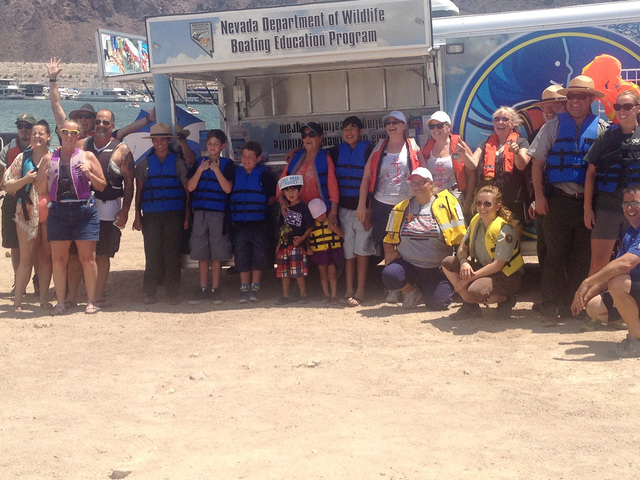 The Lake Mead National Recreation Area brought in its 50th year Saturday as vendors, park rangers and visitors made their way to Hemenway Harbor to check out seasonal events, as well as gain an insight on boating safety.
As the sixth-most visited site of the National Park Service, Lake Mead spokesperson Christie Vanover emphasized the importance of water safety.
"We get more visitation than Yellowstone and the Grand Canyon," she said. "And it's because we're this oasis that's right next to one of the most popular tourist destinations in the world."
Lake Mead gets more than 6 million visitors per year, a critical reason to have such safety awareness available to the public.
Saturday also was Life Jacket World Record Day, an event held by the Safe Boating Council where people around the world put on life jackets once a year to show the importance of life jacket safety.
About 30 people at Lake Mead gathered to put on their life jackets for the 1 p.m. national attempt to break the world record. The results from all U.S. locations have not been totaled.
"Each year the record is broken," Vanover said. "It's really good to continue to educate people about the different types of life jackets, especially when they're out there on the lake."
Some people, according to Vanover, think that swimming in a lake is the equivalent of swimming in a pool. It's a claim that is completely false, she said, as winds and waves can cause life-threatening problems for swimmers without life jackets.
"A life jacket is like a seat belt in your car," she said. "Whenever you're in the water, you should have it on."
Lake Mead's summer kickoff also showcased the seasonal activities the lake has to offer.
People who attended Saturday's event had the opportunity to learn how to become a Park Service volunteer, get their vessel inspected for invasive aquatic species such as quagga mussels for free, and learn boating safety and life jacket tips from the Nevada Department of Wildlife.
Aside from safety, people such as Charlie Franks of the SCUBAfy Dive Shop in Boulder City wanted nothing more than to promote the assortment of activities available to those people unfamiliar with Lake Mead.
"I just want people to know that you can use it and that it's here and that there's so much to do," Franks said. "There are so many different things you can do in this one lake and you'd never know it. Most people look at it as I can either fish on it, swim on it or boat on it, but there's a whole world underneath it."
According to Vanover, about 300,000 people are expected at Lake Mead during Memorial Day weekend, roughly 50 percent of the visitors all other national parks receive in a year.
The lake's unique location of being sandwiched in a desert is one of the main reasons millions of people make their way to see it each year.
"Where else can you find a lake the size of Detroit in the middle of the desert?" Vanover asked.
Lake Mead began filling in 1936 upon completion of the Hoover Dam, according to Vanover. Originally designated as the Boulder Dam National Recreation Area, the Bureau of Reclamation and the Park Service changed its name to the Lake Mead National Recreation Area in 1947.
It didn't become an official unit of the Park Service until 1964, and on Oct., 8 of that year, Congress passed legislation and declared Lake Mead the first national recreation area in the country.
It is still the biggest national recreation area in the United States.