Safe boating event to kick off season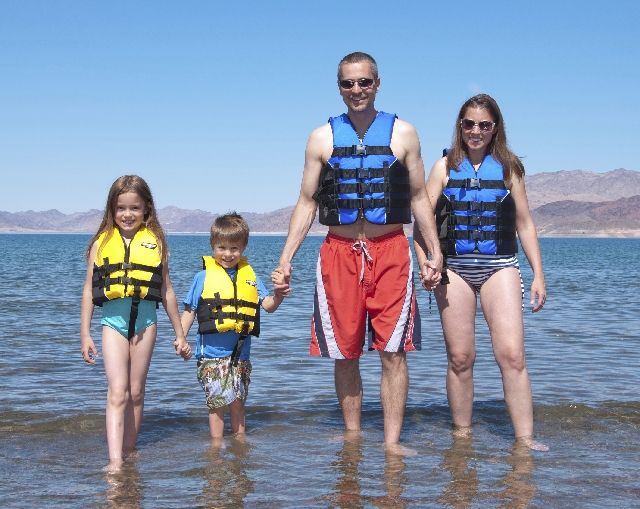 Ushering in National Safe Boating Week, the National Park Service will hold its annual event Saturday at Lake Mead National Park to support safe boating.
The "Ready, Set, Wear it!" Life Jacket World Record Day event will simultaneously inflate their life jackets, or wear an inherently buoyant life jacket, to promote boating safety and increase the amount of people that wear life jackets.
"When it comes to boating, (life jacket) is the single biggest factor that saves people's lives," Nevada Department of Wildlife spokesman Doug Nielsen said.
The event will be held in conjunction with participants from Lake Mead and 150 other locations including six different countries; Mexico, Japan, Brazil, Australia, Canada and the U.S.
Local supporters can head to Lake Mead at 10 a.m., where U.S. Senate Majority Leader Harry Reid and U.S. Sen. Dean Heller will kick off the event.
The life jackets will be inflated an hour later. Free entry to the park will be offered to participants who arrive with a life jacket between 10 a.m. and 1 p.m. on Saturday.
The "Ready, Set, Wear it!" event was created in 2010 by the National Safe Boating Council, which partnered with the Canadian Safe Boating Council to increase boater safety awareness. The national council creates all materials and ideas for a successful safety campaign, but government agencies and organizations host the actual event.
The event was previously named "Ready, Set, Inflate" to signify the activation of inflatable life jackets, but was later changed to "Ready, Set, Wear it!" to include buoyant life jackets; life jackets with pre-filled materiel, such as foam or cork.
The councils were able to attract 1,154 participants in 2010 in 44 locations across the United States and Canada participating. Year 2010 brought nearly 1,700 from 99 participating regions. Last year's participation level more than doubled to 3,993.
The Nevada Department of Wildlife focuses on three things to maintain safety: people should wear their life jacket, boat sober and take the boater education class, Nielsen said.
For those who choose not to stay safe, the state Department of Wildlife and the U.S. Coast Guard are there to keep things in order.
"That's a form of education we hope people don't get to," Nielsen said.
Nevada state law requires that each passenger on a vessel has access to or wears a life jacket while on the water, and any boat more than 16 feet and less than 26 feet must have a ring or life buoy. All children 13 and under must wear a life jacket at all times.
"We usually do vessel safety inspections," said Mark Himes of the U.S. Coast Guard Auxiliary. "With everything being in good working order, they get a vessel safety inspection sticker."
Nevada state law also requires that the life jackets on board properly fit each passenger.
"If you can pick up a child and they fall through, then it's not a good fit," said Himes.
Nationally, nearly 78 percent of the 533 drownings in 2011 were from people not wearing life jackets, according to the U.S. Coast Guard's website. More than 80 percent of the 484 drowning in 2010 found no life jacket.
While life jacket failure is a possibility, park officials think mishandling the device is the most likely cause.
"Generally speaking, it's the person that fails to wear it properly," Nielsen said.
While Lake Mead sees its shares of boating accidents, most of its drownings come from swimming.
"Most of the drownings were all swimming related," said Christie Vanover, spokeswoman for Lake Mead National Recreation Area. "There were 18 deaths at Lake Mead in 2012, and eight were drownings."
Park officials also deal with another danger: cliff diving.
"We really discourage cliff jumping because of the possibility that water levels can change," Vanover said.
None of the deaths last year can be attributed to cliff diving, but one injury occurred last week at Placer Cove.
There have been 114 drownings at Lake Mead National Recreation Area since 2000, and 242 since the park opened 74 years ago.