Park Service ripped over red tape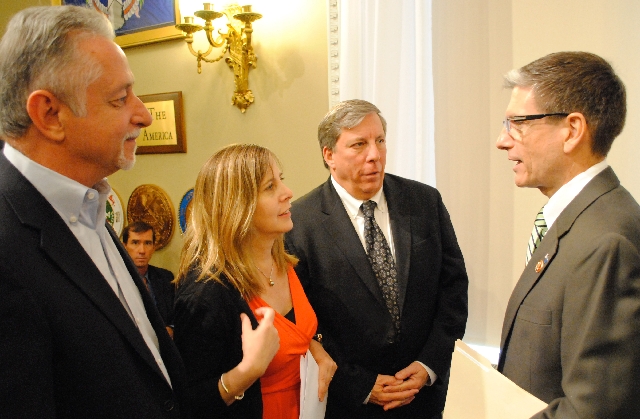 WASHINGTON — The National Park Service was taken to the woodshed on June 6 by members of Congress infuriated after hearing that red tape at Lake Mead prevented a family from recovering the body of a slain Las Vegas cabdriver for almost a year.
Struggling to keep her composure, Jodi Goldberg told lawmakers that the volunteer Red Rock Search and Rescue team conducted nearly 50 searches over 200 square miles of the Southern Nevada outback for her missing brother, Keith, but was not allowed onto the Lake Mead National Recreation Area until it obtained $1 million in liability insurance.
"I don't think I need to explain how gut-wrenching it was to know that all that stood between my family and peace of mind was a $1 million insurance policy that Red Rock couldn't afford because they are a nonprofit organization," Jodi Goldberg told the House public lands subcommittee.
In February, 13 months after Keith Goldberg, 54, had gone missing, and nine months after searchers applied for a park permit, affordable insurance was found and the family had to raise money to buy it.
When the search and rescue team finally deployed to the park on April 14, Goldberg's remains were found in less than two hours. To this day, the team continues to look for further remains.
"Families of missing loved ones go through so much pain and despair," Jodi Goldberg said at the witness table, her husband and her other brother seated behind her. "Keith and our family are victims, not only of a terrible crime but of bureaucratic roadblocks that impeded search efforts and prolonged our pain and suffering."
Her brother's remains "have still yet to be returned home," said Jodi Goldberg, who lives in Alexandria, Va. Her surviving brother, Jeffrey Goldberg, lives in New Jersey.
She urged the committee to pass a bill by Rep. Joe Heck, R-Nev., that would waive the insurance requirement for qualified rescue outfits. The Good Samaritan Search and Recovery Act, HR2166, was introduced in May by Heck, whose district includes Boulder City. The panel promised a quick vote.
When Goldberg was finished, lawmakers turned to Cam Sholly, a Park Service associate director.
Rep. Steven Horsford, D-Nev., demanded Sholly issue an apology to the Goldbergs, and also to the family of Air Force Staff Sgt. Antonio Tucker, who went missing at the lake on June 23 and was presumed drowned. A private dive team was unable to get into the water until April 14, after almost 10 months, and recovered Tucker's body two days later.
"It is unacceptable the Park Service did not do more to allow these families to recover the remains of their loved ones," Horsford said.
Sholly said Lake Mead officials were following a policy that the Park Service has started to re-evaluate. The Goldberg matter further was complicated, he said, by an ongoing homicide investigation by the Metropolitan Police Department. Keith Goldberg's girlfriend, Georgene Ross and her estranged husband Christopher Ross, have been charged with killing Goldberg, who was a Las Vegas cabbie.
Sholly had asked for the Park Service to be granted more time to evaluate Heck's bill, which far from satisfied Rep. Rob Bishop, R-Utah, the subcommittee chairman.
"Your testimony is the reason this bill should be passed tomorrow," Bishop said. "The only thing that should have been in your testimony should have been an active, formal apology to this family, to us and to the nation for how badly the National Park Service has acted on this."
For the Park Service to not already have changed its policy on volunteer searches "is just unthinkable, it is untenable, it is wrong," Bishop scolded. "You should be ashamed of what you have done on this issue and an apology is the only thing we expect to hear from the National Park Service. The fact you have dragged your heels is just reprehensible."
Seated nearby, Jodi Goldberg's eyes welled as lawmakers demanded her family receive an apology. Jeffrey Goldberg gave a clap of his hands.
Afterward, Jeffrey Goldberg said he was heartened by the support his family received.
"Are you kidding? To hear the congressmen, we got the message across, and that's what we wanted," he said. "Keith, we can't get him back. We know that. But on the other side we can do something good for other people."