Park Service puts sweet spin on safety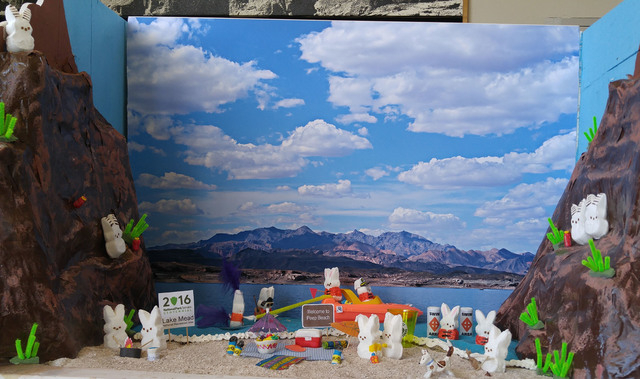 Marshmallows are an old favorite around the campfire, but this spring the classic treat is serving a new purpose: promoting safe habits at Lake Mead National Recreation Area for the fast-approaching summer.
Around the country, parks like Lake Mead are using Peeps, the ubiquitous Easter confection, to build safety-centric dioramas as part of the National Park Service's inaugural Healthy Parks, Healthy Peeps Diorama Contest, which is modeled after the annual The Washington Post competition.
The diorama, housed in the lobby of the Lake Mead park headquarters in Boulder City, is titled "Have a fun and safe visit for Peeps sake," and features Peeps engaged in a variety of common activities.
Each Peep's action represents a safety tip, with a few building fires or using recreational vehicles and some playing in the water, while others are making sure they stay hydrated by drinking plenty of water
"As soon as spring break begins and temperatures reach 75 degrees, our visitation increases," said Christie Vanover, Lake Mead National Recreation Area public affairs officer. "If using Peeps gets even one person to think safety first as they plan their trip to the park, this diorama is a success."
In commemoration of its centennial anniversary, the National Park Service is planning an extended calendar of interactive events aimed at promoting safety and educating communities about the local natural wonders.
"Among the Peeps are at least 20 examples of health and safety," Vanover said. "We're challenging people to view the diorama and comment with as many examples as they can find."
Accept the challenge to view the diorama and identify safety tips on the Lake Mead Facebook page at facebook.com/lakemeadnps or view the diorama in person between 8 a.m. and 4 p.m. weekdays at the park headquarters, 601 Nevada Way.
Contact reporter Hunter Terry at hterry@bouldercityreview.com or call 702-586-6711. Follow him on Twitter @HunterBCReview.