Officials declare Lake Mead water safe after accidental release from Colorado mine
August 19, 2015 - 2:57 pm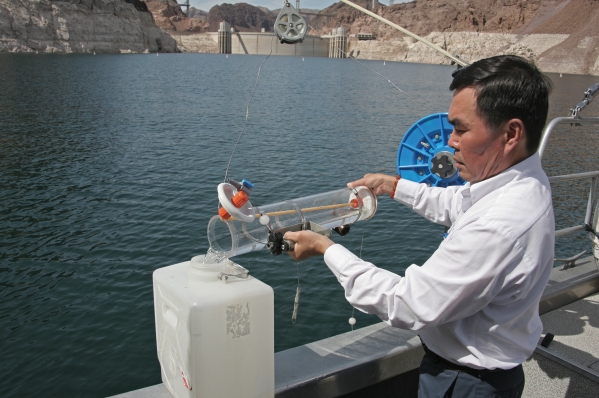 Southern Nevada water officials say the release of 3 million gallons of Colorado mine water will eventually make its way into Lake Mead, though it won't pose any significant threat to the drinking water.
The spill occurred after officials from the U.S. Environmental Protection Agency inadvertently released the metal-laced water while conducting tests near the Animas River in the southwestern part of Colorado.
According to Bronson Mack of the Southern Nevada Water Authority, the water was filled with heavy metals like cadmium and mercury, byproducts from the mining process.
"A lot of those heavy metals and minerals have probably leached from the rocks in the mines and then reached the water," he said.
The accidental release turned parts of the Animas River a deep, mustard-yellow before traveling into the San Juan River and eventually into the Colorado River. The water has already reached Lake Powell, Mack said, and the water authority anticipates it reaching Lake Mead within the next two weeks.
But distance and dilution will prevent the mine water from causing any significant threat to Southern Nevada's drinking water, Mack said, adding that its color has already changed its appearance from a dark yellow to a much more subtle color. By the time it gets to Lake Mead it won't have any coloring at all, he said.
"The release was 3 million gallons, and it is now flowing into Lake Powell, which contains more than 4 trillion gallons," Mack said. "It was pretty concentrated, and as it flows down the river and mixes within (Lake) Powell, it's certainly not concentrated in the same manner that it was."
Still, the authority is stepping up its water sampling to twice a week to ensure that the drinking water is up to standard for Southern Nevadans.
"We are not even anticipating being able to see any changes, but we've been sampling water quality at Lake Mead for decades," Mack said. "This waste water release does not pose a significant risk to Southern Nevada drinking water."
When asked if the Colorado waste water was toxic, Mack was unable to confirm.
"The EPA has indicated that they had used that word, but I can't necessarily confirm that," he said.
National Park Service spokeswoman Christie Vanover said that Lake Mead officials also are conducting additional sampling since the waste water was released. Like the water authority, the Park Service believes the mine water poses a minimal risk to Lake Mead.
"It was a 3 million gallon spill and it's going to filter through 4 trillion gallons of water at Lake Powell before it has to even reach Lake Mead," Vanover said. "Plus, it will have to travel about 275 miles down the Colorado River, then it will get diluted again in the 3 trillion gallons of water at Lake Mead. So, the amount of sediments that would reach down to this area should be very minimal."
The last time the water authority had a scare with its drinking water was about 15 years ago after perchlorate, a byproduct of rocket fuel, made its way through the shallow groundwater system near Henderson before percolating into Lake Mead, Mack said.
"There were significant remediation efforts that were put forth to intercept the shallow ground water and retrieve it, and those efforts significantly reduced perchlorate levels," he said.
Contact reporter Steven Slivka at sslivka@bouldercityreview.com or at 702-586-9401. Follow @StevenSlivka on Twitter.