Lake Mead still a top draw in America, but visitation dropping
April 18, 2013 - 12:04 pm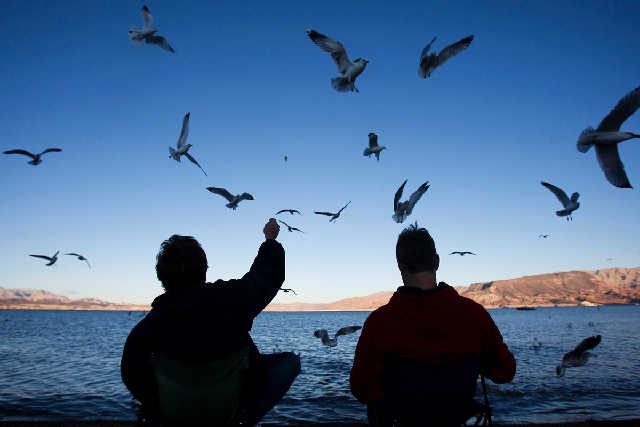 All the glory goes to Yellowstone, Yosemite and the Grand Canyon, but Lake Mead continues to be the people's park.
The national recreation area outside Boulder City ranked fifth on the list of the most visited places in the National Park System last year, besting every national park except one: the Great Smoky Mountains on the Tennessee-North Carolina border.
Almost 6.3 million people visited lakes Mead and Mohave in 2012, topping all but four of the nearly 400 sites managed by the National Park Service.
Lake Mead spokeswoman Christie Vanover credits the park's popularity to sunny weather and its proximity to Las Vegas, one of the world's most popular tourist destinations.
"Lake Mead National Recreation Area is just a fantastic place to come," she said.
But it's not quite as popular as it used to be.
Visitation has dropped by about 800,000 since 2010 and by more than 3.5 million since 1995, when it peaked at 9.8 million.
Vanover said the economic downturn has taken a toll, prompting many households to cut back on "discretionary spending."
"Boating can be kind of an expensive pastime," she said.
Even with the decline, Lake Mead's visitation last year was almost 1 million more than the Grand Canyon, 1.5 million more than both Yellowstone and Yosemite, and more than twice that of Zion National Park in Utah.
The service has tried to capitalize on Lake Mead's popularity in recent years with new entrance fee stations on Northshore Road and at Cottonwood Cove in Nevada and at Temple Bar in Arizona.
Another fee station is slated to open near Willow Beach on the Arizona side of Lake Mohave later this year.
Meanwhile the visitor center for the 1.5 million-acre recreation area has reopened after extensive renovations and the addition of a new high-definition movie about the park, but the facility's hours of operation were cut starting this week.
The Alan Bible Visitor Center, off U.S. Highway 93 east of Boulder City, will be open from 9 a.m. to 4:30 p.m. Wednesday through Sunday and closed on Mondays and Tuesdays.
Vanover said Lake Mead's visitor numbers do not include tourist traffic at Hoover Dam or the 4.5 million vehicles that drove through the park on U.S. 93 last year.
Other parks with higher visitation include some commuter traffic in their totals, she said.
Second-ranked Golden Gate National Recreation Area in San Francisco is bisected by a major highway. Two sites near the top of the list are highways: fourth-ranked George Washington Memorial Parkway in Maryland, Virginia and Washington, D.C.; and top-ranked Blue Ridge Parkway, a 470-mile scenic road that meanders from Shenandoah National Park in Virginia to Great Smoky Mountains National Park, the National Park Service's third-most visited site.
At the opposite end of the spectrum is Great Basin National Park, 300 miles northeast of Las Vegas.
The only national park located entirely in Nevada is also among the least visited in the nation. Last year, it attracted 94,850 visitors, its highest total.
"I'd attribute it to people realizing that Great Basin National Park is out here," joked Tod Williams, acting superintendent for the 77,000-acre mountain park in White Pine County.
He said a steady increase in visitor volume in recent years has helped pay for the addition and expansion of campgrounds, but it hasn't spoiled one of the park's chief attractions: solitude.
Even in a record year such as 2012, Great Basin drew less than a third as many visitors as Lake Mead saw during Memorial Day Weekend alone.
"You can still get out of your car and walk into the backcountry a mile or two and pretty much have the whole park to yourself," Williams said. "It's one of the hidden jewels of the National Park System."
And there is one added perk: Great Basin does not charge an entrance fee.
Contact reporter Henry Brean at hbrean@reviewjournal.com or 702-383-0350.