Lake Mead proposes trail closures: Extreme summer heat prompts need for limited seasonal access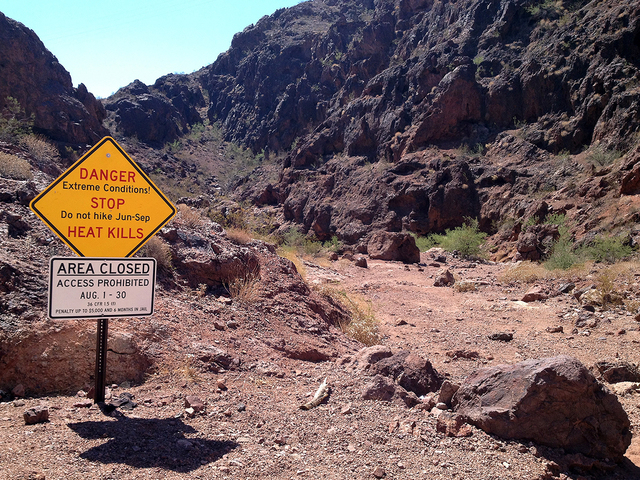 The National Park Service is considering closing two trails at Lake Mead National Recreation Area on an annual seasonal basis after four deaths in two summers forced the trails' temporary closure.
Lake Mead's Goldstrike Canyon and Arizona Hot Springs trails were shut down temporarily in the summers of 2014 and 2015 after "public safety incidents" went up significantly, the park service wrote in a release.
Park officials responded to 17 incidents at the trails in 2013, which resulted in one death, 31 total patients and five medical transports. The first seven months of 2014 saw 37 incidents that resulted in three deaths, 35 patients and 13 medical transports. Park officials closed the trails the rest of the summer in 2014.
There were no deaths on either trail in 2015, when the trails were closed the entire summer, park service spokeswoman Christie Vanover said. Crews made four rescues on the Goldstrike Canyon trail and 11 in the White Rock Canyon area, which holds the various pathways of the Arizona Hot Spring trail.
Many of the search and rescues on the trails are related to injuries, heat exhaustion or disorientation, Vanover said. When hikers are injured or experience heat exhaustion, often the result of hikers not bringing enough water on their treks, rescue employees have to carry them out of the canyons in "extreme heat."
One of the challenges with the two trails is that the hike down to the river isn't all that difficult, Vanover said.
"The hike back, however, is very strenuous," she said. "Down is optional; up is mandatory."
Management at the park posted signs to warn against the dangers of hiking during the summer, but people hiked the trails anyway, "endangering their lives and the lives of other visitors and rescue crews," the park service wrote.
The proposal up for discussion would turn the emergency closure into a permanent seasonal closure. The trails would be closed May 15 through Sept. 30 every year.
Goldstrike Canyon trail, a strenuous hike that requires bouldering and climbing, leads to Goldstrike and Nevada hot springs and the Colorado River. The Arizona Hot Spring trail leads to the Arizona Hot Spring, Liberty Bell Arch and the Colorado River.
"During the closure period, visitors may still access the popular hot springs via the Colorado River," the release said. "Other less strenuous trails through the park will also remain open."
The park service encourages the public to comment on the proposed closure by visiting http://parkplanning.nps.gov/projectHome.cfm?projectID=64418 or sending comments through the mail to Lake Mead National Recreation Area Superintendent, Attention: Proposed Seasonal Trail Closure, 601 Nevada Way, Boulder City, NV 89005.
Anyone who chooses to hike during the summer should follow "summer safety tips" listed on the park service's website, the release said.
Contact Kimber Laux at klaux@bouldercityreview.com or 702-586-9401. Find her on Twitter: @lauxkimber