Lake level hits record low
April 29, 2015 - 12:59 pm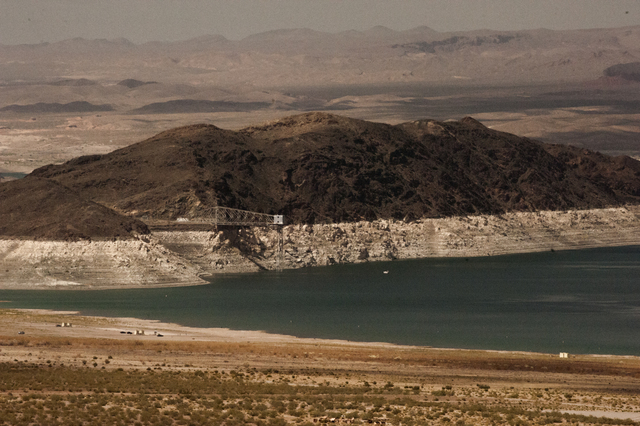 The drought that has plagued Lake Mead for years has driven the nation's largest man-made reservoir to a record low.
The lake dipped to 1,079.57 feet Wednesday morning, its lowest water mark since 1937. The last time it was that low, Franklin Roosevelt was president, postage cost 3 cents, and the once-inhabited town of St. Thomas had yet to be submerged underwater.
This latest setback for Lake Mead comes less than eight months after it reached its previous low-water mark of 1,080.19 last August.
The lake had gained nearly 9 feet since then, but a 4-foot decline from February has created more concerns as it recedes at an astonishing rate.
The main reason is because of the shrinking snowpack in the Rocky Mountains, which has sent Lake Mead through a whirlwind of uncertainty.
"It just keeps dropping," Bureau of Reclamation spokeswoman Rose Davis said.
According to Davis, snowpack for the year was at 101 percent on Jan. 5, but dropped to 85 percent less than a month later. As of April 20, the yearly snowpack had dipped to just 56 percent.
"We've gotten it basically in half in less than five months," Davis said.
According to the bureau's two-year study, Lake Mead is expected to drop to 1,079.3 feet today, and will bottom out at 1,073 feet by the end of June before gaining a couple of more feet by September.
Officials at Lake Mead National Recreation Area are preparing to address the issue by extending launch ramps again.
After putting down temporary concrete planks and pipe mat to make up for last year's water level, the National Park Service will spend $1.5 million to $2 million to extend launch ramps this year, according to spokeswoman Christie Vanover.
Still, the dreary news hasn't stopped tourists from spending money at the lake, nor has it deterred any visitation from the park.
According to a recent Park Service report, visitors spent $290 million around Lake Mead's communities in 2014. And despite its consistently decreasing water level, it remains one of the most visited sites of the Park Service's 407 units.
Since 2012, visitation at the recreation area has increased about 10 percent, with visitor spending increasing 15 percent, the report said.
"National park tourism is a significant driver in the national economy, returning $10 for every dollar invested in the National Park Service. And it's a big factor in our local economy as well," Superintendent Patrick Gubbins said.
But officials on the state and federal level are still trying to address the drought through legislation.
Along with Sens. Ben Cardin, D-Md., and Barbara Boxer, D-Calif., Senate Minority Leader Harry Reid recently introduced the Water Infrastructure Resiliency and Sustainability Act. The legislation aims to help the Environmental Protection Agency work with communities across the country to make improvements to their water systems.
Earlier this month, Gov. Brian Sandoval, joined by state and local government water officials, said the Nevada Drought Forum, comprising water managers and climate experts from across the state, will craft a blueprint on best practices for water use and conservation.
The Republican governor stressed Nevada is not in the dire straits as its neighbor to the west, where California Gov. Jerry Brown ordered a mandatory 25 percent reduction in water use.
Bronson Mack of the Southern Nevada Water Authority agreed, saying that Nevada is faring well despite the 15-year drought that has claimed so much water from Lake Mead.
The combination of building the necessary infrastructure and conserving water throughout the Las Vegas area have been the two biggest factors for the state's success, he said. Despite an increase in population, Southern Nevadans are using less water.
Of the 300,000 acre-feet the state is allotted by the Colorado River Compact of 1928, about 40 percent of it gets recycled back into the Colorado River, Mack said.
And the lake's third intake pipe, which has the ability to pump water as low as 865 feet above sea level, is expected to be completed by the end of summer, according to Mack.
"Southern Nevada, based on response to water conservation and planning for new infrastructure to secure our access to water in Lake Mead, has put us in a very good position to be able to weather the drought," he added.