Hoover Dam visitor attendance slides further
November 21, 2013 - 6:30 am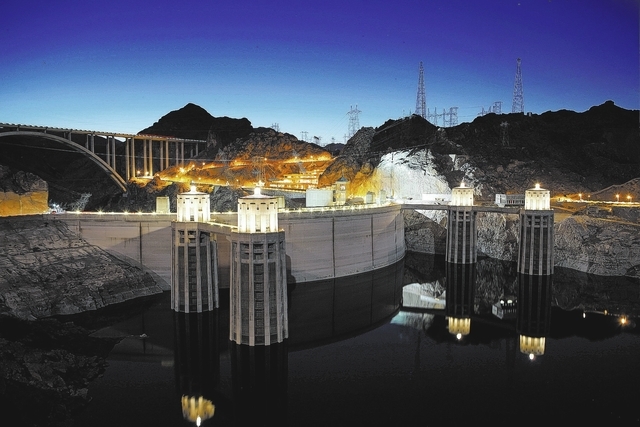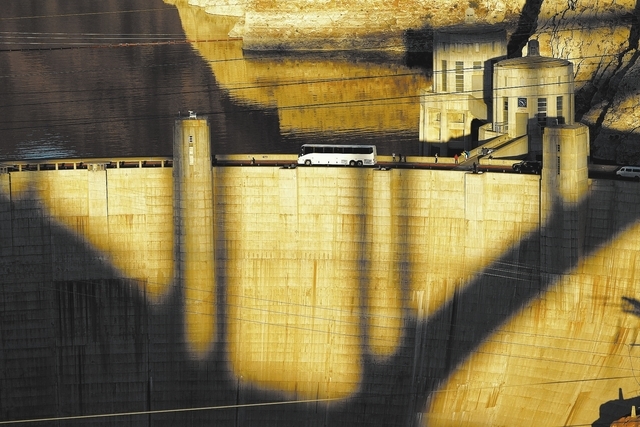 When the Mike O'Callaghan-Pat Tillman Memorial Bridge carried its first car across Black Canyon in October 2010, officials wondered and worried about what might happen to a Hoover Dam suddenly transformed from major interstate highway to mere roadside attraction.
It appears they have their answer.
Although visitation ticked up in 2011, when the dam saw about 823,000 paying customers, it fell in 2012 to 755,000, continuing a slide that actually began a decade ago.
And the downward trend shows no signs of stopping. With less than two months left in 2013, visitation at Hoover still hasn't broken the 700,000 mark.
"There has been a decrease," said Rob Skordas, area manager for the U.S. Bureau of Reclamation's Lower Colorado River Dams office in Boulder City.
It's hard to pinpoint why, but Skordas said the most obvious cause is the change in the way people get to the dam. Where they used to have no choice but to drive across the top of it, now tourists must exit U.S. Highway 93 on the Nevada side of Black Canyon, just east of the Hacienda Hotel.
"It used to be, 'Ah, we're here, we might as well stop,' " he said. "When you have to take an exit to get to the attraction, dad will say, 'Nope, we're not stopping.' "
Hoover Dam first opened to visitors in the late 1930s, not long after the structure was finished. Back then, a tour cost 25 cents, or about $4.21 in today's dollars.
Visitation peaked after the current visitor center and parking garage opened in 1995, triggering several years of paid attendance that approached but didn't quite top 1 million people.
Then came the terrorist attacks of Sept. 11, 2001, which closed the dam completely for several days and led to numerous new security measures that slowed traffic and cut down on how much of the facility visitors were allowed to see.
Visitor volume has yet to recover. Last week's price hike isn't likely to help.
Skordas said there "wasn't a direct connection" between the drop in visitation and the recent decision to increase admission prices.
As of Friday, admission to the visitor center went from $8 to $10, while parking in the garage and Arizona spillway lot went from $7 to $10. The price for the 30-minute tour went from $11 to $15 but stayed at $30 for the hourlong tour. Tour tickets include admission to the visitor center, and discounts are available for seniors, military personnel with ID and children 16 and younger.
Skordas said the dam's first price increase in eight years came as a result of rising operational costs at the visitor center and a cost comparison with other attractions offering a "similar type of visitor experience."
"We were trying to compare apples to apples, which was hard," he said.
It turned out Hoover Dam was charging significantly less than places such as the Stratosphere tower in Las Vegas and Hearst Castle in California.
Bureau of Reclamation spokeswoman Rose Davis said even at a few dollars more, paying to get into the visitor center or go on a tour still buys you a lot, including access to an observation deck that offers sweeping views of the dam and the bridge. But there's also plenty to see and do for free, she said. "It's not like there's a charge just to come and visit the property."
For example, it doesn't cost anything to park in the uncovered spaces on the Arizona side of the canyon and walk across the top of the dam to rub the toes on the Winged Figures of the Republic.
It's also free to park and stroll out on the bridge's pedestrian walkway, which looks down on the dam from a few hundred feet up and about a quarter of a mile downstream.
Skordas said it is possible that people are stopping to walk out on the bridge but opting not to drive down to see the dam close-up, although he'd like to think such a national icon would have a stronger draw than that.
But even though visitor numbers are down, Skordas insists morale is up.
Before the bypass, "Hoover, for some people, was just an unnecessary slowdown on their way from Point A to Point B," he said. "Now it's safer for the guests, and the staff is happier."
After 78 years, the dam has become a destination.
Contact reporter Henry Brean at hbrean@reviewjournal.com or 702-383-0350. Follow him on Twitter at @RefriedBrean.