Fewer bald eagles at Lake Mead, but numbers still up
January 23, 2014 - 5:23 am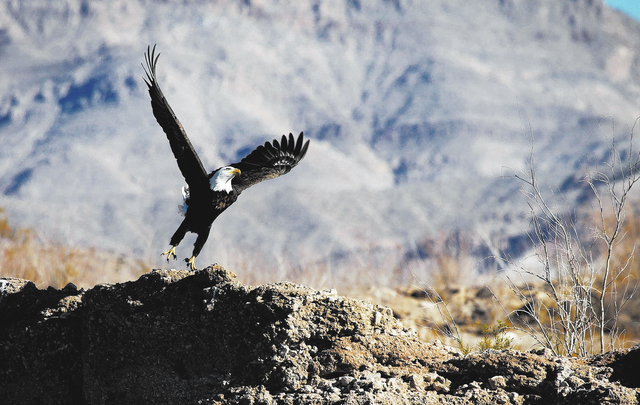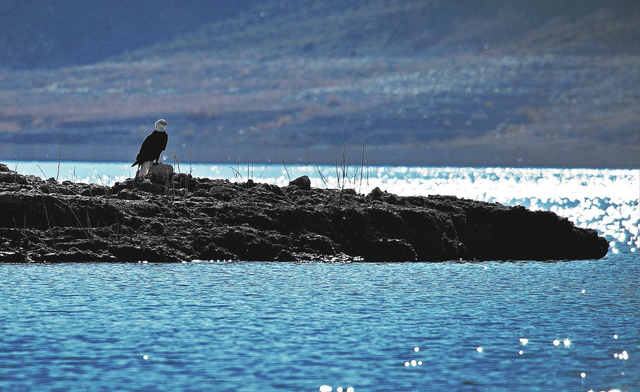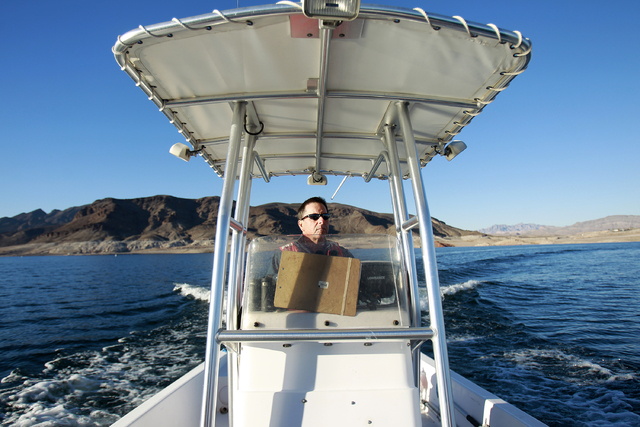 Although their numbers are down a bit this year, bald eagles by the dozens flock to Lake Mead National Recreation Area to wait out the winter.
An annual survey along lakes Mead and Mohave last week counted 132 of the birds of prey from just north of Laughlin to the mouth of the Virgin River.
That's 31 fewer eagles than last year at this time, but it still represents the fifth-highest total since the winter counts began in 1991.
"It's lower, but it's not anything to be concerned about," said Ross Haley, a wildlife biologist for the National Park Service at Lake Mead. "I actually expected it lower this year."
The big reason for his lowered expectations is unusually mild conditions farther north that have left lots of open, ice-free water where the fish-loving birds can hunt.
Bald eagles have made the two reservoirs above and below Hoover Dam a winter destination because the lakes don't freeze over, Haley said. But less ice elsewhere means less incentive for the eagles to fly south.
He also expected to see fewer eagles this year because of a West Nile virus outbreak that has killed at least two dozen bald eagles in Utah.
"We don't know how widespread that was," Haley said. "Usually with wildlife deaths you only see a fraction of what's out there."
This outbreak was strange to Haley because the eagles apparently caught the virus from infected grebes instead of the usual source: mosquitoes.
"I'd never heard of it. It's sort of news to me that they can get it like that," he said.
This year's eagle survey lasted from sunrise to sunset last Wednesday and involved 26 people in eight boats. The group included volunteers and staffers from the Park Service, U.S. Fish and Wildlife Service, Bureau of Reclamation, Bureau of Land Management, Nevada Wildlife Department and the Great Basin Institute.
Of the 132 bald eagles spotted, 60 were adults. The rest were juvenile birds that lack the distinctive, snowy white hoods they will get when they reach sexual maturity at age 4.
The crew on Haley's boat spotted five bald eagles in a single tree, although they weren't terribly surprised by the sight. The same dead tree on a bluff overlooking the eastern shore of Lake Mead's Overton Arm contained about 10 eagles last year and four eagles the year before that, Haley said.
In Black Canyon, downstream from Hoover Dam, surveyors caught up with what is believed to be the first nesting pair of bald eagles in Southern Nevada.
Haley said the pair has been living in the canyon year-round for at least the past four years, although only one of their chicks has survived so far.
"That's not unheard of, but you'd like to see more," he said.
For the first time this year, the survey crews also tallied other types of raptors.
Parkwide they logged 19 red-tailed hawks, 16 peregrine falcons, one prairie falcon, nine northern harriers, one osprey and one kestrel, Haley said.
The recovery of the bald eagle is widely hailed as the biggest success story in the history of the Endangered Species Act.
When the birds were declared endangered in 1967, widespread use of the pesticide DDT and other factors had reduced their numbers to less than 500 nesting pairs in the lower 48 states.
The Fish and Wildlife Service estimates as many as 100,000 bald eagles exist nationwide, including at least 20,000 outside of Alaska. The bird was removed from the endangered species list seven years ago.
Contact reporter Henry Brean at hbrean@reviewjournal.com or 702-383-0350. Find him on Twitter @RefriedBrean.