Faulty hoses blamed for sinking Newton's yacht
February 26, 2014 - 2:02 pm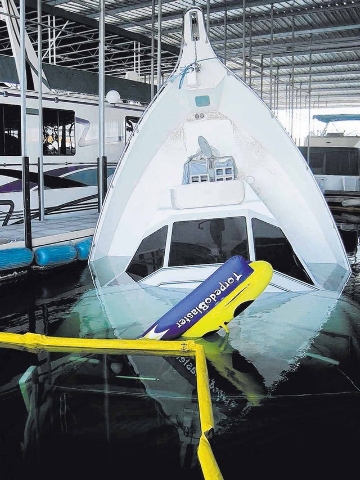 When people say Wayne Newton has a really good set of pipes, they apparently don't mean the ones on his yacht at Lake Mead.
Investigators determined a pair of malfunctioning hoses let Newton's 65-foot luxury houseboat fill with water and sink last year at a marina on the Arizona side of the lake. Christie Vanover, spokeswoman for Lake Mead National Recreation Area, said the National Park Service and Newton's insurance carrier found nothing fishy about the incident.
No one was on board the Rendezvous Oct. 18 when the 1996 Skipperliner went down stern-first in 49 feet of water, leaving its bow sticking straight up from the surface in a covered slip at Temple Bar Marina. No one was injured in the incident.
Vanover said the cause was traced to "problems with two hoses used to drain water from aft storage compartments."
She said she couldn't remember the last time a boat that large sank in Lake Mead.
The vessel has since been raised and salvaged, but all contents were lost to water damage, she said.
Newton and his wife, Kathleen, were vacationing in Bora Bora when the boat sank, according to the longtime Las Vegas entertainer's sister-in-law and publicist, Tricia McCrone.
At the time, McCrone said the boat was in "pristine condition" and had been "impeccably decorated by Mrs. Newton."
Newton bought the 60-ton, four-deck yacht with a 10-foot swimming platform and multiple berths five or six years ago, and he used to go out on it almost every weekend in the summer, McCrone said.
The vessel apparently had been on Lake Mead for years when Newton bought it. Vanover said it was kept in a covered slip at the northern tip of the lake until 2006, when the Overton Beach Marina was forced to move to deeper water. About half of that marina's docks and slips ended up at Temple Bar, the other half at Callville Bay Marina.
It was the latest setback for the 71-year-old known as Mr. Las Vegas. In June he had to move out of Casa de Shenandoah, his home since 1968, after a long and ugly legal fight over turning the 38-acre estate at the corner of Sunset and Pecos roads into a tourist attraction.
In recent years, he's been slapped with lawsuits accusing him of failing to pay bills for everything from a Cadillac to $32,384 worth of hay for his stable of horses.
A dispute over unpaid parking fees at a Michigan airport eventually led to Newton's private jet being disassembled, transported and reassembled at his Las Vegas estate.
In 1992, Newton filed for Chapter 11 bankruptcy after accumulating an estimated $20 million in debts, including the cost of a lengthy libel lawsuit he brought against NBC for reports in the early 1980s linking him to organized crime.
In August 2005, the IRS came after him, alleging that he and his wife owed more than $1.8 million in taxes and penalties.
Contact reporter Henry Brean at hbrean@reviewjournal.com or 702-383-0350. Follow him on Twitter at @RefriedBrean.