Bureau turns green into gold as buildings retrofitted for water, energy efficiency
December 16, 2015 - 4:51 pm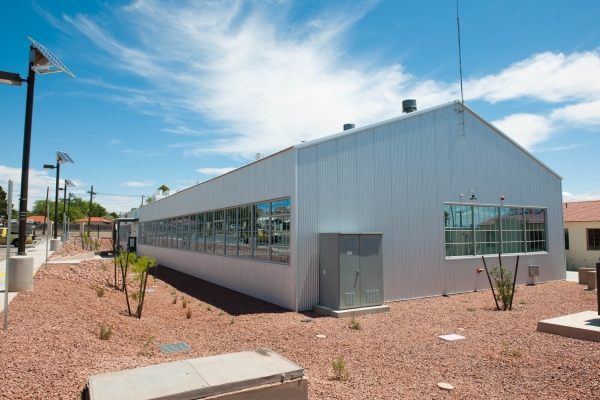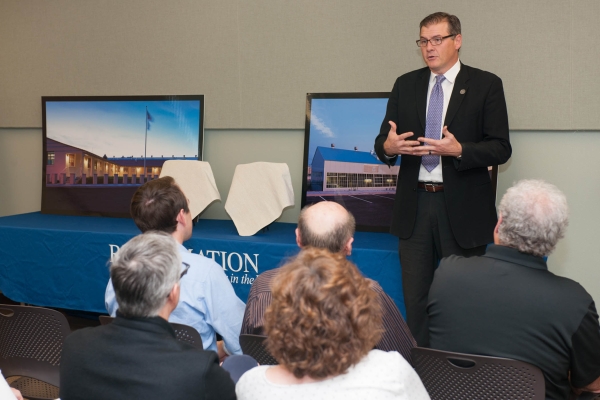 The Lower Colorado Region for the Bureau of Reclamation, which oversees energy and water efficiency of the Hoover Dam, has gone green in order to turn gold.
On Dec. 10, the bureau received gold certification from the Leadership in Energy and Environmental Design (LEED) for its effort in restoring two buildings with green, environmentally sustainable designs with water- and energy-efficient technology.
Reclamation was notified it would be receiving this certification by the U.S. Green Building Council in September for the work on two of its most historic buildings: 100 and 200.
"We were able to restore these buildings while at the same time keep them looking like they did when they were first built (in the 1940s)," said Rose Davis, external affairs officer for the Lower Colorado Region. "The Garage (building 200) was an original Six Cos. garage used to store vehicles for workers during the building of the dam."
Lower Colorado Regional Director Terry Fulp said careful attention was paid when renovating to ensure both buildings kept most of their historical features, according to the bureau's website.
"Much of the both buildings' original infrastructure was repaired or reinstalled," Fulp said on the website. "In both buildings, special attention was paid to recycled content and recyclable materials."
Davis said both buildings needed to be retrofitted for seismic compliance, and that building 100 was in the worse shape out of the two.
According to Davis, building 100 had contaminated soil, a patchy roof and unstable walls.
"People were working in this building without realizing how unsafe it was," she said.
The LEED Gold Plaque unveiling ceremony was held in two conference rooms that had been renovated. After the ceremony, attendees were invited on a tour to see the renovations that had been done.
Davis said the department budgeted $7 million for this transition to happen to both buildings.
The Garage has been turned into offices, including a regional office for government credentials, Davis said. Building 100 has also been renovated with new and improved offices as well as conference rooms.
Some of the energy- and water-efficient renovations made include installing solar-glazed windows, low-flow toilets and water fixtures, and low-water-use desert plants.
"The paperwork to file for gold certification took about a year-and-a-half because (LEED) needed to make sure we were telling the truth about our energy savings and had to inspect the building," Davis said. "We found out about a month or two ago that we had passed and became gold."
Three levels of certification according to LEED are silver, gold and platinum. The five green design categories looked at to determine the level of certification are sustainable sites, water efficiency, energy and atmosphere, materials and resources, and indoor environmental quality.
It's fair to say the Bureau of Reclamation has the Midas touch.
Contact reporter Randy Faehnrich at rfaehnrich@bouldercityreview.com or at 702-586-9401. Follow him on Twitter @RandyFaehnrich.