Author shares stories behind photographs
November 5, 2014 - 2:39 pm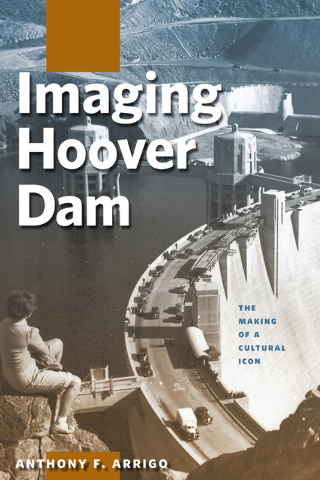 While vacationing in Las Vegas in 2010, Anthony Arrigo decided to come to Boulder City to set his eyes on Hoover Dam.
"You must be proud of this as an American," Arrigo's European friend said to him after hearing about his Hoover Dam experience.
Arrigo said he had never thought of it that way, as an American. He had never taken into consideration the role of the mighty Hoover Dam, and how the entire southwestern United States benefited from its resources.
Arrigo was still new as a professor in the English department at University of Massachusetts, Dartmouth when he went to see the dam. He had never written a book before, but his Hoover Dam experience inspired him to take on what would eventually become a four-year project filled with scouring archives and dissecting primary sources for information.
The finished product, "Imaging Hoover Dam," was published Oct. 15 by the University of Nevada Press.
The 320-page book contains 57 photographs, although Arrigo said he glossed through thousands of them. Through intense research, Arrigo learned more about the human experience during dam construction, including laborers, women and other minority groups.
And with his background in visual rhetoric (communication through images), Arrigo was able to use the photos he found, some of which had never been published, to piece together a history of Hoover Dam.
"I was really inspired by the photographs. They really grabbed my attention," he said. "There were tens of thousands of images, but the most interesting things were the stories behind the photographs."
And that is what he chose to focus on.
Arrigo recalled one photo that showed a man with his two children milking a donkey, a representation of the struggle several families endured during the Great Depression. Arrigo later learned, after reading the autobiography of the photographer, Winthrop Davis, that the man in the photo had just lost his wife. All he had was his two kids and the donkey.
It was that human connection that drew Arrigo more and more into his research, he said.
"There's this sort of intermarriage between the photos and the stories that were told. Sometimes the photographs tell a different story than your typical history," he said.
UNLV history professor Michael Green met Arrigo at a conference a few years back when Arrigo was giving a presentation about the research he compiled. After speaking with Arrigo about his research, Green, a Nevada historian, was impressed by the young scholar from the Northeast.
Since "Imaging Hoover Dam" was Arrigo's first book, he had to make sure it catered to both the public and the scholarly community. It's a difficult balance to maintain, Green said.
"Anthony did not get to be a professor simply by looking at pictures and showing up one day. It involves a lot of study and a lot of research. It requires a broad approach," Green said. "This book is fascinating for what it tells us about how people have depicted the dam. It's well written, and it has something for everyone."
Arrigo said he wanted to tell a story that went beyond just the photos. He said he knew there was more than what met the eye. Because of his background in visual rhetoric, he wanted to focus his research more on the ambitious people who came to Southern Nevada in the hopes of finding work during the worst financial crisis the nation had ever experienced, and how they helped to shape the project.
"Yes, it's (Hoover Dam) a great technological feat, but there's a different dimension to this about people willing to do anything to get a job during the Depression," he said. "It's more about the human stories behind this as opposed to the celebration of technology."
Green said he was impressed by Arrigo's ability to take photographs and make his audience see them for more than just photographs. The way he told stories through the element of photography separates Arrigo's book from any other book written about the dam, he said.
"There have been a lot of terrific books about the building of the dam, and its connection to Boulder City," Green said. "This is the best thing I've seen at trying to understand what we think of the dam and how we think of the dam. It was the first dam where it could be recorded in that way, and how that shapes our perception of it. It's how you perceive it, not simply what it is."
"All these stories really give the construction (of the dam) a human perspective," Arrigo said.
Contact reporter Steven Slivka at sslivka@bouldercityreview.com or at 702-586-9401. Follow @StevenSlivka on Twitter.