Judge dismisses protester's claims against city
September 12, 2018 - 3:02 pm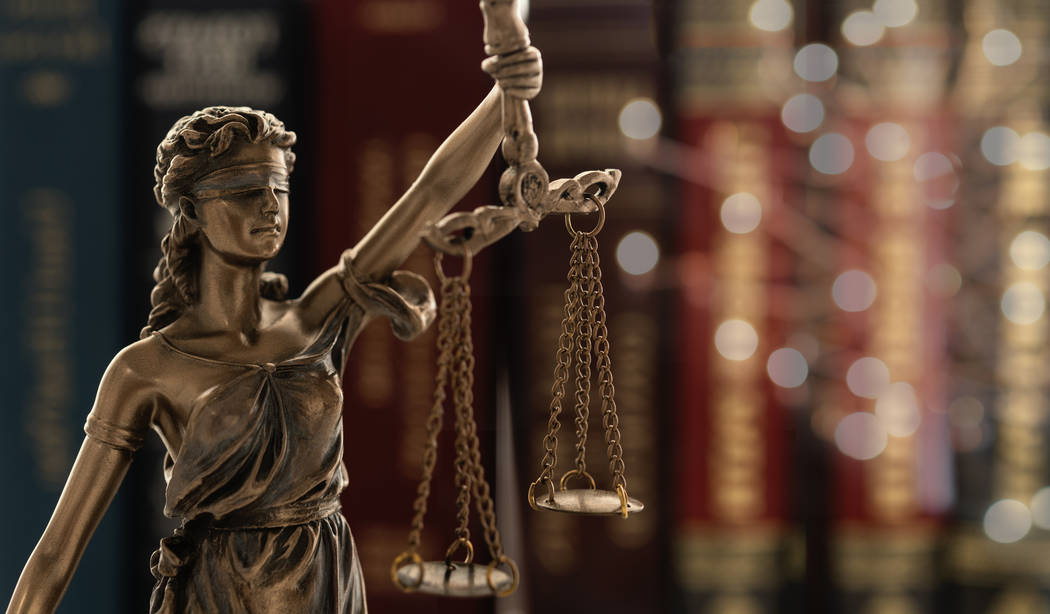 A U.S. District Court judge recently determined that a former resident's constitutional rights were not violated and dismissed claims against Boulder City in a case involving a protest of an official police activity.
John Hunt was arrested by Boulder City Police Sgt. John Glenn on June 8, 2016, after he repeatedly walked back and forth in a marked crosswalk protesting a police-sanctioned crosswalk detail. In May 2017, Hunt's attorneys filed a complaint in U.S. District Court accusing Boulder City and Glenn of false arrest, as well as accusing Glenn of violating Hunt's free speech and due process, violating his Fourth and 14th Amendment rights against search and seizure and using excessive force. It also accused all the defendants of malicious prosecution, abuse of process, false imprisonment, negligence, assault and battery.
Judge James C. Mahan wrote in his ruling, issued Sept. 6, that Hunt's constitutional rights were not violated with the arrest.
"Clear video evidence demonstrates that officer Glenn (1) did not arrest plaintiff in an attempt to silence plaintiff's protest, (2) had probable cause to arrest plaintiff, and (3) did not prepare false reports," he wrote.
According to the ruling, Glenn arrested Hunt before he found out he was protesting the crosswalk detail.
"A police officer has probable cause to arrest a suspect without a warrant if the available facts suggest a fair probability that the suspect has committed a crime. … video footage shows that plaintiff abruptly stepped onto the highway, causing a driver to excessively press the brakes," Mahan wrote. "The video footage also reveals that officer Glenn was able to personally observe plaintiff's actions. Further, plaintiff's own expert witness sergeant Raymond Hubbs, reviewed the video evidence and admitted that he would have issued a citation."
City Attorney Steve Morris said they were pleased with the ruling.
"We have maintained that this case is about safety and abiding by the law," he said. "Mr. Hunt was found guilty on charges related to this case last month in criminal court, and now the claim that his actions should be protected by the First Amendment has been dismissed by a federal court. The judgments in both cases are confirmation that the Boulder City Police Department and city attorney's office acted appropriately."
The dashcam video of Hunt's arrest was called into question during the case by his attorney, Stephen Stubbs, because it appeared not to support Glenn's report.
Mahan said Glenn's report was "substantially supported by video evidence," but it was also not completely accurate.
"The report does contain some inaccuracies and omission, such as stating the plaintiff's protest caused a car to 'skid to a stop' and failing to report that an officer placed him in a headlock," he wrote. "However, in totality, the report appears to be a genuine, though imperfect, account of the plaintiff's arrest."
Mahan approved the city's motion for summary judgment, which dismissed all the federal claims. He dismissed the claims against Boulder City with prejudice, meaning that Hunt cannot file another case with the same claim. Additionally, he chose not to rule on Hunt's claims that fall under state jurisdiction.
"We are very happy that Judge Mahan determined that Mr. Hunt was in fact participating in a constitutionally protected protest of the crosswalk event, that Sgt. Glenn's report was not accurate, that the car yielded, that at no point did the car's tires skid or screech, and that Sgt. Glenn knew two and a half minutes after the arrest that John was protesting," Stubbs said.
He also said that it was "very interesting" that the court recognized that Glenn had dug his knee into Hunt's back and yelled "What's your major malfunction?" at him in reference to the movie "Full Metal Jacket," where a Marine Corps drill sergeant yells at his recruits.
"This shows that Sgt. Glenn lost his cool and supports the criminal case that's now in district court," Stubbs said.
Stubbs said he plans to appeal the summary judgment ruling as well as filing claims in Nevada's Eighth Judicial District Court for the claims in the state's jurisdiction.
Federal Ruling by Boulder City Review on Scribd
Contact reporter Celia Shortt Goodyear at cgoodyear@bouldercityreview.com or at 702-586-9401. Follow her on Twitter @csgoodyear.