Judge: City vindictive in case against protestor
October 31, 2018 - 3:23 pm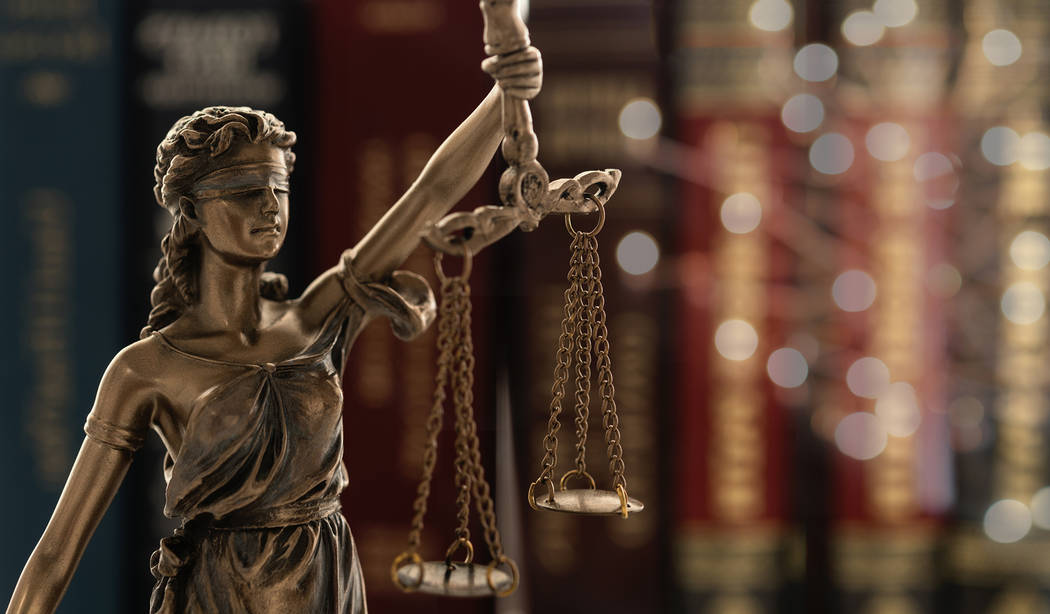 Boulder City has been found guilty of vindictive prosecution and violating the First Amendment rights of a resident in a long-running case involving a police-sanctioned crosswalk activity protest.
The case was also dismissed.
In his written order dated Monday, Oct. 29, District Court Judge Richard F. Scotti said the city vindictively prosecuted Boulder City resident John Hunt, who was arrested June 8, 2016, after he repeatedly walked back and forth in a marked crosswalk protesting a police-sanctioned enforcement event.
Scott said the city's prosecution of Hunt was retaliatory because it had dropped the original two charges and then refiled them along with three others after Hunt's attorney filed a civil complaint against the city accusing Boulder City and Police Sgt. John Glenn of false arrest, as well as accusing Glenn of violating Hunt's free speech and due process, violating his Fourth and 14th Amendment rights against search and seizure and using excessive force.
It also accused all the defendants of malicious prosecution, abuse of process, false imprisonment, negligence, assault and battery.
"The filing of the criminal complaint only days after Mr. Hunt filed his civil rights lawsuit, coupled with the facts that the city of Boulder City previously dismissed the criminal case rising from June 8, 2016, and has not received any additional evidence, clearly indicates that the prosecution had a vindictive motive when they refiled their complaint on June 5, 2017," he wrote in his order.
Insufficient evidence
Scotti wrote that the city's only evidence submitted to rebut the claim was that former City Attorney Dave Olsen was preparing for retirement and did not have a paralegal.
"This evidence is not sufficient to indicate that the increased charges could not have been brought before the defendant exercised his right," Scotti wrote in the order. "Almost eleven months elapsed between when the city dismissed all charges and Mr. Hunt filed his civil rights lawsuit."
Assistant City Attorney Gary Booker has continually prosecuted the case for the city along with City Attorney Steve Morris, who took over when Olsen retired in July 2017.
Additionally, Scotti dismissed the city's obstruction charge against Hunt, noting he was asserting his First Amendment right of freedom of speech when he was walking back and forth in the crosswalk.
"The city of Boulder (City) knew that Mr. Hunt was protesting and still charged him with obstruction even though the police previous to this incident sent out a press release asking people to use the crosswalk during the enforcement activity," he wrote in the order. "The obstruction charge is an abridgment of free speech and must be dismissed."
New lawsuit pending
Hunt's attorney, Stephen Stubbs, said he plans to file a new lawsuit for prosecutorial misconduct against Morris as well as an ethics complaint.
"Steve Morris was found to have committed prosecutorial misconduct through vindictive prosecution by violating John Hunt's First Amendment rights along with deceiving the court by making false statements of law," Stubbs said. "It's egregious, unethical and dishonest, and City Council needs to step in and make sure this never happens again."
Hunt's civil case was dismissed Sept. 6 by Judge James C. Mahan, and Hunt was found guilty in Boulder City Municipal Court of four charges and sentenced to 140 hours of community service by Judge Margaret Whittaker on Aug. 14.
Scotti's decision came after Hunt's attorney appealed Whittaker's decision.
"The city respectfully disagrees with the findings of the District Court," Boulder City Communications Manager Lisa LaPlante said in a written statement. "In essence, the argument of free speech in this case is akin to yelling 'fire' in a crowded theater, an act that can be dangerous and potentially deadly. Defendant John Bridgford Hunt's behavior in the crosswalk was deemed unsafe and could have ended in injury, a decision of the arresting officer, the city attorney and two judges: Municipal Court Judge Margaret Whittaker in the criminal complaint, and U.S. District Court Judge James C. Mahan in his dismissal of the federal suit filed by the defendant. The city will appeal this decision to the chief judge of the District Court."
Olsen questioned the lack of an evidentiary hearing in the District Court proceedings.
"As I looked over (the order), I was scratching my head and wondering," he said. "This does not look like a municipal court appeal. There was no evidentiary hearing."
Olsen said that since Boulder City Municipal Court is not a court of record, the appeal is de novo, which requires an evidentiary hearing.
Fairness questioned
Stubbs also questioned the Boulder City Municipal Court's ability to be fair.
"It's clear that as long as Steve Morris and Judge (Victor) Miller are both in their positions, people cannot get a fair trial in Boulder City," he said. "Judge Miller was presented with a First Amendment motion and chose not to rule against Steve Morris even though the facts were so clear because he did not want to criticize his religious leader."
Miller was the original judge on the case but recused himself in April when his impartiality was questioned stemming from a gag order he had issued in the case. The order prohibited all counsel from engaging in extrajudicial communications that disparaged or commented on opposing counsel relative to the case.
Stubbs filed a petition to overturn the gag order, claiming that because Morris is Miller's church leader, Miller may not be able to objectively assess Morris in the courtroom.
District Court Judge Susan H. Johnson lifted the gag order, saying it was too broad and could be violated if the attorneys disparaged their adversary in a private conversation at home. She did not mention anything about their religious relationship.
"Furthermore, it is reprehensible that attorney Stephen Stubbs and the defendant's father continue to make baseless accusations on social media based on the First Amendment right of freedom of religion against the judge and city attorney," LaPlante said. "It is especially disheartening to read this rhetoric and misinformation in light of recent tragic events nationally."
Hunt Case Order by Boulder City Review on Scribd
Contact reporter Celia Shortt Goodyear at cgoodyear@bouldercityreview.com or at 702-586-9401. Follow her on Twitter @csgoodyear.
Timeline
June 8, 2016: John Hunt arrested
June 21, 2016: City dismisses charges
May 30, 2017: Civil complaint filed against city
June 5, 2017: City files new charges
Feb. 27, 2018: Judge Victor Miller issues gag order
March 2, 2018: Writ of mandamus filed to lift gag order
April 9, 2018: Judge Miller recuses himself
April 16, 2018: Gag order lifted
Aug. 14, 2018: Hunt declared guilty
Aug. 22, 2018: Appeal submitted to district court
Oct. 29, 2018: City guilty of vindictive prosecution