Hospital, honorees see outpouring of love at gala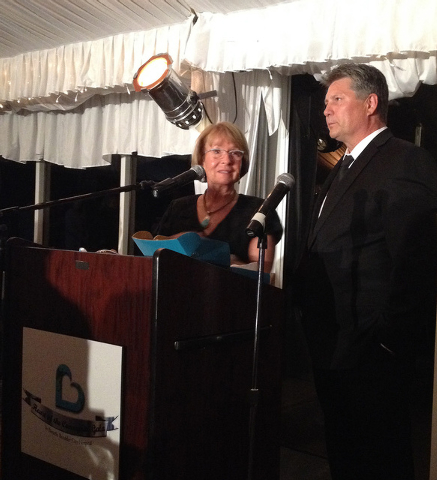 If Friday night's celebration was any indication, Boulder City Hospital has a strong heartbeat.
The fifth annual Heart of the Community Gala honored Robert and Linda Faiss, staunch supporters of the health care facility, while raising much-needed funds to keep it operational and making improvements to better serve area residents. It capped off the week's observance of National Hospital Week.
"It was fabulous. I can't thank the community enough for their support of the hospital and our gala," said Christine Milburn, president of the Boulder City Hospital Foundation, which presented the event.
The gala is one of the nonprofit hospital's top fundraising events.
"It was a resounding success," agreed Wendy Adams community events manager for the hospital, noting that the final amount raised should be determined in the coming days.
The only thing missing from the festivities was one of the evening's honorees. Robert Faiss, who is battling cancer, was unable to attend. He was under doctor's care at the hospital, which helped drive home the importance of keeping the facility viable.
"After two years of a death-defying medical journey with Bob, that started at one of the highest-rated hospitals in the world, I can assure you that, to the contrary, there is no place like home," Linda Faiss said of her husband's stay at Boulder City Hospital.
"The bad news is that Bob is not here tonight. The good news is he is getting the best care possible at Boulder City Hospital. He has been there a couple of hours now.
"We are not only supporters of Boulder City Hospital, we are satisfied customers. In fact, our hospital has earned a 98 percent patient satisfaction score. We know why. From the emergency room and skilled nursing to home health care and outpatient physical therapy, both Bob and his late 102-year-old father, Wilbur, received exceptional, personalized care at Boulder City Hospital."
Fortunately, the celebration was filmed and Robert Faiss was able to watch the festivities from his hospital bed.
"And many, many thanks to our beloved friends, family and good neighbors who have cared for Bob and me during every step of this journey and to all of you tonight for donating your time, your talent and your treasure to a worthy cause that is absolutely critical to our quality of life in Boulder City. You are helping to fulfill a vision of Boulder City Hospital to keep quality care close to home," Linda Faiss said.
She was accompanied to the stage to accept their award by one of their five children, Robert Mitchell Faiss.
"I would like to accept this honor on behalf of my father who couldn't be here tonight. …
"And he said he is sorry he missed it this year; he hasn't missed one yet and he will be back next year," Robert Mitchell Faiss said.
Moments after accepting many accolades and hugs from family and friends, Linda Faiss was doing what she has always done — supporting the hospital by bidding on items during the evening's live auction.
In addition to recognizing the Faisses for their contributions, hospital CEO and Administrator Tom Maher honored Gov. Brian Sandoval for his help in coordinating emergency negotiations to keep the hospital running when it was in dire financial need two years ago, and working to change the direction and success of the facility.
During the cocktail hour, architectural drawings of the renovations underway at the hospital were displayed. After the January completion of the new Geriatric Behavioral Health and Acute Rehabilitation units, work began on an enlarged emergency room, new physical rehabilitation center, and new lobby, admitting and gift shop area. It is slated for completion in September.
"The expansion is directly tied to Linda's vision and her determination," said Helen Foley, Linda Faiss' partner in Faiss Foley Warren, a public affairs and government relations specialist, and former state senator and assemblywoman.