Hometown Hero: Berger honored for saving man's life
November 22, 2017 - 3:20 pm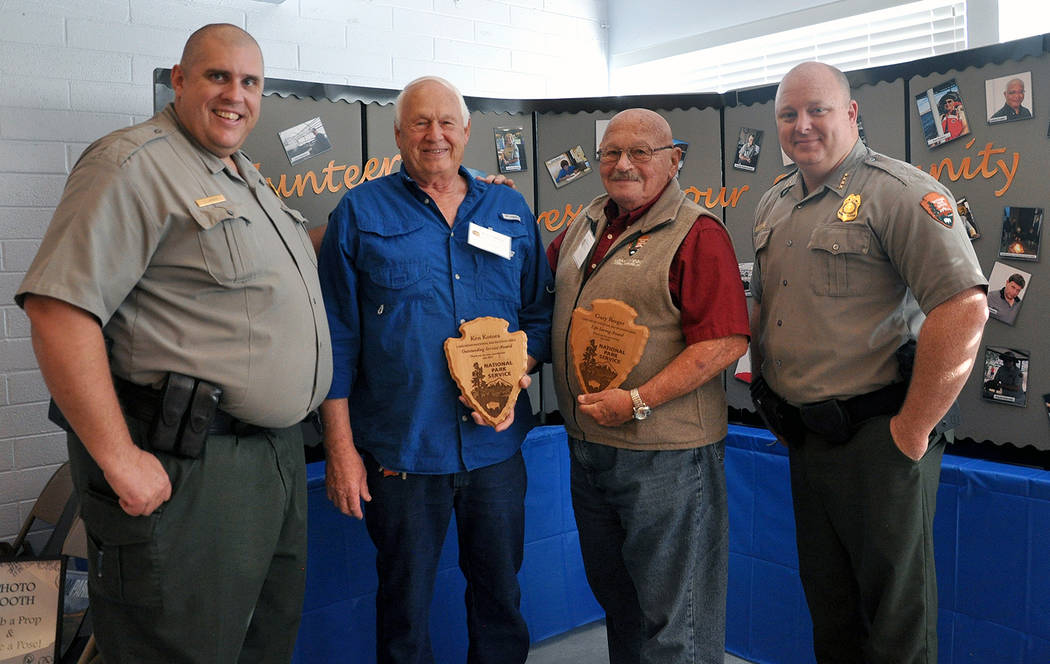 Ask Gary Berger if he did anything out of the ordinary on July 30, and he will emphatically say no. Others, however, might disagree.
Berger was on a National Park Service boat of volunteers patrolling Lake Mead that day when two men were spotted struggling while swimming near Hoover Dam. They were able to rescue one of the men, but the other, a 42-year-old Las Vegas man, drowned.
His lifesaving efforts were recognized Nov. 14 when he was presented with an arrowhead Life Saving Award by the National Park Service.
"We were in the right place at the right time," he said.
Berger said he is extremely humbled by the award.
"I received this because I did something that any one of you would have done if the incident presented itself. I'm not anyone special."
Also honored were Jim Reilly and Jolie LaChance, who were on the boat with him. Fellow volunteers Rick Brodeen and Ken Kotora were presented with Outstanding Service awards.
According to the Park Service, Berger, LaChance and Riley were on a water safety patrol on Lake Mead in the Black Canyon when they observed and responded to two swimmers in distress. They acted quickly and maneuvered the boat over to the scene.
They threw a personal flotation device to one of the swimmers, who made it safely to shore, but the second swimmer had gone under before they could get to him, Berger said.
After a "hasty" search for the missing swimmer, noting the last place he was seen, they notified park dispatch and requested additional help from rangers and other volunteers in a park vessel.
The Park Service said Brodeen and Kotora, who were on a different boat, helped in the search and transported the family and friends of the missing swimmer back to the dock.
"Without the rapid and decisive response from the VIPs, there easily could have been a second swimmer that perished that day," said Nancy Bernard, volunteer coordinator. "The dedication and volunteerism from our Lake Mead boat VIPs is tremendous. We are grateful to them and for the many contributions that all our volunteers make."
This is not Berger's first time or award for saving someone's life. He was given the Spotlight Award by the Los Angeles Chapter of the American Red Cross. It is the highest honor the nonprofit can bestow upon a volunteer.
Berger has been volunteering in emergency services for more than 30 years. He has taught emergency medicine and CPR for the American Red Cross and has managed emergency services for several major events, including the 1984 Olympics in Los Angeles, the first Los Angeles Marathon, the Hollywood Christmas parade and Pope John Paul II's 1987 visit to Los Angeles.
He said he was introduced to volunteer efforts in lifesaving when his wife, Sharon, took a CPR class. He said it seemed like an "interesting" thing to do with his spare time.
He also has professional experience dealing with crisis situations, including a part-time position with the National Park Service at Lake Mead working as a 911 dispatcher.
Berger said he has no idea how many lives he has saved.
"I don't follow up," he said. "I do the best I can to help. The outcome is not in my hands."
He said he learned that lesson early after trying to check on the condition of someone he helped during an emergency situation. Though he was able to get that person to the hospital, the injuries proved to be fatal.
Helping others is just part of his nature, he said. In addition to volunteering for the Park Service, Berger volunteers at the city's police department and Friends of the Boulder City Library, and he serves on the city's airport advisory committee. He recently completed his final term on the Boulder City Library's board of trustees and only left the position because of term limits.
"I do it very simply because of the Golden Rule," he said of all of his volunteering and lifesaving efforts. "If I was hurt, I would want somebody to help me."
Hali Bernstein Saylor is editor of the Boulder City Review. She can be reached at hsaylor@bouldercityreview.com or at 702-586-9523. Follow @HalisComment on Twitter.