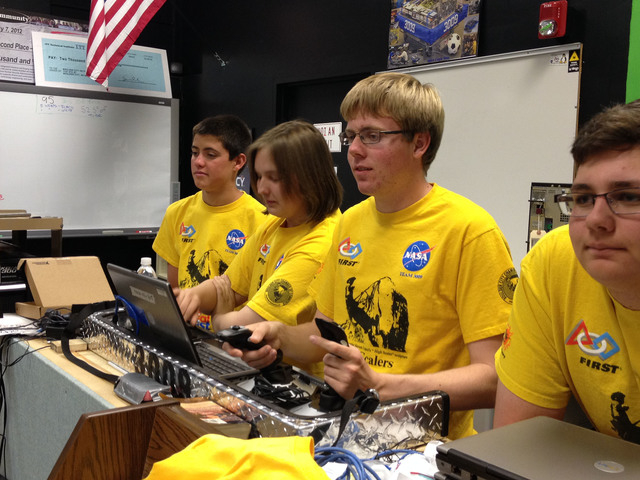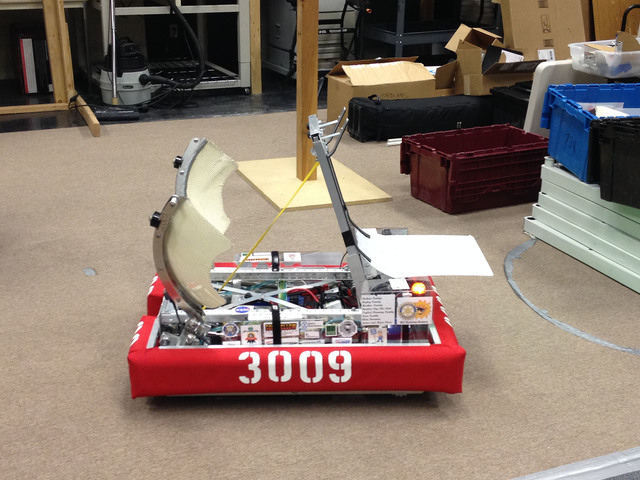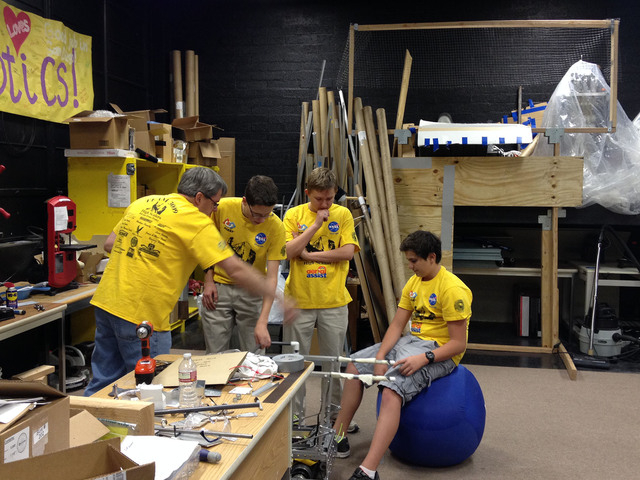 Grayson Taylor studies the screen on a laptop while Chandler Harkins stands next to him, operating the connecting joysticks that look like they've been used in video game.
The teenagers look like they're operating a flight simulator.
For the seniors, captains on the Boulder City High School Robotics Team, it's just another day at the office as they prepare for the FIRST Robotics Competition Las Vegas Regional Championships today through Saturday at Cashman Center.
"I heard about this when I was a freshman, and after I joined I realized that mechanical engineering and computer science (were) what I wanted to do," Taylor said.
The Boulder City High School Robotics Team, also known as the High Scalers, will compete against 50 teams in Las Vegas with the hopes of capitalizing off its fourth-place finish in the San Diego Regional Championships in March where it won 10 out of 11 matches.
From the first week of January until the middle of February, the 11 students and their five mentors worked nearly 30 hours a week building a competitive robot. The robots play on a 54-foot-long field.
The object of this year's competition is to build a robot that can pick up and shoot a 2-pound ball through a goal.
Three schools' robots can form an alliance, and teams accrue points if they pass the ball to other robots in their alliance before making a goal. The team with the most points wins.
Sophomore Nick Lara said he's dedicated nights and weekends to building the 100-pound robot.
"There are so many problems that come with building a robot, so you don't want to waste a minute," he said.
Lara had no experience with robotics before joining the team as a freshman. He quickly fell in love with it and plans to pursue a mechanical engineering degree after he graduates in 2016.
The same can be said for senior Bryan Jones, also in his second year on the team. Jones is the coach of the robotics' drive team and is in constant communication with its members as to what the best strategy is to get the most points.
Like Lara, Jones was new to the robotics world when he joined the team last year. He said he's enjoyed his time on the team and plans to attend San Diego State University next year.
"It's shown me a different area I never thought I'd be interested in," Jones said.
Electrical engineer and coach John Richner started the team six years ago with son Nathan, who graduated from the school in 2011, and former engineer Harold Begley. Richner understands how competitive robotics events can be, but said sportsmanship is just as crucial.
"If a team needs a part, other teams will help them out," he said. "It's very competitive, but it's also very supportive."
The High Scalers are one of five high school robotics teams in Clark County, and rely exclusively on donations to support their exceedingly expensive costs. For entry fees, parts and transportation, the team had to raise nearly $16,000 to fund its four-month season.
If the High Scalers qualify for the World Championship in St. Louis, they must raise an additional $15,000 by the end of April.
"The community is a huge reason why we're here. They've been instrumental to our success," Richner said. "Their support has made this all possible."
As a captain, Taylor carries out additional responsibilities to ensure the robot is successful. Despite the long nights and 12-hour weekend shifts working on the robot, he said he's enjoyed his four years as a High Scaler and plans to major in engineering at the University of Portland next year.
"I've gained a lot of knowledge since being on the team," he said. "I've made a lot of friends, and it made me much more outgoing."
Lara still has two years before he graduates, and he said the hard work the team puts into building the robot makes it worthwhile.
"Once you put in the pneumatic, you finally get a product and see if it works," he said. "Luckily for us, it did."