Harkins, Klouse continue to lead
October 10, 2013 - 4:01 am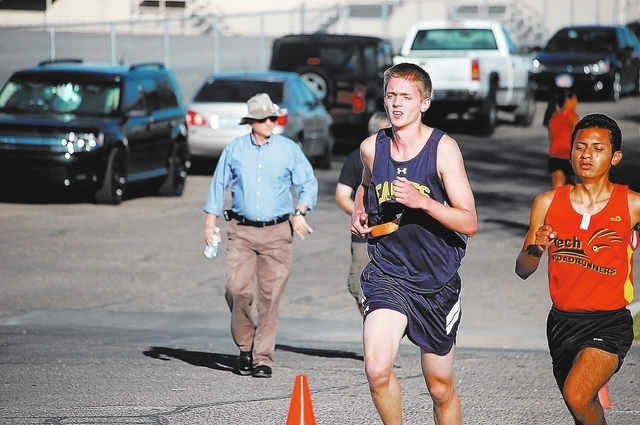 Led by junior Chandler Harkins and senior Evan Klouse, the Boulder City boys' cross-country team improved to 4-2.
It's been that way for Harkins and Klouse for three seasons. What is new is the emergence of a sibling rivalry between junior Christian Shamo and freshman Caleb Shamo.
"Christian, the older one, usually finishes in third for our team, but lately his younger brother has been staying pace with him and making for some interesting finishes," coach Canaan Petersen said. "It is a new rivalry, and something exciting everyone is watching during our races."
Harkins ran 18 minutes, 17 seconds to finish second; Klouse ran 20:37 and was eighth. The Eagles were second as a team with 45 points to Tech's winning low of 25 points. Christian Shamo was 10th, followed by Caleb in 12th place.
"We have a big test coming up Saturday when we host the Lake Mead Invitational," Petersen said. "All four teams in our league competing for the three berths for state will be attending."
The Lake Mead Invitational is at 8 a.m. Saturday at Veterans Memorial Park.
The Eagles also had a dual meet Tuesday at Moapa Valley.
The Lady Eagles ran into two tough teams in their recent meets, losing to Desert Pines and Tech.
"Both Tech and Desert Pines are solid teams that will do well in both the region and state competitions," Petersen said. "So, the girls have done their best to stay close with excellent teams. They will improve against that competition."
Jessica Embro continues to lead the Lady Eagles. She took second place against Desert Pines and second place in her team's meet with Tech and Sunrise Mountain. Niquel Nussear and Emma Torgesen have been running behind Embro.
"They give us a great top three," Petersen said. "The challenge will be getting the rest of our girls to compete for the fourth and fifth place spots."
Tennis
The Boulder City girls' tennis team clinched first place in the Sunrise League for a second consecutive year with an 11-7 victory against Moapa Valley in Overton on Friday.
Melissa O'Berto and Taylor Finn each went 3-0 in singles play to help the Lady Eagles top the Pirates. Sariah Gneiting and Alexis LeMaster were 3-0 in doubles play.
The Lady Eagles (12-0) advanced to the Southern Region Team Tournament, which began Tuesday at home against The Adelson School (6-7). The team tournament continues through Wednesday. Because of press deadlines, results will be included in our next issue, Oct. 17.
It is the second consecutive year that the Lady Eagles won the Sunrise League regular season championship and advanced to the Southern Region playoffs.
"The girls did a great job all year," coach Eric Speaker said. "It is good accomplishment for them to win the league back-to-back years."
The boys' tennis team lost 12-0 to Moapa Valley in its final match of the season Oct. 4 and ended with a 3-9 record. The team didn't qualify for the region tournament.
"We were hoping to make it two years in a row into the playoffs, but we just missed," senior Eric Gros said. "We never had a full roster, so we did the best we could. We still had a good year."
Volleyball
The Lady Eagles, 13-9 overall and 6-0 in league play, took command of first place in the Sunrise League by sweeping two matches this past week.
Senior hitter Whitney Barlow had 21 kills and three aces to lead the Lady Eagles to a 26-28, 25-12, 26-24, 25-14 triumph against Chaparral. Senior setter Kendall Miller added 27 assists and two kills, while Lauren Pocius had four kills and five blocks.
On Oct. 3, Boulder City defeated visiting Virgin Valley 25-6, 25-21, 25-10 for its homecoming victory. Barlow had 13 kills and Alyssa Ybarra added six aces and 13 digs. Tara Cox added five aces and six assists.
The Lady Eagles will play at home Oct. 14 against Pahrump Valley, and Oct. 15 against Desert Pines. Both matches are at 6 p.m.
Boys Soccer
Victor Andrades scored three goals Oct. 3 as Boulder City rallied from a 2-1 halftime deficit to defeat visiting Moapa Valley, 4-2. Yann Moncayo also scored for the Eagles, which are 3-7-1 overall and 1-5-0 in Sunrise League play.
The Eagles lost 9-3 at home to Tech on Monday. They also had a match Wednesday at Chaparral.
Girls Soccer
Vilde Svendsen scored for Boulder City in a 4-1 loss to Moapa Valley in Overton on Friday. The Lady Eagles are 2-7-0 overall and 1-5-0 in Sunrise League play.
The Lady Eagles lost 6-0 at home to Tech on Monday. They also had a match Wednesday against Chaparral.