Haggen opens with makeover, healthy options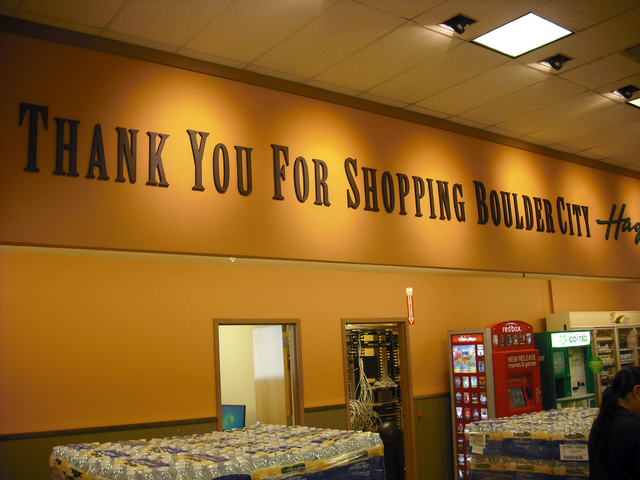 It looked like controlled chaos, but the changes were evident.
The Haggen transition of the former Vons market was in full swing Tuesday morning in preparation for its afternoon opening. Chris Clayton, district manager of the Arizona/Nevada division of Haggen, walked the floor and made suggestions or answered questions.
Clayton is a man of few words but lots of action. In between deciding which cheese should go where or if the signs were high enough he spoke about the history and the future of Haggen.
"They started in 1933 when Ben and Dorothy Haggen opened a grocery store in Washington state and just kept going. With mergers and buying various stores they had gotten to about 60 units. But over time sold out and gradually reduced that number to about 18," he said.
"With the current purchase of 168 stores Haggen is expanding like never before."
The expansion is being funded by Comvest Partners. Before this venture Haggen had been family owned and operated.
According to a statement released by Haggen, "Haggen Inc. is one of the Pacific Northwest's leading grocery chains. The Bellingham, Wash.-based company operates stores in Washington and Oregon under the Haggen Northwest Fresh banner. It is the state's sixth-largest private company with the majority of shares owned by Comvest Partners. Haggen is dedicated to providing its guests with the best of the Northwest.
"For more than 80 years, it has supported regional farms, ranches, fisheries and other businesses, creating a lasting and sustainable local food economy. Haggen is also deeply rooted in the communities it serves, providing support to local events and partnerships with various organizations."
The employees were all offered positions and, according to store manager Ignacio Llamas, nearly all accepted.
"The community is excited and the customers are ready for a change. For lots of things now they won't have to go over the hill," Llamas said.
Clayton promised a "farmers market look and a country feel with an emphasis on quality, which is second to none. The merchandise will be competitively priced and of a higher quality than the norm."
Some of the changes that were evident were the expansion of the organic produce section from approximately 50 items to more than 200.
"Haggen will only supply the best organic produce, purchasing as much as possible from local sources," Clayton said.
When asked where the company finds its locally sourced items he said that the stores' employees, or team, are asked to help find the providers.
"When they are out at farmers markets or fairs they are charged with talking to vendors and whenever possible bringing that information back to store and eventually the company's attention," he said.
Some of the changes that should be noticeable in the coming days and weeks are bringing in higher quality meat and seafood, he said.
Enhancing the service deli offerings with healthier, "Grandma Haggen" house-made salad recipes and meats without preservatives, also is planned.
The bakery will be revamped with new fresh-baked items, including Haggen's famous cinnamon rolls baked fresh throughout the day, garlic bread, bagels and grab-and-go breakfast sandwiches.
Fresh-cut flowers from local growers and more specialty, natural, "healthy for you" options are being added.
Clayton said there will be an overall enhanced experience and community involvement.
"Our team members are charged with getting involved with the community," he said.
Employees bring back ideas and suggestions about community events, organizations and activities for the store's management to consider.
To begin with, some of the food at the store when Haggen took possession will be donated to local food pantries.
Kimmy Mead, a 1985 graduate of Boulder City High School, said she was excited to return to Boulder City as a member of the conversion team.
"I got goosebumps when I came back," she said. Mead was able to visit the school this past weekend and collect a few pictures of her alma mater.
When the store at 1031 Nevada Way opened, it was only about 25 percent "Haggen-ized," according to the company statement. With only 40 hours to make the transformation, staff was limited in what could be accomplished.
"It is a journey, as they like to say, so guests can expect to see continued improvements over the upcoming weeks, months and year," the statement said.
Exciting things are in the future for Boulder City shoppers.
Contact Andy Saylor at andyhali@msn.com.