Graduates reflect on past while looking forward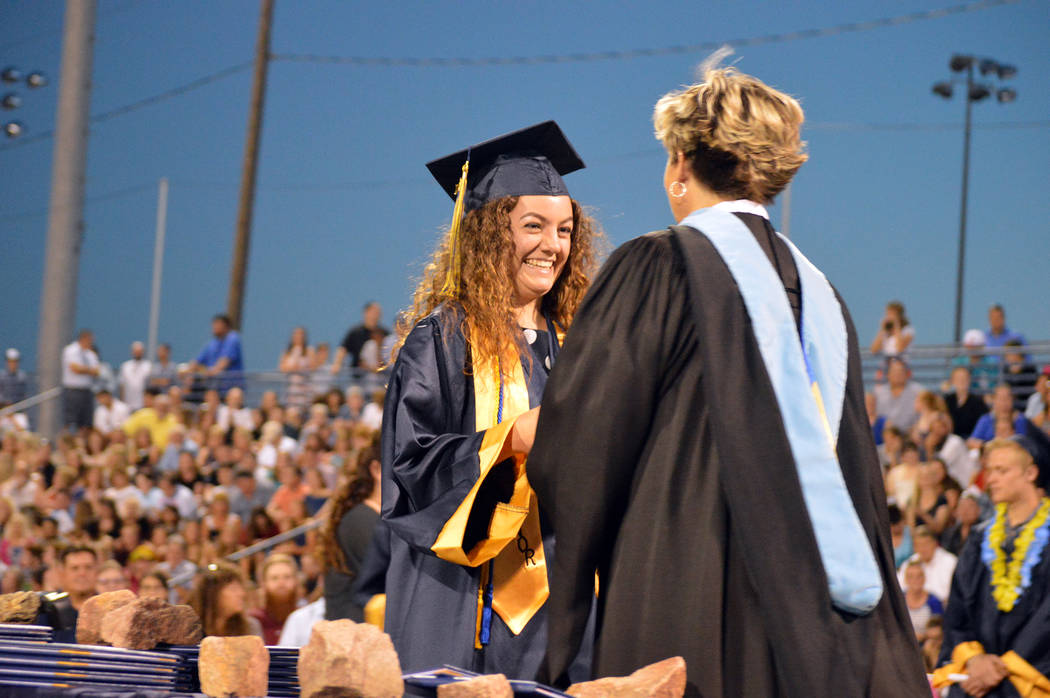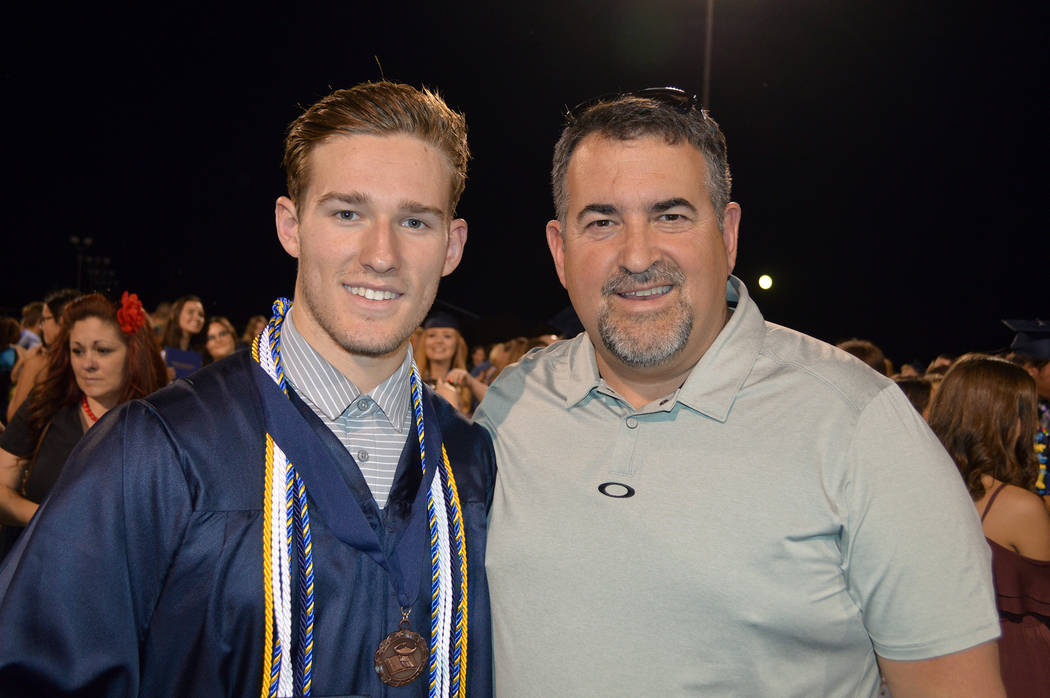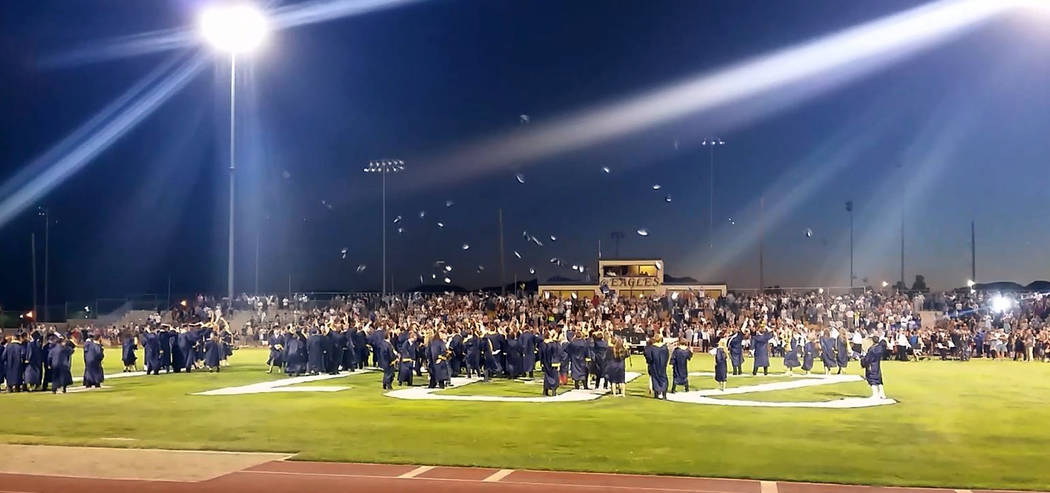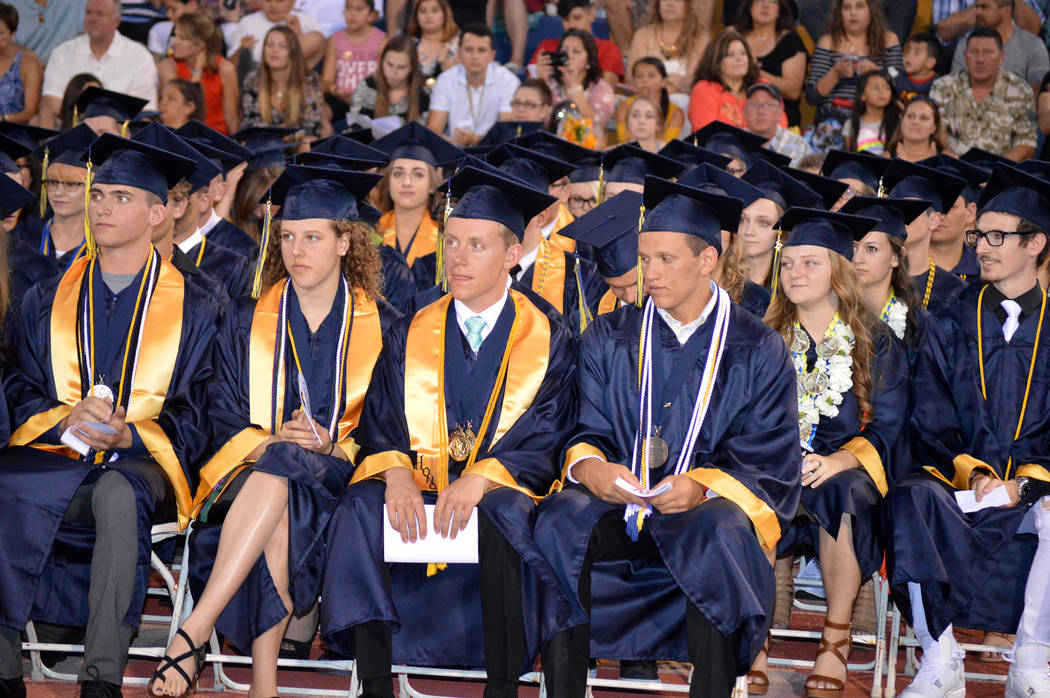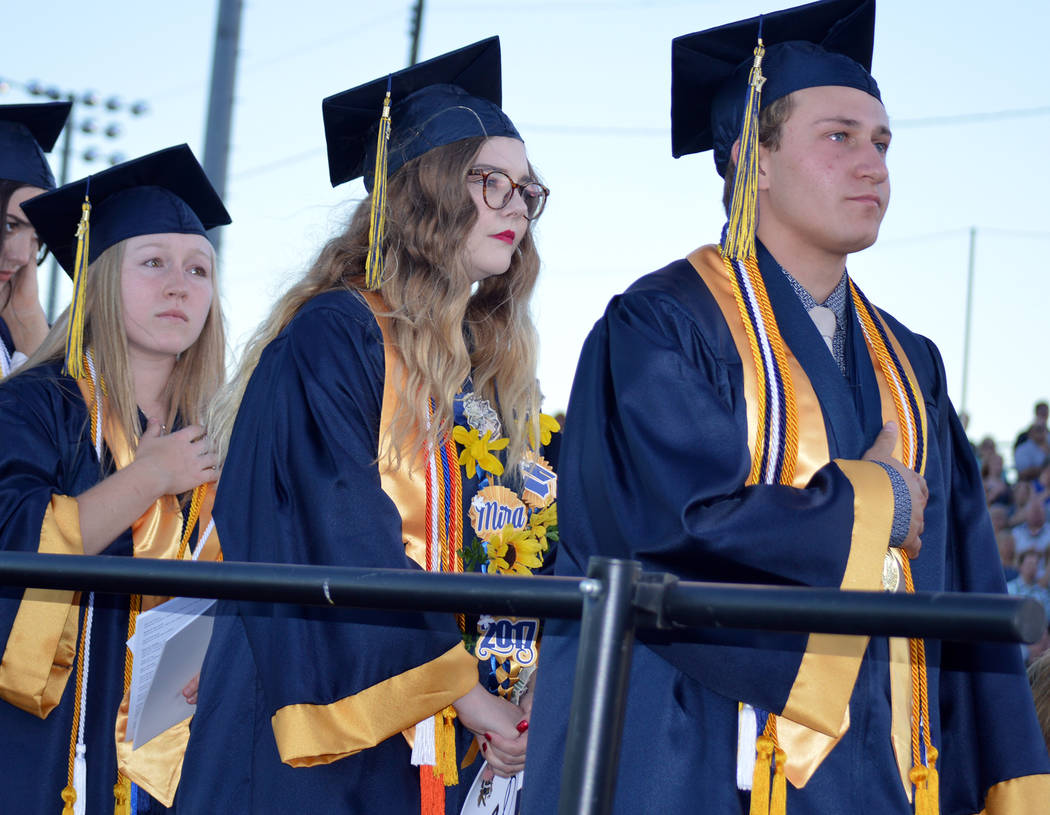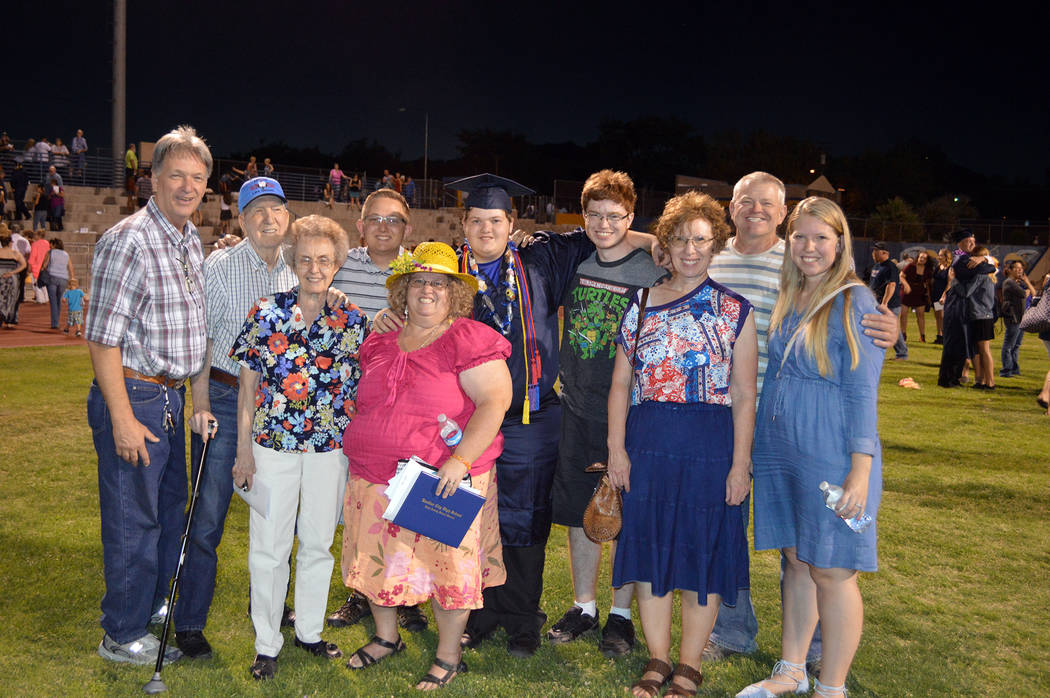 Boulder City High School held its 76th commencement ceremony Friday, and even with the windy conditions, it was a full house at Bruce Eaton Field, as family and friends celebrated the school's graduating class of 136 students.
Of the evening, BCHS Principal Amy Wagner said she was excited to see the students finish their high school careers.
"I can't wait to see where they will go," she added.
The commencement program featured speeches by the class salutatorian and four valedictorians.
Salutatorian Alea Lehr said her parents gave her lots of driving analogies for life, and she included a few for her fellow graduates.
She told them that life is a highway and encouraged them to focus more on their journey rather than on the destination, especially with having to essentially start over again since they finished high school.
"Always check your rearview mirror, but keep your eyes on the road," she said.
Valedictorian Kenadee Bailey said she learned a lot from her sports career while in high school and compared life to track because the most important thing in it is not placing first, second or third, but rather setting personal records.
"It's not necessarily about being the best," she said. "It's about being better than you were yesterday."
She encouraged her classmates to stretch out of their comfort zones, as well as to remember the little things and be the best people they can be.
Fellow valedictorian Mira Newby told her classmates that everything they had learned in the past four years will help them all for decades.
"It's essential to look on our pasts to a better future," she said.
Valedictorian Tyler Campbell, who ran cross country in high school, related high school to a race in which everyone is trying to get ahead, but the ultimate goal is the finish line. The pain experienced getting to the finish line is homework, projects, tests and all the hard parts of school.
"We made it … We ran the race," he said. "We endured the pain and we finished!"
Valedictorian Michael Martinelli closed out his classmates' speeches by highlighting the unique experience they all had at BCHS with knowing everyone, including students and teachers, as well as having graduation on their home football field where they played football games on Friday nights.
He also encouraged his fellow classmates in moving on past high school.
"We must challenge ourselves to perpetuate the kindness we felt here," he said.
"Now you're ready to spread your wings and fly like the eagles you are … We are your family," Wagner added to the students. "Reflect on your time at BCHS, where you had roots that helped define you … Always remember your way home. You will be missed, but your legacy will live forever."
Special guest speakers for the evening, members of the future class of 2029, also offered some advice to the graduates, which included: if they wanted to be a mom or dad, they should get a dog first to practice; they should become paleontologists so they could find dinosaurs and eggs; and to not forget to Facetime their parents.
Following the ceremony, the graduates had a chance to celebrate with friends and families.
Julie Alger said she was grateful and blessed after the ceremony in which her son, Caleb graduated,
"I love this community," she said. "This community supports their youth. It's awesome. We just love the school. We love the community."
Richard Viera, father of graduate Dillon Viera, said being at his son's graduation was great.
"All the work he did paid off," he added.
Contact reporter Celia Shortt Goodyear at cgoodyear@bouldercityreview.com or at 702-586-9401. Follow her on Twitter @csgoodyear.