GoatFeathers' closure surprises vendors
December 12, 2013 - 5:00 am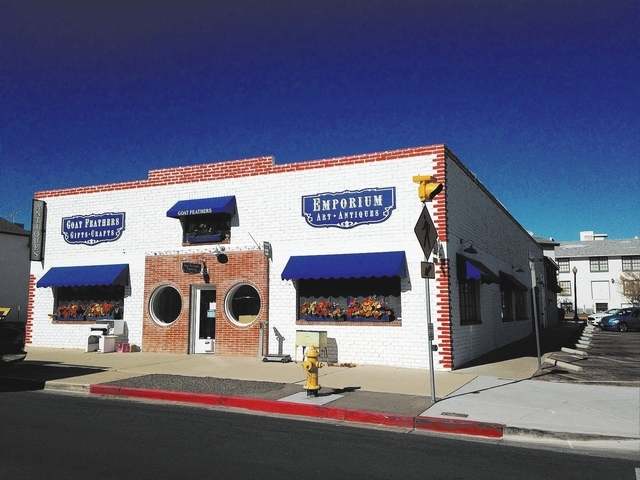 The GoatFeathers and GoatFeathers Too antique and gift stores both unexpectedly closed Sunday, according to management.
The closure is the result of financial troubles, including the businesses being unable to pay vendors for goods sold last month, manager Cheryl Myers said Monday.
Myers said vendors were supposed to receive checks for November sales on Dec. 5. However, the owner of both businesses, Las Vegas-based physician Wendell Butler, claimed he had to use $20,000 from a GoatFeathers' account to fund a new medical practice, Myers said.
"He didn't let anyone know until noon on the fifth that he had to take $20,000 out of the account," Myers said. "He said he was sorry but his medical practice and saving lives was more important than any retail items."
After a withdrawal of the money, many checks to vendors bounced, Myers said.
"(Butler) did take our money, that's a fact," said Myers, who also is a vendor.
Messages were left with a receptionist at Butler's medical practice Tuesday and Wednesday, but he did not return a request for comment by deadline.
According to Myers, Butler said he would pay the vendors for November sales if they would pay the next six months' rent ahead of time. If they did not, he mentioned a possible bankruptcy.
"I told him there was no way anybody could do that," Myers said.
Faced with the precarious financial situation, Myers said she decided to close both businesses and ask all vendors to clear out their items. The closure was announced on GoatFeathers' Facebook page Sunday.
The 8,000-square-foot GoatFeathers, 1300 Wyoming St., has been open eight years, Myers said. Clark County records list Butler as the property's sole owner.
The 1,000-square foot GoatFeathers Too, 527 Nevada Way, opened in 2011 with the purpose of attracting Nevada Way traffic to the original GoatFeathers. Butler does not own the property.
Approximately 100 vendors who rent space at both locations were left without a place to sell their items, Myers said. The lucky ones were able to relocate to another local antique store.
Boulder City Antique Market was able to accommodate six vendors after creating space where none had existed, owner Gary Allen said. Sherman's House of Antiques also took a displaced vendor.
"I did all I could," said Allen, who had to turn away about 10 vendors.
"We're just very lucky we got in somewhere else," said Evelyn Guin, who moved the candle-and-doll business she operates with husband, Tom Guin, to the Antique Market.
However, the Guins, who said they were one of the bigger and more popular vendors at GoatFeathers, now must share a small space with another vendor.
Also, Tom Guin said he is owed more than $2,500 by GoatFeathers.
Don Thompson, a glassblower who operated at GoatFeathers Too, also moved his business to the Antique Market. He said the closure's timing is particularly bad for vendors.
"It's just disappointing because Christmas is when you make the most money," he said.
Jane Harp, a GoatFeathers employee and vendor who moved to the Antique Market, said she has had her "whole life disrupted" by the closure.
"(Butler) obviously has no concern for anyone other than himself," she said.
Myers said she did not immediately inform Butler about the closure, which he did not know about until Monday afternoon.
Tuesday afternoon, Myers said Butler had not yet visited the GoatFeathers' locations, and had taken no steps to keep the businesses open.
"I don't know what his frame of mind is right now. He's a very nice man, he really is. I worked for him for 13 years and never had a problem moneywise," Myers said. "There's got to be something more to it."
Myers said some vendors were considering taking legal action to collect their money, but she was not.
On Tuesday, Boulder City Police had not received any reports about GoatFeathers.