Firefighters to dish up pancakes at open house
October 11, 2017 - 3:27 pm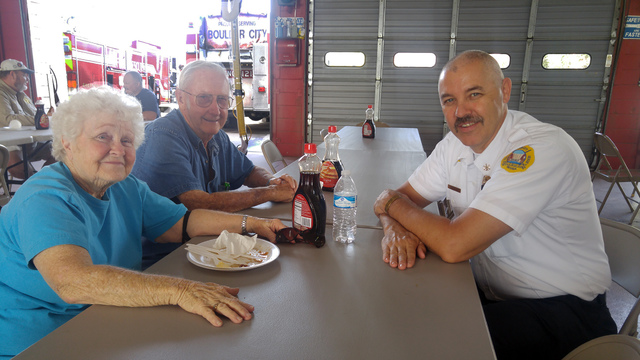 The Boulder City Firefighter's Association is holding its annual pancake breakfast on Saturday.
The free event includes all-you-can-eat pancakes, sausage or bacon, coffee and orange juice.
"It's an opportunity for the community to do a meet-and-greet with those who serve the community," said Josh Barrone, Boulder City firefighter, event organizer and member of the association.
The breakfast takes place from 8-11 a.m. at the fire department, 1101 Elm St.
In addition to the food, attendees can view different vehicles, including ones from Boulder City Public Works and Boulder City Police Department and a helicopter from Mercy Air, as well as receive free henna tattoos, if desired.
Various city officials also will be there.
As it is Fire Prevention Week, Barrone said they will hold free training for how to use a fire extinguisher.