Firefighter recognized for life-saving efforts
September 26, 2018 - 7:44 pm
Updated September 27, 2018 - 8:59 am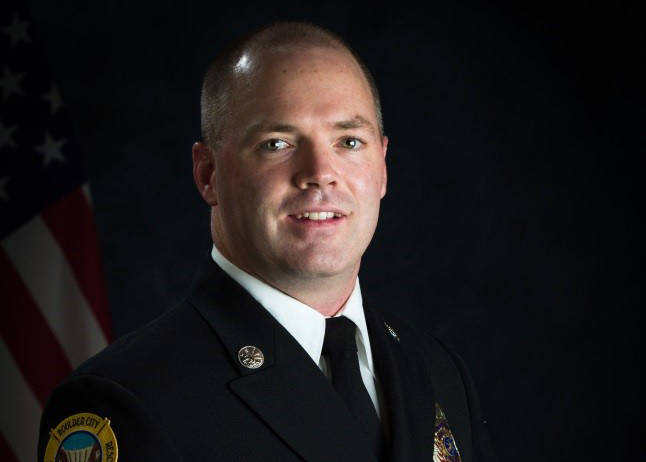 One of Boulder City's own was recently honored by the Las Vegas Rotary Club for his off-duty actions at the Oct. 1 shooting in Las Vegas.
Mike Gabiola, a fire engineer/paramedic with the Boulder City Fire Department, was off duty and attending the Route 91 Harvest festival with his family when a man opened fire from a hotel window, killing 58 and injuring hundreds more.
Gabiola and his brother were at the back of the crowd when the shooting started around 10 p.m., during Jason Aldean's music set. Once that happened, they moved their mom to a safe place and Gabiola tried to find his wife and daughter, who had been near the stage. He could not find them but was able to talk to them on the phone.
"Once I knew everybody was safe, I went straight to the med tent. … The place was packed," he said. "It was full. It was chaotic."
Gabiola said he helped apply tourniquets and bandages and do whatever else was needed for the victims so they could be transported to a hospital.
The Rotary club presented Gabiola with its Safety Officers Award Recognition on Sept. 17. The goal of S.O.A.R. is for Rotary and the community to honor first responders who exemplify the Rotary motto, "Service Above Self."
The club had wanted to recognize Gabiola for a while, but he said he did not feel it was necessary.
"I feel like I've been doing this stuff for many, many years," he said. "I would have done the same thing if on or off duty. …I'm not working for this extra stuff; I did what I'd always do."
"Mike Gabiola exhibits a strong dedication to the people of our community every day," said Boulder City Fire Chief Kevin Nicholson. "He represents the very best of the Boulder City Fire Department. His selflessness and courage under fire were acts above and beyond the call of duty, and are the very definition of bravery and public service. I'm proud to serve alongside him."
Nearly a year later, Gabiola said, he is still affected by the deadliest mass shooting committed by an individual in the United States.
"I haven't been to a concert since," he said. "It's still a pretty emotional thing."
Gabiola started working at the Boulder City Fire Department in 2007 in a reserve position. He has been full time with the department for 9½ years.
Contact reporter Celia Shortt Goodyear at cgoodyear@bouldercityreview.com or at 702-586-9401. Follow her on Twitter @csgoodyear.