Finn's case against city dismissed
January 24, 2018 - 4:37 pm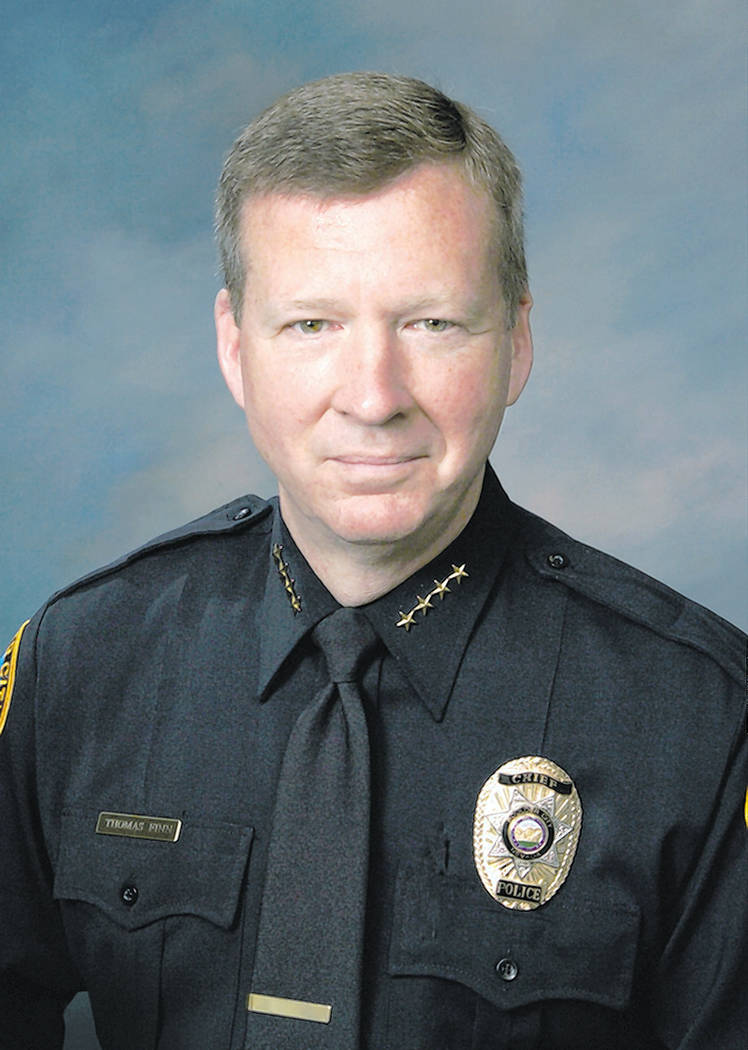 Former Boulder City Police Chief Thomas Finn's wrongful termination case against the city was dismissed by a U.S. District judge last week.
In her ruling written on Jan. 17, U.S. District Judge Jennifer A. Dorsey found that Finn's seven claims for relief against the city, stemming from when he was fired on April 15, 2013, were not supported.
"Accordingly, it is hereby ordered, adjudged and decreed that Finn's motions for partial summary judgment on his (Family and Medical Leave Act)-violation claim … and Peace Officers' Bill of Rights claim … are denied," she wrote. "It is further ordered that defendants' motion for summary judgment … is granted. The Clerk of Court is to enter judgment in favor of the defendants and against the plaintiff on all claims and close this case."
Finn has yet to decide if he will abide by the judge's decision or file an appeal.
"I am currently vacationing with my wife in Europe. When we return to the states I will review matters with my attorneys," Finn said by email after hearing about the decision. "In the meantime, I am enjoying a very happy life, good health and a loving wife."
City officials, however, were happy to receive a judgment in their favor.
"The city of Boulder City is pleased to receive this unequivocal summary judgment on all counts from the District Court," said city spokesperson Sue Manteris.
Former City Attorney Dave Olsen, who was named in the lawsuit, did weigh in on the ruling.
"Justice was served," he said. "Everything worked out as it should have, and I am happy with the result."
In his lawsuit, Finn claimed that he had experienced religious discrimination while chief of police because he was not a member of the Mormon church and those in charge were.
Dorsey said that even though he presented enough evidence "to create a genuine dispute regarding his job performance," he did not present any evidence to show his firing was because he was not a member of the Mormon church.
She also wrote that the instances of alleged favoritism Finn gave did not show a connection to him or show that others received better treatment than he did. In addition she said that they were undermined by his own testimony.
In terms of his replacement, William Conger, who is the nephew of City Councilwoman Peggy Leavitt, the judge said that Conger was raised Mormon but he left the religion for Greek Orthodoxy decades before working for the police department.
Finn also claimed that his firing was in retaliation by former Councilman Cam Walker, former Mayor Roger Tobler, Olsen, former Councilman and current Mayor Rod Woodbury, as well as Boulder City because he filed a religious discrimination charge with the Equal Employment Opportunity Commission.
Dorsey said that when he was challenged about this claim, Finn changed his theory and said that he "was terminated in retaliation for his filing suit against a member of the city council and the city attorney." In addition he said that he had two witnesses who could verify that those named could no longer work with him because of that lawsuit that alleged "intentional interference with contractual relations and perhaps defamation."
According to the ruling, Finn's state-court lawsuit was not an activity protected under Title VII of the Civil Rights Act of 1964 which prohibits employment discrimination based on race, color, religion, sex and national origin.
As such, there was no "causal link" between Title VII protected activity and his termination.
Finn's lawsuit also included claims for relief because of malicious retaliation against Olsen only, tortious discharge, breach of implied contract, FMLA violation, a violation of the Peace Officers' Bill of Rights.
Contact reporter Celia Shortt Goodyear at cgoodyear@bouldercityreview.com or at 702-586-9401. Follow her on Twitter @csgoodyear.
Finn vs BC Final by Boulder City Review on Scribd