Emerging solar industry vital to BC, state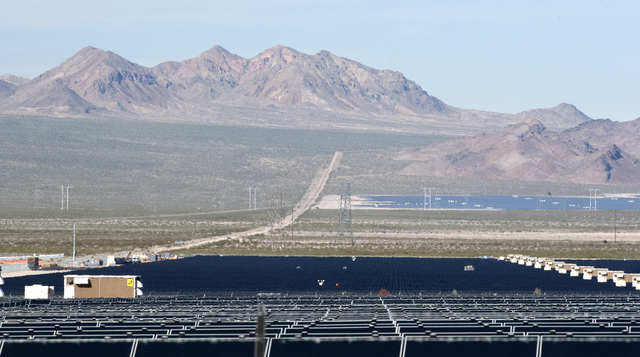 Boulder City's emergence in the solar industry has been critical on the local level, but its importance has been felt all over the Silver State.
The millions of gleaming solar panels located off U.S. Highway 95 have generated millions of dollars for Boulder City.
But it doesn't stop there.
According to Paul Thomsen, director of the Nevada Governor's Office of Energy, Boulder City has contributed about 20 percent of all renewable-energy profits the state has made during the past five years.
Since 2010, Nevada has seen about $5.5 billion from renewable-energy projects through the state's tax abatement plan, Thomsen said. The plan gives renewable-energy companies incentives to bring their business to Nevada.
In order to get the tax incentives, companies must employ more than 50 percent of their workforce from Nevada and invest more than $10 million per project.
"We've seen an investment of about $1.2 billion in Boulder City through investments and taxes paid through those projects," Thomsen said.
Nevada led the nation in solar jobs created for 2014, he added. He said Nevada, and Boulder City in particular, were top-tier destinations to expand renewable energy.
"I think it's Boulder City's opportunity to provide those services and expand beyond that economic footprint," Thomsen said. "I think Boulder City is the ideal destination in the country for solar energy."
Sempra U.S. Gas &Power's Copper Mountain solar complex, about 450 megawatts in total, is the largest generator of solar power in Nevada, according to project manager Brad McKinley. Copper Mountain 3 generates 250 megawatts of power for about 80,000 California homes by itself.
Copper Mountain 4 is expected to be completed in 2016, and about 180,000 California homes will reap the benefits from the entire complex.
U.S. Senate Minority Leader Harry Reid, D-Nev., said Jon Wellinghoff was a huge reason for Nevada's success in the solar industry.
Wellinghoff, who served as chairman of the Federal Energy Regulatory Commission from 2009 to 2013, helped push through various measures to get the Eldorado substation to utilize California's energy grid, Reid said.
"These projects have created thousands of jobs," Reid said. "We don't know the full extent of their electricity, but that's lots and lots of homes powered."
Reid also credited Boulder City Mayor Roger Tobler with helping to keep the town thriving in the solar energy market.
"I think it's great that Boulder City took the lead on this," Tobler said. "Those projects also wouldn't have happened without some state incentives."
Since more than 80 percent of Nevada is owned by the federal government, Thomsen said getting permits to build on the land can be challenging. He credited Boulder City for engaging in the process to expedite the solar projects.
"We were able to get the projects going, and I think that's the difference," Tobler said. "I think that's where Boulder City should be proud. In our community, there wasn't a political division over this. I think most people felt like this was a good thing. The solar's been great for the community."
Lease revenue has allowed the city to pay off the remaining $4.6 million from Boulder Creek Golf Club nearly 10 years ahead of schedule, and the city will reduce its debt by 65 percent during the next 10 years by committing a portion of the solar lease revenue to debt payments.
Thomsen said in order for Boulder City to stay on top of the state's solar market, the town must find ways to capitalize on the industry's evolving technology. It will help Boulder City and Nevada create more jobs, which will help pump the local economy, Thomsen added.
About 2,400 jobs were created during the construction of Sempra's Copper Mountain solar complexes.
Reid said the affordable price of solar energy also will help to keep the market thriving for a long time.
"There's going to be more energy to produce because it's so cheap to produce," he said. "Give it another year or year and a half, and it'll be cheaper than any other power to use in Nevada."
Reid added that President Barack Obama loves coming to Nevada because, in part, for its renewable-energy projects. Obama came to Boulder City in 2012 where he visited the Copper Mountain 1 project. It was the nation's largest photovoltaic plant at the time.
"He loves Nevada. He's been here lots of times," Reid said of the president. "This is not an occasional drop by."
Contact reporter Steven Slivka at sslivka@bouldercityreview.com or 702-586-9401. Follow him on Twitter @StevenSlivka.