Early voting: Fourth-graders cast ballot, get lesson on process
October 7, 2015 - 5:01 pm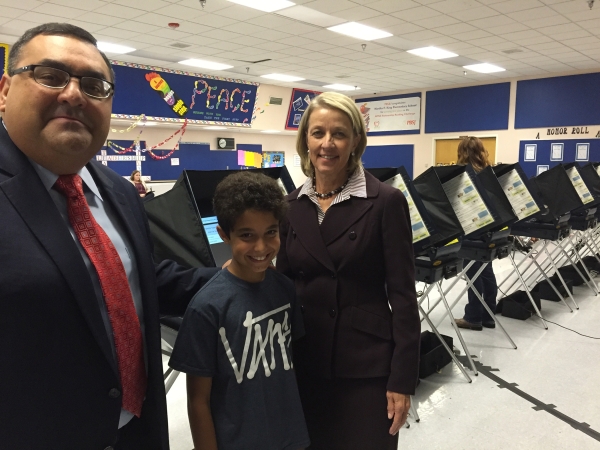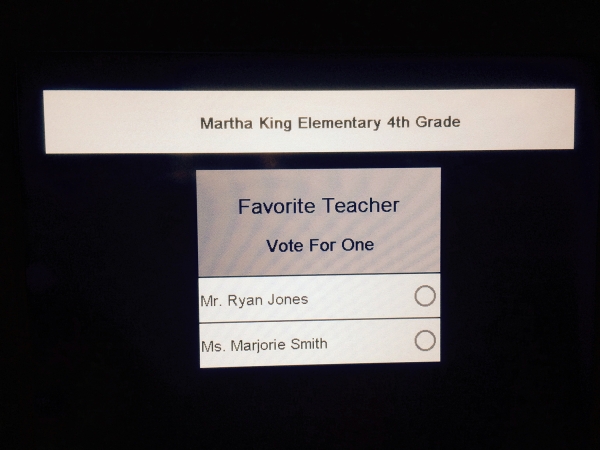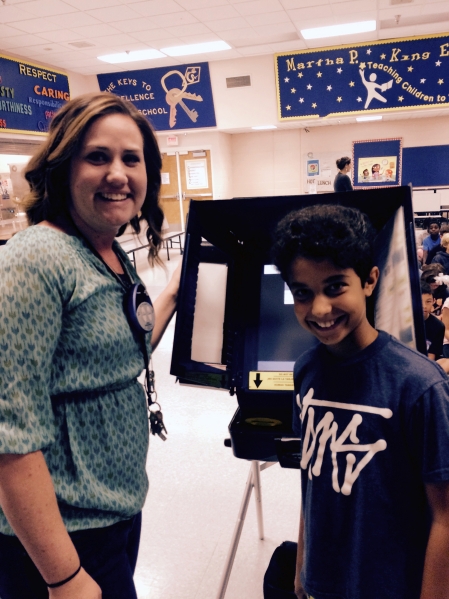 Election Day came early — several years early for the fourth-grade classes at Martha P. King Elementary School.
While studying about politics and elections in Amy Higley's class, young Jai Manteris was interested in how elections and voting worked.
As a part of his report on Boulder City and some of the voting laws he found that citizens voted to keep the city gambling free, and voted for the first mayor and how citizens get to vote on whether the city can sell more than one acre of land.
Having recently met Secretary of State Barbara Cegavske at an event, he asked for her help with the idea of having fourth-graders participate in an "election."
Cegavske, whose job is to oversee all elections in the state, contacted Joe Gloria, Clark County's registrar of voters, and they brought a hands-on voting program to the school Tuesday that has been around as long as either could remember.
"I know the program was being used at least back in the 1980s," Gloria said.
Ten voting booths, complete with ballots and all of the accompanying instructions were programmed and set up in the school cafeteria. All of the approximately 160 fourth-graders were able to meet with the secretary of state and the registrar to ask questions and understand how the system works.
"This program is available for most organizations. We find that it helps to increase voter registration and participation. Any time we are not actively programming for an election we can bring the program to most any organization; we have done it for political parties and unions and all kinds of groups. If it isn't for a school, then the hosting group simply reimburses the costs," Gloria said.
Cegavske said she was truly excited to work with the students and teachers during the exercise.
"I think it is a wonderful opportunity to help them learn about the system and to feel comfortable that they know how the system works. They get the experience of voting just like in a real election."
Manteris introduced both of the guests to the fourth-grade assembly and Cegavske spoke about the process, how "majority rules" and that during her time in the Assembly in Carson City she saw firsthand that "sometimes the decision might not be the one you want but it still applies because of the process."
Gloria discussed other means of voting including absentee ballots and voter registration.
"A person, or organization, can get up to 50 voter registration packets to pass out on their own to register voters. Also field registrars can come out and help with voter registration as well," he told the students.
"The program creates a rise in voter registration and participation in the election process. We are always happy to bring it out," Gloria said.
The election allowed students to vote for a favorite teacher. Sample ballots were made up and resumes were passed around so each "teacher's" qualifications were known to the voters.
Fictional teachers Marjorie Smith and Ryan Jones were discussed by the classes and, according to some of the students, a great deal of "campaigning" was going on around the classes.
Fourth-grade teachers were excited to have the program available and each of the students used the program for a grade. Josh Newkirk said he was able to use the whole process as a "teaching tool" and that it "provided a great learning experience."
Principal Anthony Gelsone said "after it's done we will evaluate the results. I would think it has been very successful."
Jai Manteris said he was "excited to see it happen and it was a truly awesome experience."
Contact Andy Saylor at andyhali@msn.com.