Early voting begins Saturday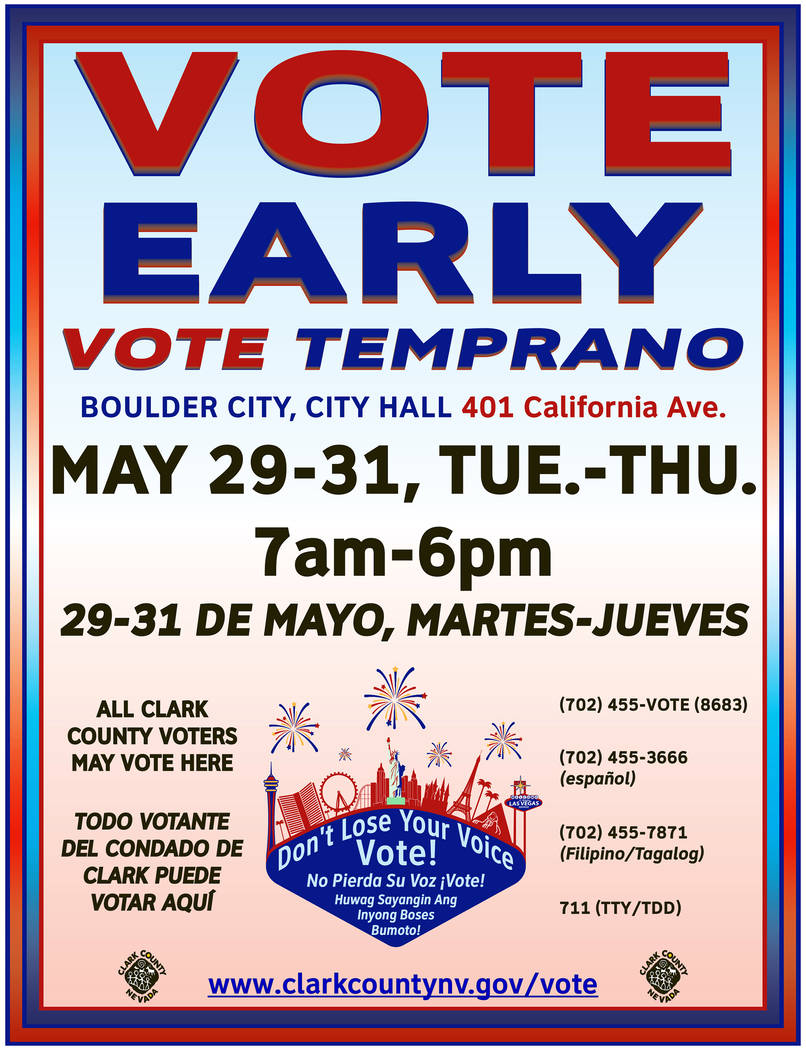 Early voting for Clark County's primary election starts Saturday, May 26, and will continue through Friday, June 8.
Boulder City residents can cast their votes locally at City Hall, 401 California Ave., from 7 a.m.-6 p.m. Tuesday, May 29, to Thursday, May 31. They, and all other registered voters, can also vote early at any other polling center in Clark County.
The primary election takes place Tuesday, June 12 and will select the Democratic, Republican and nonpartisan candidates who will run in the general election in November.
At this election, local residents will be able to vote on federal, state and county positions representing Boulder City.
For State Assembly District 23, Republican candidates Glen Leavitt and Matt McCarthy are running for the seat. For Clark County Commissioner District G, Republicans Cindy Lake and Fred Van Dover are running.
Sixteen people are running for U.S. Congressional District 3. The Democratic candidates are Richard "Rick" Hart, Susie Lee, John "Jack" Love, Guy Pinjuv, Steven Mitchell Schiffman, Eric Stoltz and Michael Weiss.
The Republican candidates are Patrick Carter, Eddie Hamilton, Scott Hammond, Stephanie Jones, Thomas Mark La Croix, David McKeon, Michelle Mortensen, Danny Tarkanian and Annette Teijeiro.
Additionally residents will be able to vote on other various state and county positions including the governor, secretary of state and attorney general.
Contact reporter Celia Shortt Goodyear at cgoodyear@bouldercityreview.com or at 702-586-9401. Follow her on Twitter @csgoodyear.