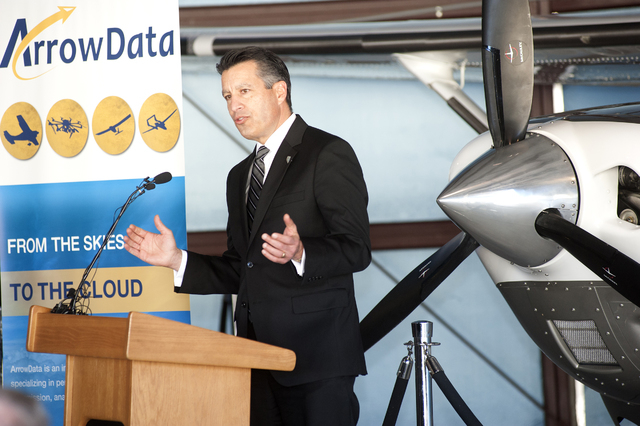 A Las Vegas-based drone company was the first of its kind to be granted certification by the Federal Aviation Administration for electronic news gathering.
ArrowData is also the first Nevada company to receive an exemption from the FAA to fly drones for commercial purposes, according to a company release.
"This approval from the FAA provides tremendous opportunity to pursue 'aerojournalism' while working with local FAA officials to ensure safe flight operations," said James Fleitz, ArrowData vice president.
To get the exemption, ArrowData had to work extensively with the FAA, company spokesman Ron Futrell said. The administration chose which pilots and drones would be used for ArrowData to get the exemption, he added.
"The agreement is 600 pages long, and it's taken us four months to get to this point," Futrell said.
In February, state and local dignitaries gathered at ArrowData's hangar, which it rented for the day at the Boulder City Municipal Airport, to discuss its future in the drone industry.
In 2013, Nevada was the third state to be designated as a testing site for drones. Boulder City, Fallon Municipal Airport, Reno-Stead Airport and the Desert Rock Airport at the Nevada National Security Site are the state's four testing sites.
According to Gov. Brian Sandoval, 86 percent of Nevada is federal land, but the Silver State has the most usable air space of any state. The launch of ArrowData was part of what he called "the new Nevada."
Futrell said Boulder City will still be used as a test site for drones, but the FAA certification allows ArrowData to use them commercially in virtually any part of the Las Vegas Valley.
Currently, it's drones are based in Las Vegas, while its manned aircraft are based in North Las Vegas, he said.
Although the company is still searching for a local partner to work with, Futrell said ArrowData is hoping to begin its commercial drone use sometime this month.
ArrowData's drone will be able to transmit live in high-definition for TV news, Futrell said. He added that the drone's camera can be operated from the ground and has the ability to pan and zoom in to get close to a scene.
During ArrowData's February gathering, North Las Vegas Mayor John Lee said upward of 15,000 people statewide could eventually be working in the drone business if the industry blossoms into what state and local officials are expecting. Lee, who had a drone deliver him a copy of his speech during his State of the City address Jan. 27, said he's looking forward to building a stronger relationship with Boulder City to help expand the drone industry.
"Fifteen thousand (people) equals our mining industry in Nevada. This could be a huge game-changer for us," Lee said. "This is real economy coming to our area."
Contact reporter Steven Slivka at sslivka@bouldercityreview.com or at 702-586-9401. Follow @StevenSlivka on Twitter.