Downtown 'gallery' debuts new sculptures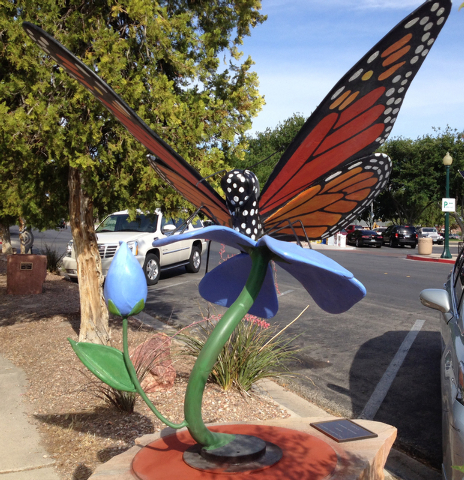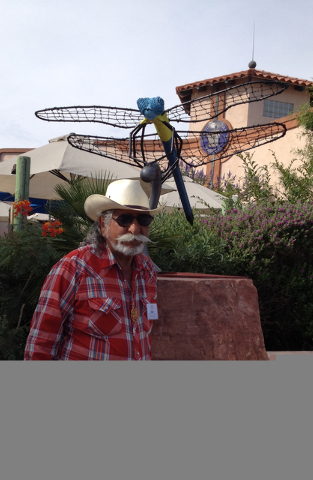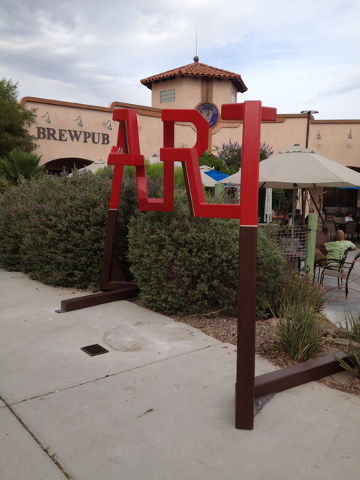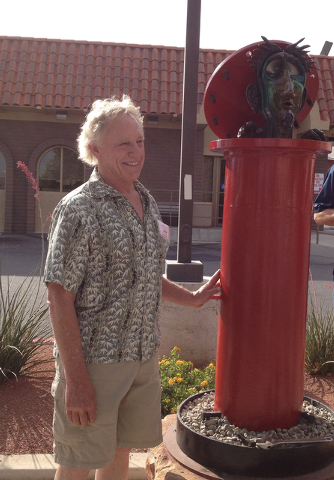 "It's an experience of life to have people experience what you have created," artist Sandra Messina said.
The Las Vegas-based artist is one of 12 whose work debuted Saturday evening for the Boulder City Public Art Scape downtown.
Her piece, "The Majestic Monarch," is a colorful butterfly that was inspired by nature. It was made using Bondo, which is traditionally used to repair cars. The material, which was then colored with acrylic paint and sealed, should withstand the elements without any damage to the sculpture.
"I like the idea for public sculpture to make a name for the city," Messina said.
Messina is a returning artist and has been participating in the project since its beginning in 2006. Her bronze sculpture of an eagle feather, "A Gift From the Gods," placed first in the other/nonbronze category for the 2013-14 exhibit year. Messina's first entry, "The Relationship," a sculpture of two eagle heads, also captured a first-place award.
"I'm driven," she said of her desire to create sculptures. "If you are a true artist, you create whether anyone sees it or not."
"A Gift From the Gods," along with "Eggcited" by Kimber Fiebiger, which won first place in the bronze division, was purchased by the Art Scape committee and donated to the city.
Second-place winners were "Garden Boy on a Pedestal" by L'Deane Trueblood and "Meridian" by Sherrill Stone.
Since the program began, Public Art Scape has donated 22 sculptures valued at more than $160,000 to the city. The purpose of the project is to allow people to experience quality works of art.
Each of the new 11 artworks will be displayed for a year. The artists are given a $400 stipend for each piece, which is available for sale.
They also will be judged, with awards presented next spring when new pieces are put on display. A people's choice award also will be presented.
John Banks of Henderson, who has had a piece exhibited each year, said he likes the idea of putting art on display for all to see.
His new sculpture, "Art Tubular," spells out the word art and was made from a single piece of steel tubing. The best place to view the art, which is on Nevada Way in front of Boulder Dam Brew Pub, is marked on the sidewalk. He developed this signature style of sculpture in 1973.
In 2010, his piece "Thought of a Treble Clef" was awarded first place in the people's choice contest.
Other new pieces on display are:
n "Gorgeous Gertie Grouper" by Stone: A flat piece of marble was transformed into a whimsical grouper for the Carbondale, Colo., artist's Fish Foibles series.
n "Lilies to Monet" by Jack Morford: Featuring a girl and several water lilies, the piece pays tribute to Claude Monet. Morford is from American Fork, Utah.
n "Pegasus" by Jerry Anderson: The sculpture features the winged horse rising from the hands of Zeus, who is throwing a thunderbolt. Anderson is from Leeds, Utah.
n "Tweet" by Fedrico Aguirre: Tweet is the name the Las Vegas artist gave to his dragonfly, which has a 4-foot wingspan.
n "Jack's Storytime" by Gregory Johnson: The bronze sculpture with a multicolored patina features a young boy reading a book to Mother Goose, a frog, turtle, rabbit and pig. It pays tribute to the imagination of children, the Cumming, Ga., artist said.
n "Eyes on the Prize" by Lee Knudson: Using reclaimed wood discovered in the Pacific Northwest, the sculpture is of an owl resting in a tree. Knudson is from Las Vegas.
n "This Is Living" by Damian Radice: A kinetic sculpture incorporating an old parking meter, the piece brings to life the question of what it would be like to be trapped in a piece of water pipe. If you put a coin in the man's left ear, his eyes light up and spin. Radice is from Grand Junction, Colo.
n "I've Been Kissed "by Poke Park: The giant bronze frog is in the beginning stages of being transformed back into a person. The Tucson, Ariz., artist started the sculpture as a large version of one of her chess pieces, but it reminded her of people who behave like toads.
n "Happy Dancer" by Trueblood: Like many of the St. George, Utah, artist's pieces, this sculpture is of a young child. In this case, it is a young girl whose joy in dancing is evident on her face.
n "Raven Over the City" by Dan Romero: Part of his "Busting Through" series, the sculpture features a scale model of a raven that nests on the third floor of the Vault building in Pomona, Calif., the artist's hometown. It is done in the style of the 1930s and '40s and stands 10½ feet tall.
For more information about Public Art Scape, visit pretto.com/artscape/.