Doggone good job: Officer gets dream position as member of K-9 unit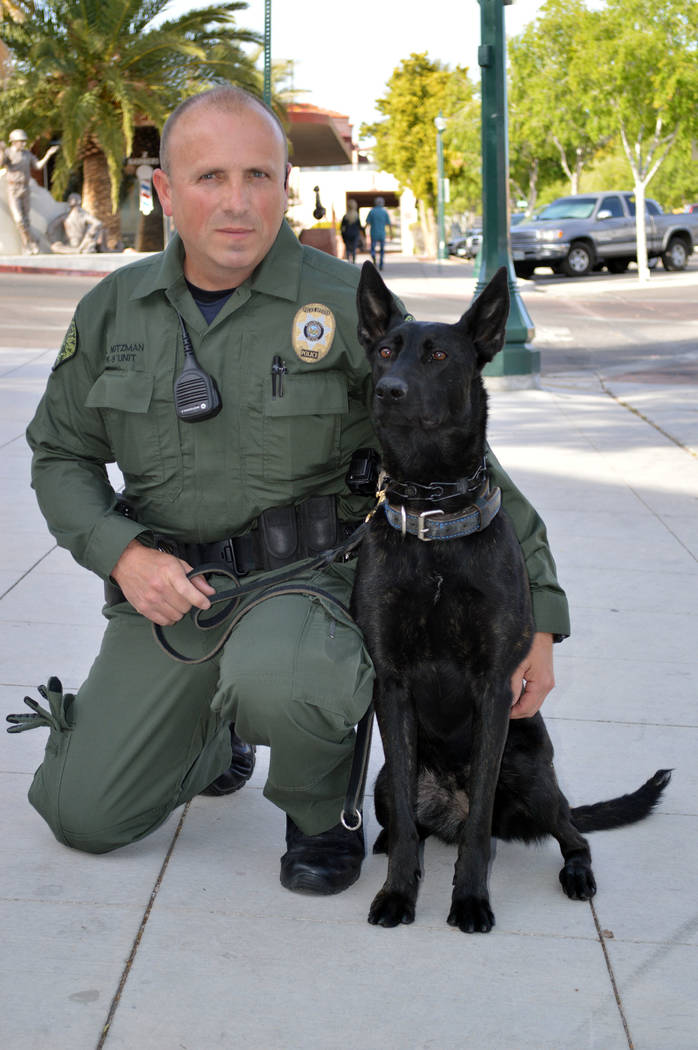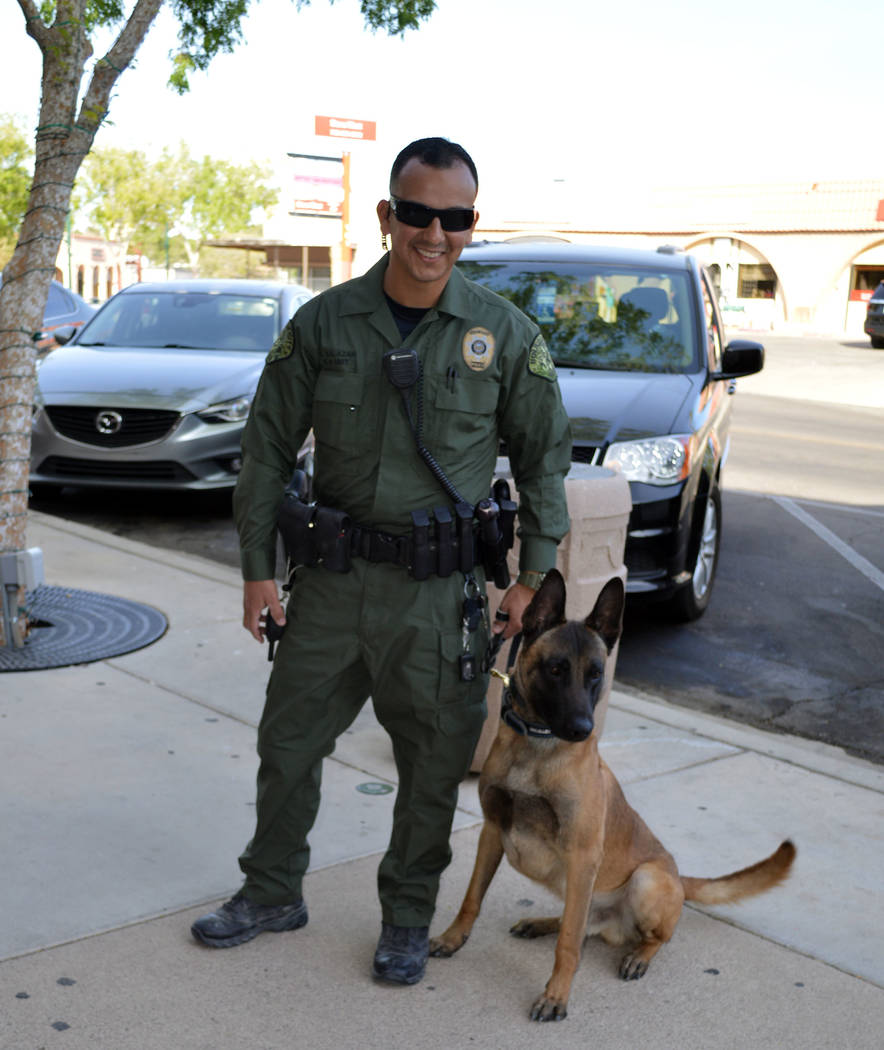 One Boulder City Police Department officer is living out his dream, and it comes with a nose, two ears, four legs and a tail.
Several weeks ago, officer Armando Salazar was paired with Lloyd, a 2-year old Belgian Malinois, making them the newest members of the police department's K-9 unit.
Before joining the force, Salazar served in the United States Air Force for eight years, spending about half his time as a dog handler. He said his goal was always to be a dog handler.
"I've been here nine years, and I get to live out my dream," he said.
Salazar joins fellow K-9 officer Alan Nutzman, who has been part of the unit since 2009. His current K-9 partner is Luna, a Dutch shepherd who has been with him for approximately a year.
Luna is his second K-9 partner. His previous one, Charlie, was euthanized in December 2016 because of health issues.
From Arizona to Henderson to Laughlin, the Boulder City Police Department has the only K-9 unit, according to Nutzman. The National Park Service has a K-9 unit, but it can only be used on federal land except in certain emergency instances.
"Our goal within a day is to assist any agency with a dog," Nutzman said.
The department's goal is to eventually have a K-9 team on duty every day.
To help fulfill that goal, both dogs are being dual trained for patrol and narcotics.
"This is something I am more accustomed to, and it saves having to maintain more dogs. … I wanted to stay away from the complexities that brings," said Boulder City Police Chief Tim Shea.
Part of the force
According to Shea, the police department has had a K-9 unit since at least 2002 and four previous dogs.
"Officer Salazar is officer (Paul) Daly's replacement," he said. "When Officer Daly's last dog died, he did not have it replaced as he was in a dual position, K-9/traffic. I moved the position back to K-9 and replaced the traffic position with the new crime prevention tax-funded traffic motorcycle."
Nutzman and Salazar hope to have both dogs trained in time for the Las Vegas Police K-9 trials hosted by the Metropolitan Police Department in October.
Serving as a K-9 officer requires extra work for Nutzman and Salazar, but both said they enjoy it.
"To be a dog handler, you have to be in it ," Salazar said. "If you want to work and then go home, you can't do it."
"They must do everything expected of any uniformed patrol officer," Shea said. "Plus, they must maintain and care for a very valuable animal 24/7. They must engage in significant ongoing training on virtually a weekly basis. … They are expected to be available for call-outs when off duty. They are expected to work with the regional drug interdiction operations, especially when (Interstate 11) opens. They are expected to respond to mutual aid requests from our fellow law enforcement agencies seeking K-9 support when they have none available."
For the added responsibility, Salazar and Nutzman receive an extra 10 percent in pay.
"It's not give and take," said Nutzman, who became a K-9 officer because of the challenge it brings. "I'm not in it for the money. I do it because I like it. I learn a lot."
Constant training
From the moment Lloyd and Luna get up until they go to sleep, both officers have to reinforce obedience principles, because they are the foundation for all their interactions.
The extra work pays off, though, because each dog is an "absolute force multiplier" for the department, as the animals will be able to assist with traffic stops, help serve search warrants, clear buildings and find narcotics.
"I believe it's the absolute best job in the police department," Salazar said. "You get a partner who is always glad to see you, is a hard worker. All you have to do is praise it, and it will do anything for you."
They will also help the officers quickly if backup is needed.
"They're invaluable," Nutzman said.
"These dogs are spectacular," Salazar said. "None of this would be possible without Chief Shea. We have the best vehicles, the best dogs. … I will forever be grateful to him."
Contact reporter Celia Shortt Goodyear at cgoodyear@bouldercityreview.com or at 702-586-9401. Follow her on Twitter @csgoodyear.