Developer changes course on historic building, will not demolish 'Mel's Diner'
September 9, 2015 - 4:43 pm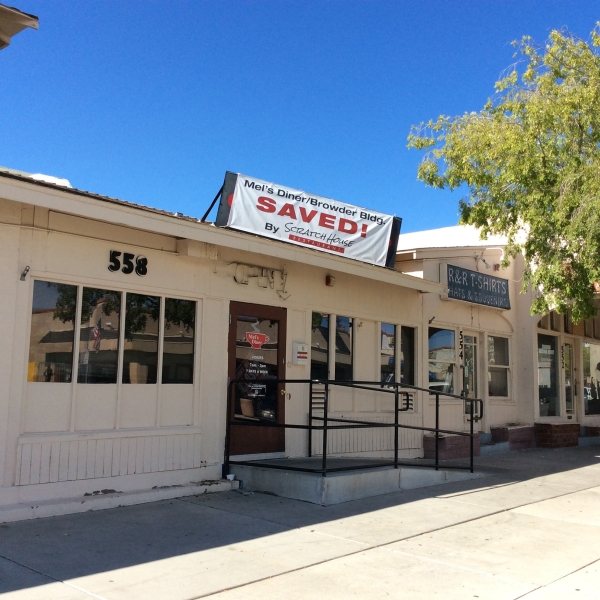 In the wake of a local protest against the demolition of the old Boulder City Hospital, the owner of a separate historic city property announced he no longer plans to tear it down.
Developer Charles Lawson, who purchased Mel's Diner and Browder Building at 558 Nevada Way, originally had plans to tear down and rebuild the building housing the former restaurant, T-shirt store and doll store.
But the Boulder City resident, who also owns the recently opened Scratch House Restaurant at 1300 Arizona St., said he instead will renovate the current structure, which first opened in 1931, in hopes of contributing to the city's preservation effort.
"All of this passion for preserving the hospital helped me understand how much people care about the history here, that it really matters to them," Lawson said.
A sign on top of the building, first seen on Monday, reads "Mel's Diner/Browder Building, SAVED!"
Lawson said he put the sign there to show he's on board with the local mindset.
"It would be more economical for us to tear it down and build a better building," Lawson said. "But there was no way I was going to remove something from Boulder City that the town cherishes."
After refurbishing the building to meet the standards of the Americans with Disabilities Act, Lawson said he hopes to convert it into a walk-up style Mexican restaurant and a neighboring art gallery, he said.
Though he wouldn't release the names of his new businesses, Lawson said he plans to refurbish the building's interior to withstand "several more decades." He plans on removing some of the outside panels to make it walk-up friendly, he said.
Lawson also wants to repair the original neon "Mel's Diner" sign to light up again.
"It's going to be a real gem for the people of this town, and I think they'll be proud of what we have to offer," he said.
Lawson, who hails from Michigan and lived in Las Vegas for nearly 20 years before moving to Boulder City in 2012, praised the efforts of preservation groups like the Boulder City Historic Foundation in a recent interview with the Boulder City Review.
But the developer said for the local "1950s' throwback" mindset to work, locals should consider spending more time and money in their home city.
"You have people pushing for all these places to be saved, but then they head over the hill for their shopping and dining," he said. "If you're going to complain, but then you go over the hill for everything, aren't you part of the problem?
"If the town expects me and others to invest millions of dollars to preserve our history, shouldn't people want to be more involved?"
Contact Chris Kudialis at ckudialis@reviewjournal.com or 702-383-0283. Find him on Twitter:@kudialisrj.