Court minutes show judge's confusion in crosswalk case
November 28, 2018 - 4:08 pm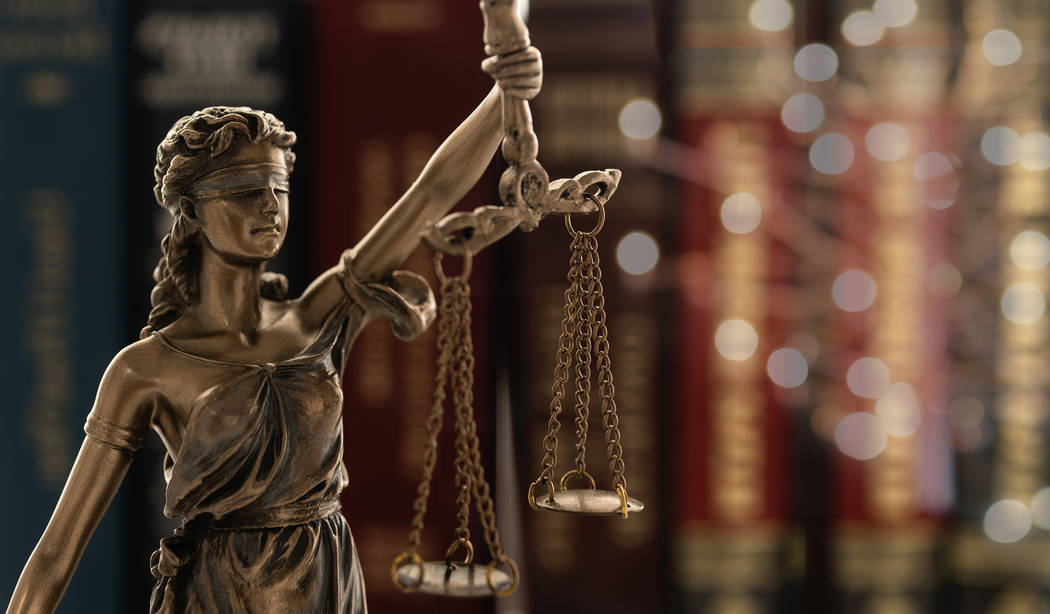 A District Court judge's statement about his ruling that the city vindictively prosecuted a former resident appears to show his decision was released to one of the attorneys before it was formally announced and filed. Additionally, court minutes show his confusion about the case.
Boulder City requested Judge Richard Scotti be removed from the case in District Court for allegedly demonstrating bias against the city after he found it guilty of vindictively prosecuting former resident John Hunt, who was arrested June 8, 2016, after he repeatedly walked back and forth in a marked crosswalk to protest a police-sanctioned enforcement event. Scotti also dismissed the case, ruling it a violation of the First Amendment.
In his motion, City Attorney Steve Morris argued that Hunt's attorney, Stephen Stubbs, and Scotti communicated multiple times without the city's counsel present, an ex parte communication, which violates Nevada Supreme Court Rule 2.9.
One of those times was at a hearing Sept. 19 when Stubbs appeared before Scotti even though no hearing requiring the parties or attorneys was scheduled.
In his affidavit filed with the court Nov. 19, Scotti wrote that his law clerk may have referred to his minute order dismissing the case as the "motion of dismissal" or "motion dismissing case" because those were words Scotti said he used when talking to the clerk about preparing the minute order.
"In any event, the law clerk is adamant that she did not read the minutes, did not discuss the minutes, did not provide a copy of the minutes to Mr. Stubbs, and did not believe this brief administrative contact needed to be disclosed to the judge," he wrote.
Judge Richard Scotti's … by on Scribd
In his opposition to the city's motion to disqualify filed Nov. 21, Stubbs wrote that the law clerk did not discuss any details or merits of the decision and just told him the title. He also said he did not discuss the case in any way, but did post on social media about being told the judge was granting the motion to dismiss for vindictive prosecution after he talked to the law clerk.
Early announcement
On Oct. 23, Stubbs made two Facebook posts stating the law clerk told him the ruling would be made from the briefs submitted by both parties. On Oct. 24 at 12:29 p.m., he wrote a post saying that he had just talked to the law clerk and that Scotti had granted the motion to dismiss the case for vindictive prosecution and a written decision would be forthcoming. The decision was filed five days later on Oct. 29.
According to the city's motion to disqualify Scotti, Morris said he learned the judge would be issuing a decision on paper through a voicemail left by the clerk.
The court minutes from Sept. 19, one of the alleged ex parte communications, show that Stubbs addressed the judge at the beginning of the last matter on the court calendar and said he had received a notice about a hearing in his case being that day.
Scotti did not seem to know why Stubbs was there and asked him to identify himself. He also said he did not know what the case entailed and asked Stubbs to tell him what it was about.
"I don't even know if this is an eviction matter or a misdemeanor appeal or some other civil or a de novo request from Justice Court," he said according to the minutes. "Why don't you tell me what this case is?"
Additionally, when Stubbs asked him about setting a briefing schedule for the pretrial motion he had filed earlier, Scotti said to him, "Tell you what, since you have a lot of thoughts on how you want this done, why don't you tell me how you want it done."
Court Minutes by on Scribd
Scotti also said that he could set a briefing schedule and then Stubbs could let the other side know.
In his affidavit, Scotti wrote that there was a status check for transcripts hearing Sept. 19 and there were no appearances required by the attorneys and the parties.
While the law clerk checked records after Stubbs first addressed the judge, Scotti said Stubbs told the court he could not file a transcript because the Boulder City Municipal Court is not a court of record. He also requested the briefing schedule on a motion to dismiss the case, which the court had not seen yet.
Discussion about scheduling
Scotti wrote that ex parte communication is allowed for scheduling purposes where no party receives a "procedural, substantive or tactical advantage." He wrote the court kept all this conversation on the record so that no improper communications occurred.
In his filed opposition to Morris' motion, Stubbs argued that Hunt's appeal in district court was procedurally proper because a defendant can appeal a case from a final judgment or a verdict. Hunt's appeal was for his guilty verdict.
Stubbs said the city's motion is untimely and there was never any ex parte communication with Scotti. Additionally, he argued that the city's personal attacks against Scotti are "shameful and wrong."
Stubbs' opposition to t… by on Scribd
The city recently released a statement saying it stands by what is contained in its pending motion.
A hearing is scheduled for 9 a.m. Tuesday, Dec. 4, in District Court.
Contact reporter Celia Shortt Goodyear at cgoodyear@bouldercityreview.com or at 702-586-9401. Follow her on Twitter @csgoodyear.