Council tables start to land sales to consider development, maintenance cost issues
September 15, 2016 - 10:26 am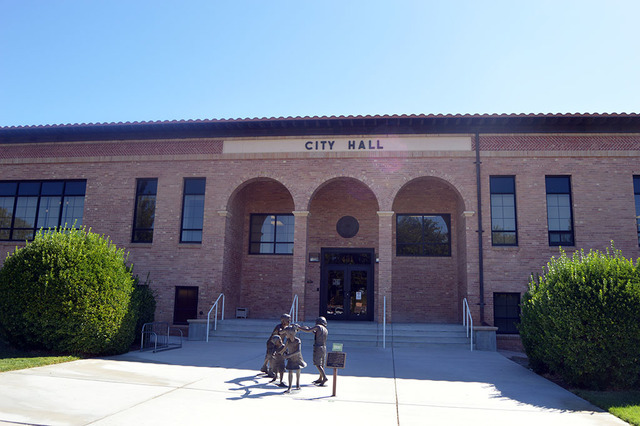 Boulder City Council tabled a vote to begin looking at bidders willing to buy residential land near the Boulder Creek golf course and southeast side of Bristlecone Drive that is currently appraised for about $25 million, according to the city's director of community development, Brok Armantrout.
The city was given permission to sell the land by voters during a ballot question in 2010, but the council has been unable to come to a complete agreement on the conditions needed to sell it to potential buyers.
Council members chose to table the vote after a nearly three-hour discussion in which they and the general public had a number of concerns over the land with the potential to house more than 200 new families.
The vote was rescheduled for the Oct. 24 council meeting.
"If we are going to vote on this, then we should get it right," Councilman Rich Shuman said. "We shouldn't vote for an incomplete proposal and then try to fix it later."
Council members felt that the current conditions for buying land in the area were too regulated for potential projects that are not even in the design stage.
"There is a lot of 'shall' language in this document and I don't like rejecting potential improvements, so I prefer 'may consider' language at this stage because I think it allows developers to be more creative," Mayor Rod Woodbury said, referring to a clause in the ordinance that would require any developer who bought land to create a one-story house for every two, two-story houses built.
"There is always a dichotomy between city control and the developers. We think the city always knows the best way to do things, but we don't," Woodbury said. "I don't think we are in a position to be making mandates when we can wait and see what comes back to us."
Maintenance costs
Council members also could not agree on how or who should pay for maintenance of any new subdivisions created in the area.
The city's current proposal was to either have future residents create a homeowners association or designate the area as a Local Improvement District, which would allow the city to set aside a certain amount of homeowners' property tax for maintenance of the area. The property tax would only be taken from residents who live in the area.
Currently, the city pays for the majority of maintenance out of its pocket, a practice that Boulder City Director of Community Development Brok Armantrout said is a strain on the budget.
"The city has a number of other repairs that we need to pay for, so I think it would be best for us to find some other way to keep up the maintenance on these parcels," Armantrout said.
Councilman Shuman was against both options and said that neither would be supported by the community.
"A homeowners association is never a popular thing," Shuman said. "I think we should encourage ourselves to find a third option that is not an association or an LID."
Owner-builders
Local residents also expressed their desire to make the land available for people to build their own homes since the current ordinance allows for the city to sell off small parcels instead of just as one big piece.
Resident Dain Szafranski said that people who build their own homes are more invested in the community.
"We need to allow owner-builders to buy land in this community," Szafranski said. "They are more invested in the community because if I am buying land and building a house in Boulder City, I am going to stay in Boulder City."
Boulder City resident Victor Miller expressed the same sentiment.
"Owner-builders are going to be more invested in Boulder City because they are not looking to make a profit," Miller said. "Developers are not a bad thing but I worry about building a bunch of houses they can't fill."
Miller serves as the judge for the Boulder City Justice and Municipal Court. He spoke during the public comment session as a citizen of the community.
While Miller was supportive of owner-builder homes he said that rules should be in place to ensure that people who buy land actually build something on it.
"We should have something in place that tells people who buy land in the area that they have to build on it," Miller said. "I don't want someone purchasing acres with an option to just have an empty lot for 30 years."
Affordable housing
One of the biggest concerns for council and the public was the cost of housing in the area. According to Armantrout, the land to the southeast of Bristlecone Drive is designated for starter homes for younger families while the land near Boulder Creek Golf Club is designated for more expensive homes.
However, Councilman Cam Walker said he did not see younger families being able to afford housing in the area.
"I will be surprised if the smallest home in this area is less than $400,000 because I think developers are going to maximize the land to get a higher value on the home," Walker said. "We have not addressed affordable housing in Boulder City and we need to address it."
Councilman Duncan McCoy said it would be in the city's best interest to make room for affordable housing.
"We have a lot of $600,000 homes in this city, but we have nothing that young families can afford," McCoy said. "If we don't make this city accessible to young professionals, we are going to quickly become a geriatric community."
Boulder City resident Lettie Zimmerman said she would be ashamed if young and middle-income families cannot afford to live in the area.
"If the city can't get some houses that younger or newer people can get in a nice part of town without having oodles of money, then I am ashamed that we as a city can not do that," Zimmerman said. "I do not want this area to be a community that normal people can't afford."
Boulder City Manager David Fraser also read letters he had received from the community recommending that the city make wider sidewalks in the area, allow room for bike paths, and limit the size of the roads to prevent speeding in an area that could potentially have a lot of children.
All other matters on the agenda were tabled until the next meeting.
Contact reporter Max Lancaster at mlancaster@bouldercityreview.com or at 702-586-9401. Follow him on Twitter @MLancasterBCR