Council boosts area solar projects
February 15, 2017 - 2:53 pm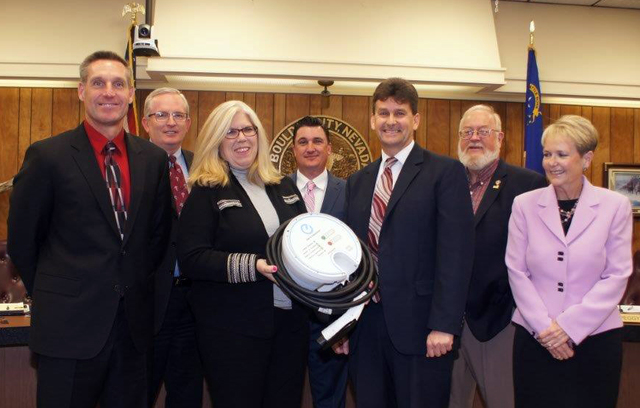 As long as the sun continues to shine brightly, Boulder City and its residents will benefit after members of City Council approved several resolutions Tuesday night during their meeting that will boost operations at the solar fields in the Eldorado Valley and install a new solar-power generating and electric vehicle charging station.
Council unanimously approved three resolutions for Techren Solar that added 223 acres of land to fill a gap between land it currently leases and a Bureau of Land Management corridor boundary and granted easements to provide access to a dirt maintenance road and for a transmission line.
According to City Manager David Fraser, the gap between land Techren Solar was leasing and BLM land was created because of uncertainty about the boundaries. Now that the BLM has solidified its location, Techren wants to add the extra land to its existing western border. The corridor boundary runs about 300 feet wide by three miles.
The agreement with the solar-power generating company could add about $15 million to the city's coffers over the length of the project, he said.
Council also awarded a $248,958 bid to Bombard Electric, using funds received through an agreement with Copper Mountain Solar 2, to build a solar-power generating, shade-parking facility between North Escalante Park and the post office.
The project will use solar panels donated by Amec Foster Wheeler from the Copper Mountain Solar 4 project to generate power and install four electric vehicle chargers, valued at almost $2,500, which were donated by Nissan North America Inc.
"I want to commend Boulder City for its look to its future," said Valerie Kornahrens, electric vehicle fleet business development manager for Nissan North America.
As she donated the chargers, she said "this little town puts them to shame with their vision," referring to the city's larger neighbors in the Las Vegas Valley.
Public Works Director Scott Hansen said the electric vehicle chargers will be available for public use, and could provide incentives for electric vehicle owners to visit Boulder City, taking advantage of the chargers while visiting the town.
He also said the donations have offset costs enough to leave them with a small surplus from the amount originally budgeted for the project, which could be used to build additional solar-power generating shade structures.
The evening's agenda also included an amendment to the city's land management plan, which added an approximately 25-acre nonresidential parcel west of Walnut Drive and east of the old airport for recreational use, and removed three other parcels.
Councilman Duncan McCoy said that while it is not clear what the proposed use of the property will be, and whether anyone agrees or disagrees with that proposed use — even if it is hair brained — it needs to be added to the land management plan so there can be discussion and public comments.
Kiernan McManus, who is running for a seat on the council, said any discussions about the land management plan need to explain the process. Additionally, he said something is missing: the consideration of how things fit into the community.
"We need to play more attention when things are proposed about how they fit into the master plan," McManus said.
According to Brok Armantrout, director of the community development department, the old parcels were removed because there has been no interest in them or the original projects that were proposed for those locations were done elsewhere.
During their individual reports, Councilman Cam Walker spoke about a meeting he attended with Mayor Rod Woodbury and Clark County School District Superintendent Pat Skorkowsky to ask for additional improvements at the high school; McCoy spoke about a new report from the Colorado River Commission that said this year's snowpack was about 22 percent above average with more snow expected; and Councilwoman Peggy Leavitt spoke about a new Workforce Connections career center that will open at the Boulder City Library.
In other actions, Council:
■ Reappointed Randy Lemos and Martha Effertz to the Golf Course Greens Committee.
■ Presented certificates of recognition to Boulder City Police Department Explorers Post 198 for its achievements after competing in a recent tactical event in Chandler, Arizona.
■ Accepted certificates of appreciation from Boulder City Municipal Court Judge Victor Miller for members' ongoing support of the Breaking the Cycle drug court program.
■ Approved two related resolutions using about $85,000 of Community Development Block Grant funds to build a retaining wall in the alley that runs between commercial buildings along Nevada Way and a mobile home park at 701 Elm St.
■ Adopted updated business impact statements for the 2017 administrative building code and 2012 international fire code, which had not been updated since 2013 and 2009, respectively. This is the first step to updating the codes themselves, which are expected to be brought to the council at its next meeting, Feb. 28.
■ Approved final acceptance and released bond funds to SunPower for its water main extension project at 17445 South U.S. Highway 95. Performance bonds totaling roughly $155,300 were submitted in late 2015 and early 2016 to ensure the project was built according to city standards. The project was completed in May 2016 and inspected by members of the public works department.
Hali Bernstein Saylor is editor of the Boulder City Review. She can be reached at hsaylor@bouldercityreview.com or at 702-586-9523. Follow @HalisComment on Twitter.