Community Alliance endorses Harhay, McManus for council
February 22, 2017 - 2:52 pm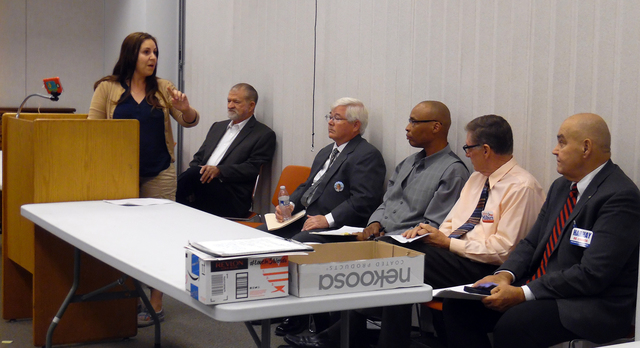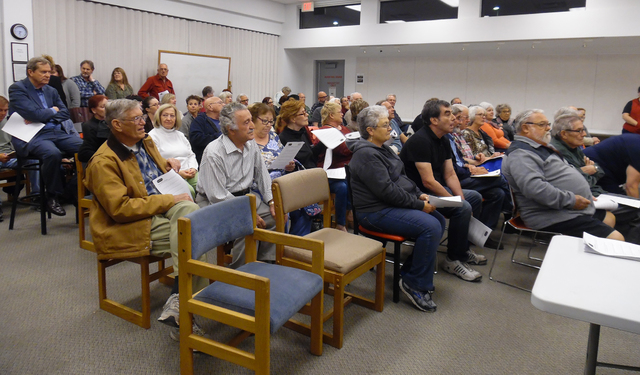 Boulder City Community Alliance members voted to endorse City Council candidates Warren Harhay and Kiernan McManus after listening to seven of the eight men running in the upcoming election speak during a candidates night Feb. 16.
Also attending the standing-room-only event at Boulder City Library were candidates Rich Loudin, Fritz McDonald, John Milburn, James Stuckey and Cam Walker. Eric Lundgaard told event organizers in advance he didn't agree with the format of the candidates night and would not attend.
The candidates were given 10 minutes each to introduce themselves and answer questions given to them in advance by the alliance. The questions focused on controlled growth, the city's master plan, historic preservation, Interstate 11 and transparency.
For the most part, the men addressed the seven featured questions; they spent the majority of their time, however, introducing themselves, explaining why they chose to run and sharing their basic philosophies.
"I wish the candidates would have answered the questions better," said Laura Pyzer, one of the group's co-founders and event organizer.
Still, she said the evening "absolutely turned out better than I anticipated. It's exciting to see the community turn out to get better informed."
Love for the city
Kevin O'Keefe said he thought the event was well done and worthwhile. Not a member of the alliance and skeptical about groups like that in general, he also wanted to see if they could be objective.
"One thing was clear: Every person in this room, and all the candidates, love Boulder City and want what's best for the community," he said.
"This was an excellent opportunity to hear in their own words" their positions on issues affecting the city, said Marita Rhinehart, noting that she didn't know about the alliance before the evening and came to be better informed before the upcoming election.
She said she was disappointed that one candidate chose not to attend, and he is "off my list."
Alliance pledge
Each of the candidates was asked to sign a pledge that asked them to "enforce and embrace" the current master plan and "make updates based on community support." Additionally, it asked for candidates to protect the city's current growth ordinance, always put the concerns of the community first, "protect and preserve" historic buildings and work to establish codes that will enforce their protection.
The pledge also addressed ethical behavior and sought support for local business growth and development. The final provision was to "look for options other than large growth to support issues facing Boulder City."
Loudin, McManus and Stuckey were the only ones to sign the pledge.
"I do not subscribe to making a written pledge solicited during a political campaign other than the Pledge of Allegiance to our flag. I view signing any other pledge to be patronizing to those seeking such a solemn promise," Harhay said, making a comparison to President George H.W. Bush's "no new taxes" promise.
Instead, Harhay offered a written commitment that addressed most of the alliance's issues but that gave him more freedom to enact policies that best benefit the city and were based on community input.
McDonald, Milburn and Walker said they were uncomfortable with the pledge because of the language that espoused an isolated point of view and didn't represent the entire community.
"I already took an oath of office," Walker said.
O'Keefe also objected to the idea of asking candidates to sign the pledge, saying it was inappropriate.
Endorsements offered
Once the formal portion of the evening's program was complete, the candidates were dismissed so alliance members could discuss their options for endorsing one or two men. At that point, the meeting started to disintegrate as various candidates were summarily dismissed because of their occupation or affiliation with other groups or politicians, and members disagreed about how many candidates to support.
"If the pledge is what we are looking for in a candidate, then don't look at anyone other than those who signed," said one woman. "The only one I heard say what I wanted to hear, I believe, is Kiernan."
"We need to get two of the four seats so we can control and maintain the growth ordinance," Pyzer told the group.
None of the candidates advocated getting rid of the ordinance. In fact, all said they supported controlled growth, the hot topic of conversation for the evening.
"We are in a lot more agreement than you think," Milburn told the group. "No one wants to grow beyond the growth ordinance, but we don't want no growth either."
"We need to grow within the framework of the ordinance," McDonald said.
He added that it needs to be altered to make it more attractive to developers, touching upon the provision that limits a single builder to 30 homes.
Loudin said Boulder City is such a great place because of controlled growth, but he also said the 30-home cap might be one reason why no one bid on land zoned for residential development near the municipal golf course that the city has up for sale.
Harhay also touched upon the 30-home cap, saying it "may need to be adjusted upward."
"If we put in more houses, then we put in more traffic and that takes away the point of even building the freaking bypass," Stuckey said.
Walker said the city needs better balance with the types of homes being built.
"We don't need 6,000 homes, but we need balance with a variety of densities."
Preserve city's past
McManus, who was the first to speak, said the city is well-served by the current growth ordinance and believes in protecting historic buildings because they help keep property values high.
"They contribute a great deal to our downtown district," he said.
As with the growth issue, all of the candidates supported preserving the city's historic buildings, but there was some dissension on how that should be done and what role the city needs to take.
"That's one of the great things about this place. If we lose them, we lose the core of what makes this community great," Stuckey said.
"I have some reservations about privately owned businesses being told what to do," Milburn said, referring to some of the historic buildings downtown.
McDonald agreed, noting that the city needs to encourage preservation without mandating it or violating people's rights.
Hali Bernstein Saylor is editor of the Boulder City Review. She can be reached at hsaylor@bouldercityreview.com or at 702-586-9523. Follow @HalisComment on Twitter.