Commission issues first certificate of appropriateness
February 1, 2023 - 3:54 pm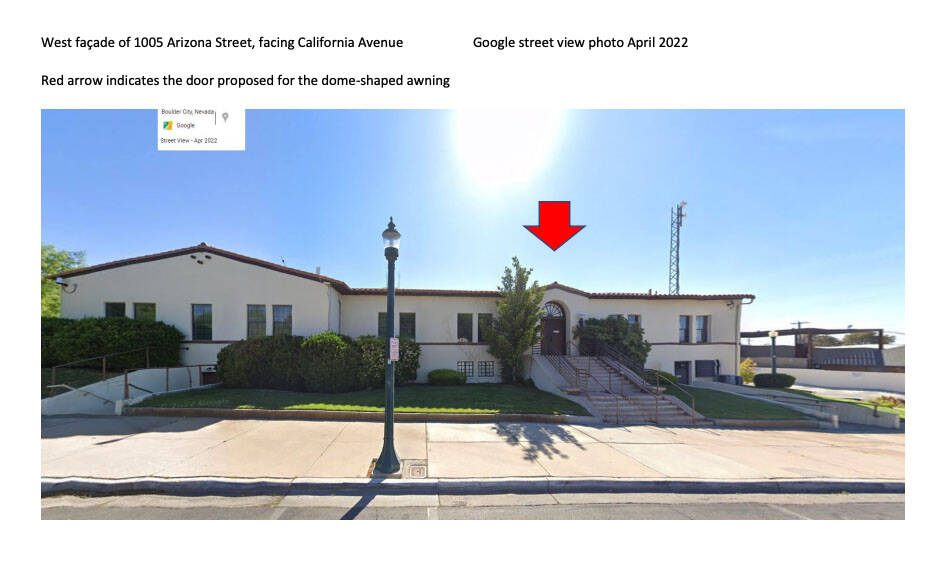 With little to no fanfare, Boulder City's newly created Historic Preservation Commission issued its first certificate of appropriateness for an exterior addition to a historic property in the community.
At its meeting Jan. 25, the commission unanimously approved the certificate that will allow two awnings to be installed at the city-owned police station on Arizona Street. The awnings are designed to help prevent the building from flooding, said Susan Danielewicz, the city planner.
A dome-shaped awning will be installed over a west-facing door on a side of the building, and a shed-style awning will be installed over an east-facing door at the rear of the station.
Danielewicz said the addition of the awnings will "look appropriate," provide protection from the elements and will prevent the police chief from having to mop up after it rains.
Prior to discussion of the proposal, Danielewicz explained the procedure for issuing the certificate since it would be the commission's first one. In addition to reviewing the application, the commission offered two opportunities for the public to comment on the project and had the ability to question staff and the applicant, which in this case was the staff because the request was for a city-owned property. There were no comments from the community.
Blair Davenport, chairman of the commission, said she would have liked to have seen other options for conveying water off the roof and away from the doorway since one of the awnings would block a leaded window. But, because it is not a permanent installation, she said she was "not opposed" to the awning.
The historic preservation ordinance was passed in early October amid controversy over its restrictions on property improvements and addition of mandatory maintenance standards to all historic properties in the city.
One aspect of the ordinance was that alterations to any structure that could be seen from the street would need to receive a certificate of appropriateness. Those for properties considered to contribute to the city's status on the national registry of historic places need to be issued by the commission.
The police station, which was built in 1932, is considered a contributing property, according to its application for a certificate of appropriateness.
Additionally at the meeting, commissioners heard an update from North Wind Resource Consulting regarding changes to exterior design guidelines for various properties in the historic district and discussed plans for the 2023 Historic Preservation Day.
Hali Bernstein Saylor is editor of the Boulder City Review. She can be reached at hsaylor@bouldercityreview.com or at 702-586-9523. Follow @HalisComment on Twitter.