City proposes adding 15 employees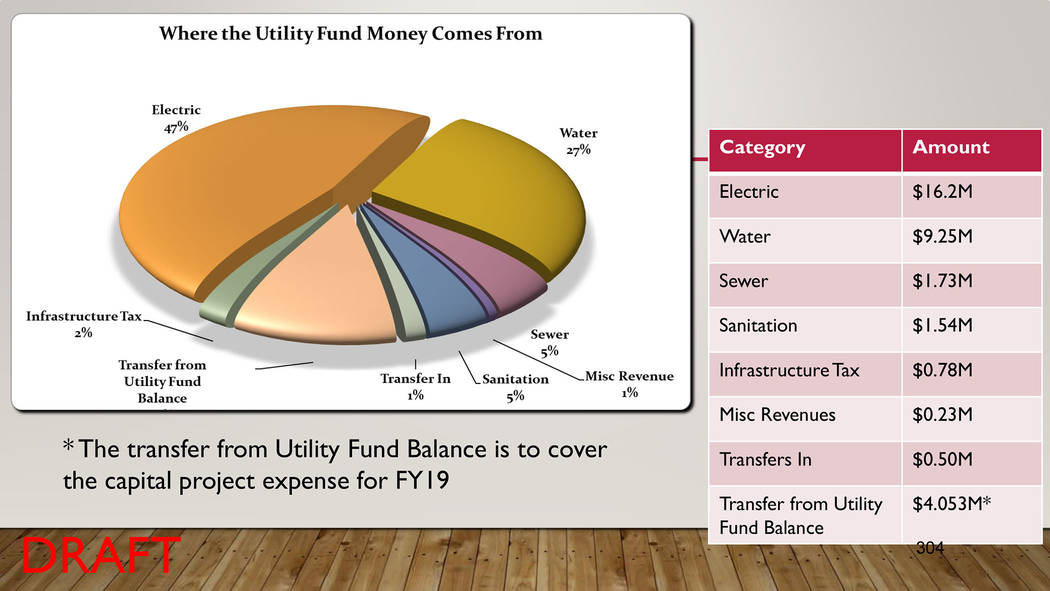 Boulder City will be able to hire 15 new full-time employees under its tentative budget for the 2018-2019 fiscal year.
City Manager Al Noyola and staff presented it at the City Council meeting Tuesday, April 10.
It includes has a general fund budget of approximately $33 million, which is about $126,000 higher than the previous version presented. Its utility fund budget is approximately $34.3 million, almost $5 million less than before.
All of the funds are in "positive territory," according to Noyola.
He said that he and staff made changes they believed would "put the city in a much better position to add capacity and be able to do some of the critical needs" as well as improving service.
Administrative Officer Bryce Boldt said that 13 of the positions are new ones, and the other two are from expanding part-time jobs.
The new positions include a police dispatcher, a police detective, police sergeant, a communications manager, contracts/real estate manager, purchasing manager, financial analyst and economic development coordinator.
Councilwoman Peggy Leavitt said that seeing a budget like this was a new experience as the council was in a position for so long where it was constrained in hiring new staff.
"We've been doing more with less for many years," she said.
With the three new positions in the finance department, Leavitt said the city's contracts, real estate and purchases will be able to be monitored more closely.
"We're adding some positions to city staff that I think are going to be very important to be able to do some things we've not been able to do in the past, and I'm also very happy to see that," said Councilman Kiernan McManus.
Mayor Rod Woodbury agreed with the additions and said they would help achieve the council's vision for the city. He also said they would allow the city to do more studies internally rather than hiring outside firms.
"I applaud the plan," he said. "I applaud that you were able to find different sources … you were creative in that."
Woodbury also said he thought the budget would save the citizens money in the long run and that he was comfortable with what had been presented.
The new communications manager position has a proposed cost of $146,918, and resident James Adams asked what that would mean for the city's existing contract with 10e Media.
"I'm just curious as to is this going to be in place of 10e Media or are they going to be doing the same thing? … I would be curious to see where these positions would differ and where we can get better communication for the city," he said.
The budget also includes $25,000 for the drug court program in Municipal Court.
The utility fund reduction comes from reducing the budget for the design of the water line to the Eldorado Valley from $3 million to $1 million and reducing the 69kV transmission loop from $5 million to $2 million, which would virtually eliminate the option of placing any power lines underground.
"We thought that was a better number for that project," Finance Director Diane Pelletier said about the transmission lines.
This tentative budget has been submitted to the state, per NRS 354.596.
Council did not take any action on the budget at the meeting. Final approval is scheduled for the May 22 meeting. The council has to adopt the budget by June 1.
Contact reporter Celia Shortt Goodyear at cgoodyear@bouldercityreview.com or at 702-586-9401. Follow her on Twitter @csgoodyear.
New full-time positions
Police dispatcher: $64,081
Police officer (detective): $72,668
Police sergeant: $100,371
Fire department reserve program: $80,000
Contracts/real estate manager: $110,188
Purchasing manager: $88,178
Financial analyst: $64,081
Landscape maintenance worker: $58,769
Equipment mechanic: $69,809
Electric lineman: $104,295
Projects manager: $76,014
Environmental compliance (part time to full time): $55,000
Youth programs coordinator (part time to full time): $18,700
Safekey program (part time to full time): $18,700
Permit technician (part time to full time): $44,000
Economic development coordinator: $90,393
Communications manager: $146,918
Airport administrative coordinator: $63,931