City officially accepts results of local ballot question
November 23, 2016 - 1:05 pm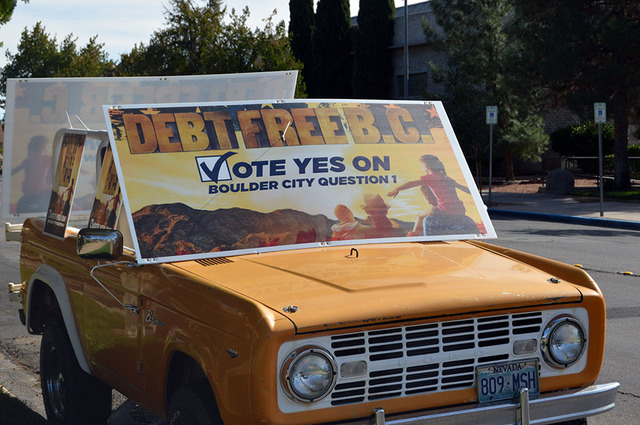 Boulder City Council officially and unanimously accepted the Nov. 8 election results of Boulder City Question 1 at a special public meeting on Nov. 16.
The meeting was a formality since the city is required by state law to put the results of the vote into public record.
Question 1, which was approved by 58 percent of local voters, gives the city permission to use the capital improvement fund to speed up the payments on the last municipal debt of $27 million on the raw-water line.
Over 8,000 residents in Boulder City voted according to the Clark County Election Department, matching the 2012 voter turnout.
"The turnout was really good this year," Mayor Rod Woodbury said. "We matched our 2012 totals and I am hoping we have even more turnout in June."
Councilman Cam Walker is up for re-election in June and Councilman Duncan McCoy's seat is open since he is not running for a third term.
Even though voters approved the reallocation of funds, the city is not allowed to use money from the capital improvement fund until the start of fiscal year 2017, which begins in June. While the city has permission to use capital improvement fund money they are not required to use it.
"We will use the money as it becomes available," Woodbury said. "But it is to early to know when and if we use the fund."
City officials have proposed accelerating the debt payments by $750,000 per year, but Walker said that number was only a hypothetical right now.
City Council will publicly discuss an accelerated debt payment plan during the annual budget workshops. No date has been set for the city's first workshop.
Contact reporter Max Lancaster at mlancaster@bouldercityreview.com or at 702-586-9401. Follow him on Twitter @MLancasterBCR.