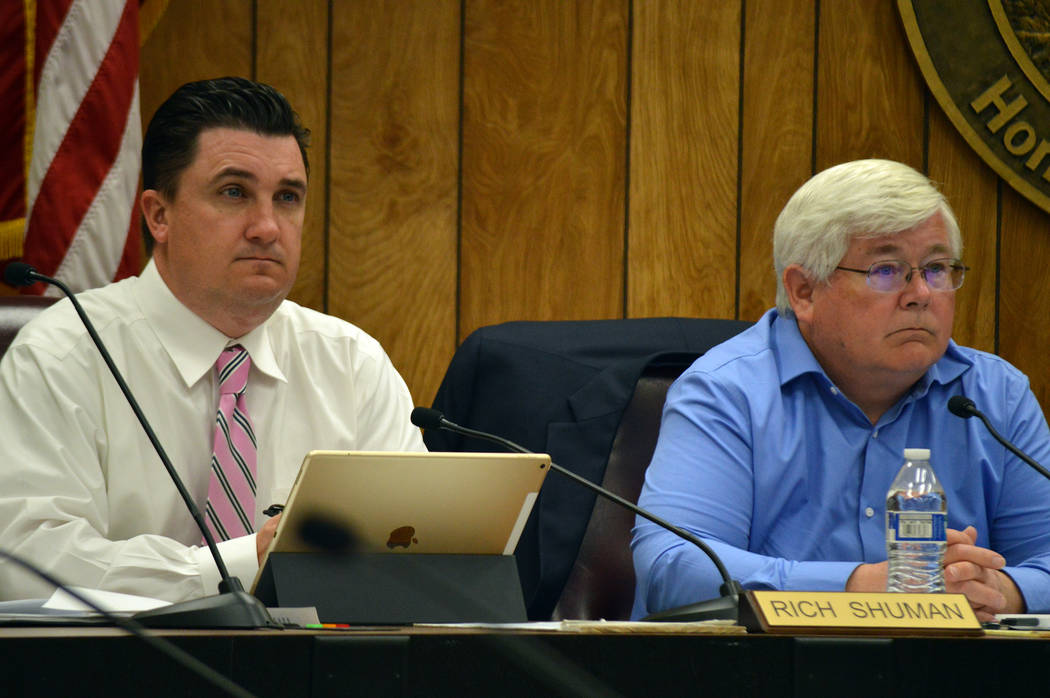 City Council is moving forward with changing Boulder City's election cycle.
At its meeting Tuesday, March 13, council voted 4-1 to have staff prepare an ordinance to amend the code to move the town's municipal election cycle to align with the state and federal primary and general elections in June and November of even-numbered years. Councilman Rich Shuman cast the lone no vote after expressing numerous concerns.
During the discussion before their vote, council cited a potentially higher voter turnout and financial savings as the main reasons for making the change.
At a prior meeting, Boulder City Mayor Rod Woodbury said he was concerned about the ability to hold special elections for ballot questions if the switch was made.
City Clerk Lorene Krumm told council Tuesday that she and staff had researched the matter and learned the city could hold special elections for issues like ballot questions.
"Once the call for the election is made, you hold it within 30 days," she said.
Shuman questioned whether changing the election cycle would violate the city's charter.
Krumm said it would not as the state gave Boulder City the ability to change it. It would, however, require a council resolution.
Council first discussed moving the city's election cycle in January 2012 and then again in March 2016. No action was taken at either time.
If the city holds its elections in even-numbered years with Clark County, it could save a minimum of $40,000 to $50,000 per election. The city would only incur extra costs if there were municipal ballot questions that required additional pages on the sample ballots.
The city, however, would have to pay all costs for special elections, and currently pays all costs associated with holding elections in odd-numbered years.
The change to even-numbered years would allow Boulder City residents to vote at any polling place within Clark County rather than just in town. In addition, it would lengthen the time from when a candidate files until the election to eight months.
Shuman said he was concerned about how the change would affect members of the community and residents who were accustomed to having municipal elections in odd-numbered years as well as potential candidates.
"I think we haven't look at the ripple effect this could have," he said.
He was also concerned about the effects this change could have on some of the town's committees.
Councilwoman Peggy Leavitt said she did not think it would hurt the committees because their members are always changing.
Councilman Kiernan McManus agreed with moving the election cycle because of the higher voter turnout for those elections. He said "roughly double" the number of voters participate in elections during even-numbered years.
"I think it's very clear to move to that," he said.
Despite the higher voter turnout in even-numbered years, Shuman said he did not think Boulder City had a problem with voter turnout.
"We do have a better turnout in Boulder City, but we could have a better turnout," Leavitt said. "I think it's important to have the largest voter turnout we can."
Leavitt said her biggest concern had been the ability to hold a special election, which had been addressed.
Woodbury also was concerned about the ability to hold special elections, but said that issue has been satisfied. If something does not work with switching the elections, it could always be changed later, he noted.
Councilman Warren Harhay, who called into the meeting from the hospital, said that the sole downside was that it placed a hardship on some of the candidates, which in his mind "means there is no hardship."
Woodbury thought the longer candidate process was an area of legitimate concern. He also asked whether there could be an advisory question on the ballot about this question.
Krumm said there could be, but many people already seemed to be aware of the possible change.
Residents Linda Barnett and Glenn Feyen asked the council to forego a ballot question because it would just prolong the discussion and decision-making process.
"I think it's time to vote on this," Feyen said. Before the vote, Shuman expressed his disagreement with changing the city's election cycle.
"This is a big change," he said. "It's a big deal. … I don't think we were elected to make big changes."
Currently, very few other municipalities in Clark County have switched, and he was concerned about that.
"You're changing a lot of things," he said. "It could have a ripple effect … I'm not comfortable with it now, for today, to move it forward."
Once an ordinance is approved, it will take Boulder City six years to align its elections with the next two terms for City Council members and the mayor being shortened.
Contact reporter Celia Shortt Goodyear at cgoodyear@bouldercityreview.com or at 702-586-9401. Follow her on Twitter @csgoodyear.