City adjusts street beautification plan to aid businesses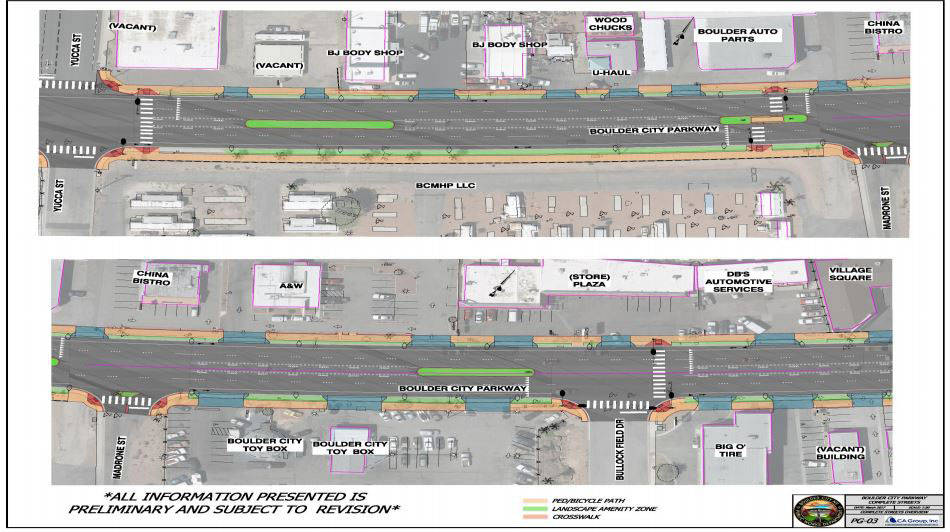 The city is moving forward with the concept plan for its beautification project on Nevada Highway and will continue to work with businesses concerned about how it negatively affects them.
The plan is part of the Boulder City Parkway complete street project that will widen sidewalks, create bike lanes, improve pedestrian and bike crossings, improve the median, and create bus turnouts from Gingerwood Street to Buchanan Boulevard. It will also add a lane at Buchanan Boulevard intersection.
People exiting from downtown will have two lanes rather than one. Currently, it backs up to Albertsons or even past it, said Public Works Director Scott Hansen at Tuesday's City Council meeting.
The CA Group is working on the design plans and hired former Mayor Roger Tobler as a liaison between the businesses and the city. Of the 49 parcels of land along the business corridor, Tobler has met with 34 of the businesses.
The plan has overwhelmingly been received positively by them. Some have operational issues, but all the rest have said this is a positive plan, he said.
"This is a city project and is for the benefit of the businesses," he added.
One issue some business have with the project is that the improvements will take space away from their lots and make it difficult for people to enter and exit those locations.
Ted Miller, Boulder City resident and owner of All Seasons Marine at 1604 Nevada Highway, said many of his customers come in vehicles that are hauling boats or trailers. He was concerned about how them getting in and out of his property.
"The medians you are proposing … are an obstacle for our business … I think the sidewalks are great, but the medians are an obstacle to us," he said.
Chris Gatlin, owner of Woodchucks at 1504 Nevada Highway, was concerned about both.
"I'm one of the owners that is pretty much against this," he told council members.
Gatlin said taking the space away from his lot to create a wider sidewalk would really hurt his business, especially U-Haul. Providing U-Haul rentals requires larger vehicles to be parked at his business where they will be picked up by customers. As the proposal would make his lot smaller, getting those vehicles in and out would be much more difficult.
"I'd hate to see that service go away … but I can't put my customers at odds with traffic safety," he said.
Gatlin said he's been doing U-Haul rentals for 20 years.
Charles Williams, of B &J Body Shop at 1512 Nevada Highway, told the council his concerns echoed Gatlin's and he was also worried about how the additional landscaping seemed at odds with the city wanting to conserve water as it would have more plants and trees.
Hansen said he was committed to working with the businesses about these issues and had already adjusted the median to be in short pieces along Nevada Highway rather than longer ones.
"It it a balancing act … with what's best for the general public after all," he said.
The design of the project is not set in stone and changes can still be made. Hansen estimates the design will be finished in April 2018.
Prior to the council meeting, Councilwoman Peggy Leavitt had asked Tobler to research a recent beautification project in Henderson. She had heard it hurt the businesses there.
Tobler said that there were some construction issues that hurt businesses in the short term, but the project has been very beneficial.
"During the construction, that's when they feel the pain," he added.
Mayor Rod Woodbury said he believed this project is a good one, and the city should continue to listen to the concerns and work with the businesses that will be affected by the changes.
"The impetus for this project originally was the businesses themselves, but all businesses are not equal," he said. "We have to be aware of the differences and work with them … I'm in favor of moving forward. We can make changes that make it more palatable."
The next steps for the beautification project include securing all the funding for it, as well as moving forward with the design.
"City Council and the public provided good comments regarding the concept plans," Hansen said. "We are going to proceed with the design, addressing the comments the best we can. As City Council mentioned a few times, they want another chance to see this project and continued public outreach before we go to construction.
"We will proceed with the preparation of the engineering design plans and continue to pursue construction funding opportunities," he added.
Contact reporter Celia Shortt Goodyear at cgoodyear@bouldercityreview.com or at 702-586-9401. Follow her on Twitter @csgoodyear.