Ceremony recognizes Special Forces soldiers
Updated May 30, 2013 - 6:48 am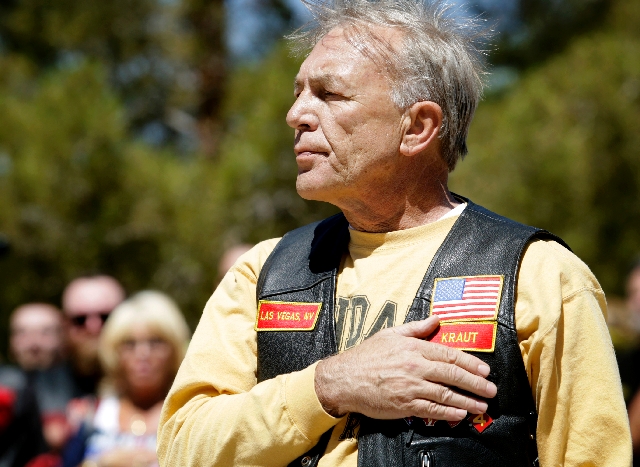 Flags fluttered, hundreds of motorcycle engines rumbled and people rose to their feet as the presentation of the colors commenced, kicking off this year's Memorial Day ceremony at Southern Nevada Veterans Memorial Cemetery in Boulder City.
Organized mainly by Special Forces Association Chapter 51, Sunday morning's program included memorial wreath presentations and prayers by Green Beret and motorcyclist representatives.
A memorial to those killed in action was made, which gave a count of the number of Special Forces soldiers who have lost their lives since 1960. The count since last Memorial Day was 12, Chapter President Al Hendley noted in his speech.
Three generations of Green Berets were represented at the ceremony: retired Lt. Col. Hendley from the Vietnam War, retired Col. Sully de Fontaine from World War II and an active-duty Green Beret, who asked to not be identified.
Hundreds of members of local motorcycle clubs took part in the motorcycle procession, which began on the Arizona side of Hoover Dam.
Rider Kathryn Cooper said she was proud to be part of it. She was there to honor her father, who is buried at the Veterans Memorial Cemetery. Flags were attached to motorcycles and people were standing on the sides of the highway waving, she said.
The annual Memorial Day service is only a small part of what Chapter 51 does to support active-duty soldiers and veterans. It provides financial support to wounded soldiers and holds activities throughout the year for soldiers, such as picnics, holiday get-togethers and group breakfasts, Hendley said.
The SFA Chapter 51 Ladies Auxiliary helps encourage active-duty soldiers by sending quilts and casino-donated items such as playing cards to Iraq and Afghanistan. They have also sent school supplies to an all-girls school in Kabul, Afghanistan.
Chapter representative Bill Anton said he was proud of Sunday's event.
"It's all harmonious because we're all celebrating Memorial Day and those who have passed on," he said. "We have a common goal in that."
Shane Patton, a U.S. Navy SEAL who graduated from Boulder City High in 2000 and was killed in Afghanistan five years later, is buried at the cemetery.