Cease fire: King Elementary cancels Civil War
October 26, 2016 - 2:46 pm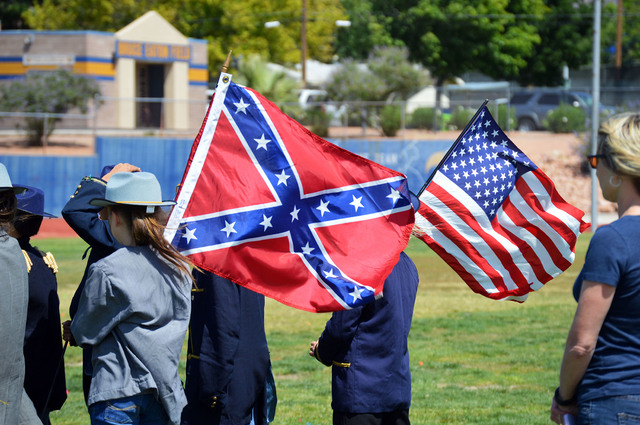 A long-standing tradition in Boulder City has ended as King Elementary no longer will host a Civil War re-enactment with the school's fifth-graders.
The decision was made because school administrators felt it was time to create new traditions that more aptly cover Nevada academic standards, according to King Elementary Assistant Principal Jorge Palacios in an open letter sent to parents Oct. 21.
"Given the expectations of the Nevada Academic Content Standards, please note that as a school team, we have thoughtfully considered community traditions and the scope of the activities we sponsor as a school organization. We want our community to know that as we considered the impact of activities the school supports, we have realized that we need to move in a new direction. This means that given community input, staff discussions, and school decision-making processes over the last few months, we have determined that the Civil War Re-enactment is no longer sustainable and instead other enrichment activities and experiences will be provided to our students."
The fifth-grade social studies curriculum for Nevada does not include Civil War history and staff at King wanted to create new traditions that closely follow current classroom lessons.
"We want parents to know that the Civil War is ending, but we want them to know that we are still going to provide students with the learning experiences needed according to academic standards," Palacios said in a phone interview.
The school is still working on replacement ideas for the Civil War, which usually took place in April or May. One idea, Palacios said, was to expand on the school's Leadership Extravaganza, a special event scheduled March 29.
"The Leadership Extravaganza was a great event that we started last year and we are planning to expand our implementation of it so it can be the culminating activity for our fifth-graders this year," he said.
A public meeting was held in February with the Clark County School District to talk about the possible cancellation of the re-enactment, but parents and residents who spoke at the meeting were adamantly opposed to canceling the event and it was able to continue.
During the school's final re-enactment in May, Boulder City resident David Duncan said the event was a great experience for all three of his children, stating it was one of the coolest experience for his daughter.
"My daughter is 26 now and if you ask her what the most exciting experience of her life was, she will tell you it is this re-enactment," Duncan said.
He also said the Civil War re-enactment is a proud school tradition and a great way to teach kids American history.
Palacios said he understands the re-enactment is a favorite tradition for parents and students, but urges them to be patient as the school works to find new traditions the community can be proud of.
Contact reporter Max Lancaster at mlancaster @bouldercityreview.com or at 702-586-9401. Follow him on Twitter @MLancasterBCR.